Lawsuit against Snapchat alleges app enables drug dealers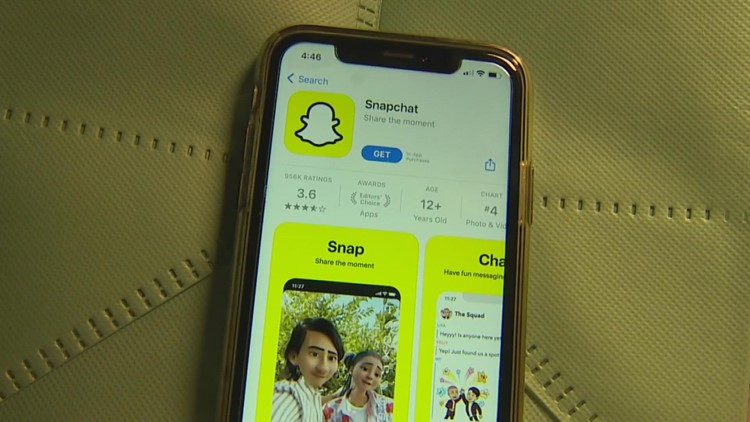 The lawyers said they represent more than 50 families with children who have all died from fentanyl received via the social networking app.
SEATTLE — Attorneys say Snapchat has become the delivery system of choice for drug dealers to push their products into the hands of young people.
A year ago, a survivor of two drug overdoses showed KING 5 how easy it is to find illegal drugs through the app.
He pulls out his cell phone and finds a connection in seconds — one that's even ready to be delivered to his door.
"It's like Amazon for drug dealers," he said.
The Snapchat app allows agents to anonymously deliver drugs directly to teens — everything from Adderall to Oxycontin.
However, many of the pills are fakes – containing lethal doses of the synthetic narcotic fentanyl – 50 times more potent than heroin.
One of those pills killed Carol Schweigert's son, Trey.
For the past 5 years, she's fought for awareness, but it hasn't come easy.
"There are lives lost every day and the fight is getting harder and harder," she said.
According to the CDC, fentanyl kills more than 150 Americans every day.
Now, a Seattle law firm is pursuing the company with a class-action lawsuit claiming it's not a social media issue. It's especially a Snapchat problem.
"Snapchat has turned a blind eye to this issue. They've known about it for years," said Matthew Bergman, an attorney with Seattle's Social Media Victim Law Center.
Bergman said his company is representing the families of 52 children who have died from a fentanyl overdose — all of whom received the drug via Snapchat.
"It wasn't an accident. It was because Snapchat was designed to evade parental supervision and responsibility," Bergman said.
A campaign to take control of Snapchat and other social media companies is being led by East Washington Republican Congresswoman Cathy McMorris Rodgers.
She's looking to narrow down the liability protections for tech companies and expand them to children.
"We must take a holistic approach to stopping the sale and transportation of these illicit drugs on these platforms to prevent another one," she told the House Energy and Commerce Committee. Another child died."
Mothers like Carol Schweigert are continuing their relentless fight, pushing Snapchat to increase accountability, raise public awareness, and more arrests from law enforcement.
"It's never going to bring our loved ones back, but holding people accountable is the important thing to do because otherwise it just keeps happening," she said.
https://www.king5.com/article/tech/class-action-suit-filed-snapchat-drug-deaths/281-8d46a662-0783-4a42-a174-30d316a2ac4a Lawsuit against Snapchat alleges app enables drug dealers