LeBron vows to be more aggressive amid first 0-4 start since rookie year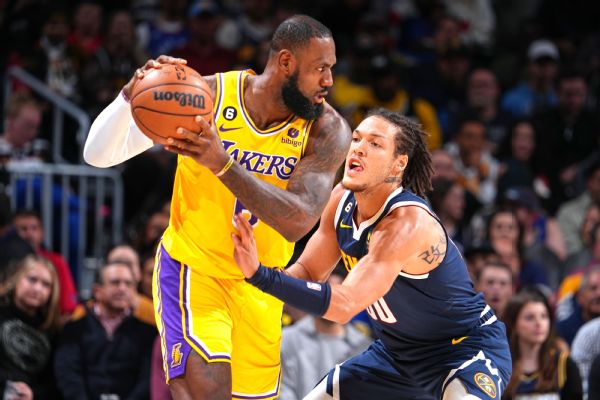 DENVER — As the Los Angeles Lakers' 4-0 start marked the first time his team had lost four straight games at the start of a season since he was a rookie nearly 20 years ago, LeBron James vowed to review his personal approach to the to optimize the future.
"I wasn't aggressive enough on a lot of my turnovers," said James after committing eight errors in LA's 110-99 loss to the Denver Nuggets on Wednesday. "I came off a lot of screens, wanted to pass, involve guys and I wasn't aggressive enough."
James, who finished with 19 points in 8-for-21 shooting, nine assists and seven rebounds after those turnovers, said the adjustment will begin in the Lakers' next game, Friday on the road against the Minnesota Timberwolves.
"It's an easy fix for me," James said. "I will be much better with that on Friday. I've done it over and over again throughout my career. That's a simple solution. I'm not worried about that."
There are many other issues the Lakers need to fix right now. They shot 8 of 30 of 3 (26.7%) and continued the worst 3-point start of any team in league history with at least 100 tries in four games, according to ESPN Stats & Information research.
"Well, I think we shot 20%, and today we shot 26%," said Lakers guard Patrick Beverley without a hint of irony. "So we've gotten better."
LA was outrebounded 54-47 against Denver. It was almost doubled in fast break scoring, 35-18. And it was controlled in second chance points, 15-8.
The Lakers also played their first game of the season without point guard Russell Westbrook, who was sitting due to left hamstring pain. Lakers coach Darvin Ham didn't rule out the Wolves' game for Westbrook's return, although James warned against a hasty comeback.
"Russ, definitely has to do with an Achilles tendon," James said. "I played with… [Dwyane] Wade. And I don't know how, but you just have to keep your cool with all of this. You can't force it until the thing is ready to go. You have to be very aware of that."
On the plus side, Anthony Davis (22 points, 14 rebounds) played with lower back discomfort and said he'll be "fine" going forward. The Lakers could use that.
"We're four games down, it sucks to lose but with 78 games left we still have plenty of time to get the ship back on track and it's starting now," Ham said. "It started yesterday."
https://www.espn.com/nba/story/_/id/34887425/lebron-vows-more-aggressive-amid-first-0-4-start-rookie-year LeBron vows to be more aggressive amid first 0-4 start since rookie year