Liam Cooper wants Scotland to 'do ourselves justice' at Euro 2024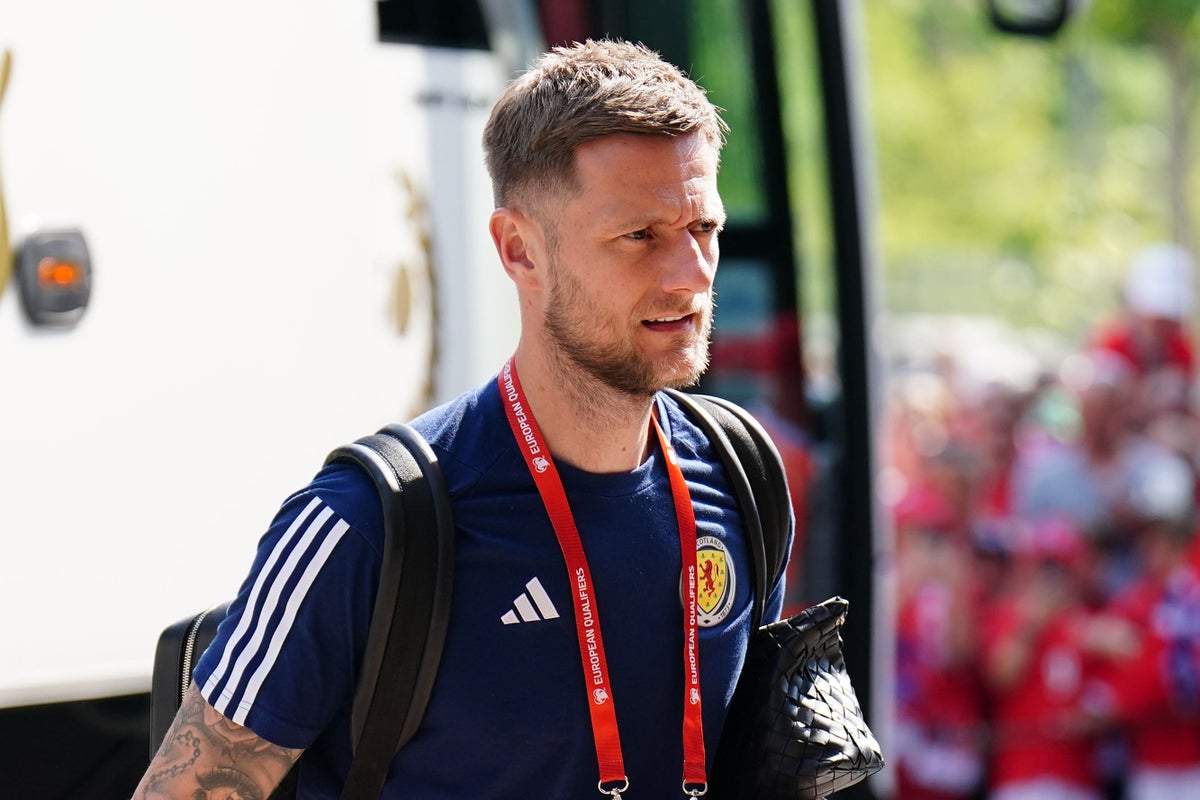 Liam Cooper stressed Scotland are keen to do themselves justice at Euro 2024 after failing to win a single game in their final game of the tournament.
The Scots are heading into their final two qualifying games – in Georgia on Thursday and at home in Norway on Sunday – and have already qualified for next summer's finals in Germany.
Steve Clarke's men were eliminated from Euro 2020 in the group stages – postponed until 2021 due to Covid – after picking up just one point in three games against the Czech Republic, England and Croatia.
Leeds defender Cooper – speaking from the Scots' training base in Turkey ahead of Thursday's game in Tbilisi – believes they will be better equipped to make it to the knockout stages this time around.
"As professionals, I think we placed this expectation on ourselves right after the last European Championship," he said. "I don't think we did ourselves justice in this tournament.
"For a lot of the boys, myself included, it was their first taste of a big tournament and straight after we agreed we hadn't really done ourselves justice.
"We have to prove to a lot of people, including ourselves, that we belong there and can get through the group stage.
"We have an honest group of boys and we take responsibility. We want to be satisfied with our performance. We did well in this qualifying round. It's great to qualify with two games to go, but it can't stay that way.
https://x.com/ScotlandNT/status/1724198526597415041?s=20
"In order to be even more successful, we have to do justice to ourselves at the European Championships. I'm lucky to be at the last European Championships, but if the targets don't change after you've had a taste of it and you don't want to be even better next time, then there's no point in you being here. "
Cooper admits it's a good feeling going into the final two games having already qualified, but he's adamant the Scots won't be taking it lightly next week They are top of Group A and have a place in the finals squad at stake.
"It's nice to have qualified with two games to go, but there is also the advantage that if Spain loses points we can win the group," said the 32-year-old. "That is our motivation at the moment. We have to be professional and take our chance if Spain makes a mistake.
"We have this camp and the next camp just to get used to the manager and get into the squad for Germany, so that's an extra motivation too. We have to stand out and prove that we should be on that plane to Germany.
"I had a taste of it before and it was an amazing experience, albeit in difficult times for the world (due to Covid). The number of people in the stadium was limited so you couldn't enjoy the full experience.
"It was still a great experience, but I think the European Championships next summer will be incredible. This is something you always dream about as a kid, so you have to do your best by playing well and being successful in the next games and also in March camp."
Ahead of the draw for the European Championship group stage on December 2nd, tension is growing among Scottish fans and players.
"We're obviously excited about that," Cooper said. "We can then get booked and our friends and families can start being fully booked.
"It was a bit of a nightmare not knowing where we were going to play. Everyone I've spoken to has about 20 hotels booked with free cancellation, so it would be nice to know where we'll be playing.
"Once all the logistics are sorted out, you can really look forward to it. But we are professionals and we know there is still a lot of football to be played before then and the manager still has a big decision to make (on squad selection) so we don't get misled too much."