Lightning's Pat Maroon mocked by broadcaster, donates to charity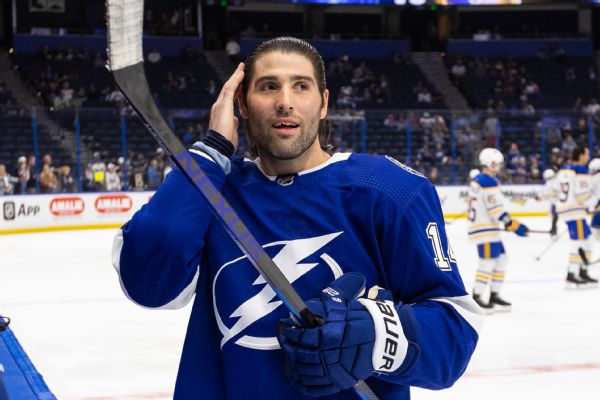 Tampa Bay Lightning forward Pat Maroon was mocked by NESN broadcaster Jack Edwards during Tuesday's game between Tampa and the Boston Bruins. He finally turns this negative attention into a positive change.
It was midway through Tuesday's first period when Edwards, the Bruins' longtime play-by-play announcer, made some pointed comments about the 6-foot-3 winger's height, while also referring to Maroon's championship run with St. Louis and back-to-back titles in Tampa.
NESN color commentator Andy Brickley also chimed in, which kept Edwards going for over 30 seconds on Maroon.
"[Maroon] is listed at £238," said the 65-year-old broadcaster. "That was day 1 of the training camp. I have a feeling he ate a few more pizzas between then and now. Fast. Unintentional fasting is like four hours without a meal for Pat Maroon. But hey [he's won] three [Stanley Cups] in a row! Who can argue with his formula?"
The seemingly unprovoked comment inspired Maroon to volunteer for charity. The 34-year-old announced on Twitter Wednesday that he was making a $2,000 donation on Edward's behalf to Tampa Bay Thrives, "in support of people struggling with mental health, bullying and body image." nonprofit organization that has provided assistance to those struggling with mental health issues and substance abuse.
In support of those struggling with mental health, bullying and body image, I am making a donation of $2,000 on behalf of @realjackedwards to @TampaBayThrives and I encourage @TBLightning and @NHL fans to join me. Donate here: https://t.co/ZEbWHw6Cqv

— Pat Maroon (@patmaroon) November 30, 2022
Well done Patty…. Donate now! https://t.co/4dNTFSbJwA

— Steven Stamkos (@RealStamkos91) November 30, 2022
Maroon encouraged his followers to donate themselves as well. Teammate Steven Stamkos immediately stopped by to support the player, affectionately dubbed "Big Rig," and the Tampa Bay Lightning Foundation applauded Maroon's dedication to highlighting the importance of mental well-being.
"Well done Patty," Stamko's Maroon replied via Twitter. "Donate Now!"
https://www.espn.com/nhl/story/_/id/35149017/lightning-pat-maroon-mocked-broadcaster-donates-charity Lightning's Pat Maroon mocked by broadcaster, donates to charity