Limited edition Thanksgiving-themed Seahawks poster will help fight against food insecurity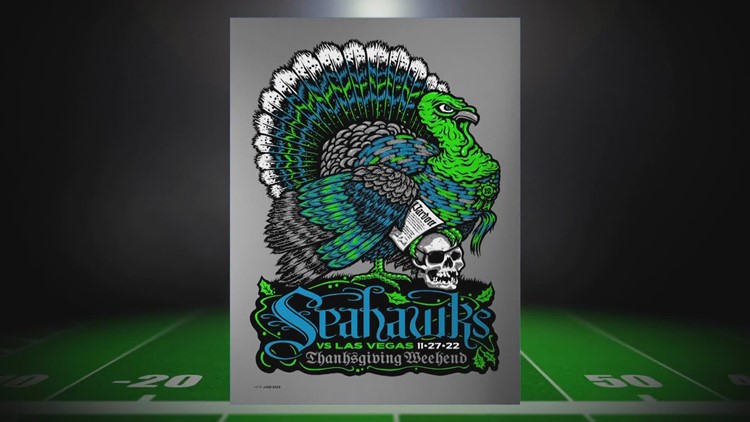 The latest installment of Ames Bros' popular series of game day posters with the Seahawks has put a special twist on Thanksgiving.
SEATTLE — A special Thanksgiving-themed Seahawks day poster will support the fight against food insecurity, with some proceeds benefiting Northwest Harvest.
Ames Bros, a local graphic design company has made their mark all over Seattle. Their designs can be seen from pizza boxes to Pearl Jam posters and on a variety of shirts and clothing.
The company's game day series of posters has been a fan favorite since the team partnered with the company in 2019. This week's poster features a blue and green turkey clutching tightly. an officially pardoned man with one foot on a skull with an eyepatch – an homage to the Raid mascot, whom the team will face the Sunday after Thanksgiving.
Co-founder Ames Bros. Barry Ament designed the poster specifically for the holiday.
Each game day poster will benefit a different charity. This limited edition poster will support the fight for food equity led by Northwest Harvest.
Northwest Harvest Director of Development Laura Perez Hamilton said the organization was excited to work with the Seahawks when we approached Home Team Harvest.
Seattle Rookies Tariq Woolen and Coby Bryant spent some time stocking shelves at Northwest Harvest's SODO Community Market recently. Perez Hamilton says there are similarities between the two organizations.
"These rookies immediately helped the team, and in many ways that's what we're doing with Northwest Harvest. Whether you're joining us to donate to Home Team Harvest for the first time or if you're a 22-year veteran, we need the whole team to feed neighbors facing insecurity. food," she said.
The limited edition Game Day poster is available until sold out via Seahawks and will be made available for purchase later via Ames Bros.
KING 5's annual Family Group Harvest campaign to benefit Northwest Harvest is underway. The goal this year is to raise 21 million meals.
Online at KING5.com/hometeamharvest
Text "HOMETEAM" to 41444
Starting November 1, visit your local Safeway or Albertsons for $5, $10, or $12 off grocery cards.
Watch the Home team's Harvest special broadcast on December 3 at 10am on KING 5, KING5.com and the KING 5 mobile app.
https://www.king5.com/article/news/local/thanksgiving-themed-seahawks-poster-food-insecurity-fundraising/281-a5fdfbe2-5f2f-49ed-a2d7-5cf9f3660c7a Limited edition Thanksgiving-themed Seahawks poster will help fight against food insecurity