Lone cyclist who shouted down white supremacists marching on DC wins legions of fans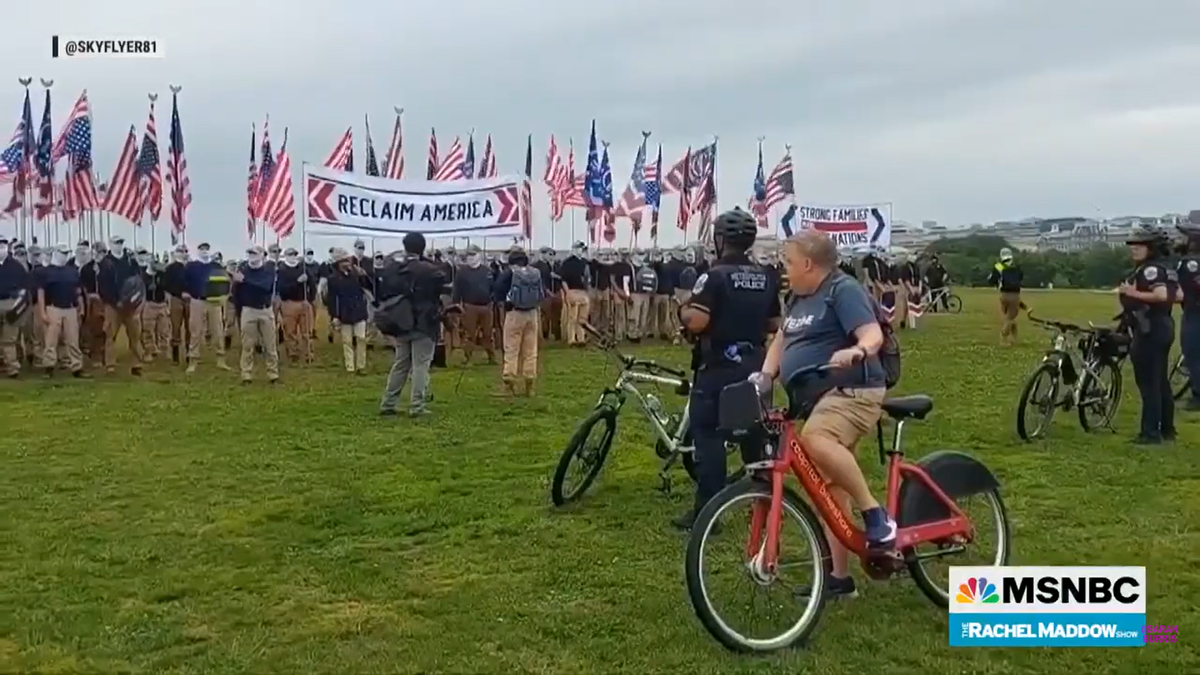 A man who shouted down masked members of a white supremacist group at a march in Washington, DC has garnered legions of supporters for what many have described as a brave act.
Joe Flood, an author and photographer, was caught on video Saturday as he faced about 150 masked men from the white supremacist Patriot Front marching in DC.
When Mr Flood arrived on his red bike, he taunted the members while one of them gave a speech.
"Hello! Hello, fascists!" Mr. Flood could be heard saying in the video.
"Nobody likes you. Your mom hates you. Your friends hate you. You were the loser in your high school class. You're sloppy. They don't even match. You all wear different kinds of pants. Cargo pants are out. Demanding Get your virginity back!" he yelled.
Members of the far-right group marched down the National Mall wearing khaki pants and navy shirts and had their faces fully covered with masks and sunglasses. They carried inverted American flags and shields, and police escorted the group.
Video of Mr. Flood's confrontation quickly went viral on social media and was even featured on MSNBC's Rachel Maddow show.
In an interview with the network, Mr Flood expressed that he felt it was his "duty to speak out in the face of such extremist views".
"This guy gave this speech," he said. "He kept having to stop, pull it out of his pocket, and then start reading it.
"Every time he stopped, I would yell at him and say he was boring. And then I said, 'Why can't you remember your speech? 'Why can't you remember your speech?'" he said of his exchange with the group members.
"And then I said, 'You look like General Custer's illegitimate son.' The guy glanced sideways and looked at me, and I thought: I understand you. I got into your head Now get out of my town," he added.
Mr. Flood was praised by numerous users on Twitter, who praised him for speaking up on behalf of many Americans and single-handedly confronting the group.
"Well done, Joe Flood. He speaks for so many of us, especially those who live here. Thanks @joeflood. You are so funny and so right," said Twitter user Clair C.
Skyleigh Heinen said: "Operation Old Navy. Best thing I've ever seen is @joeflood acting as a masterful heckler!"
"Oh my god, Joe Flood is our hero," said Lauren Bird Horowitz.