Lori Vallow's cousin Megan Eyden reveals haunting fear about children's murders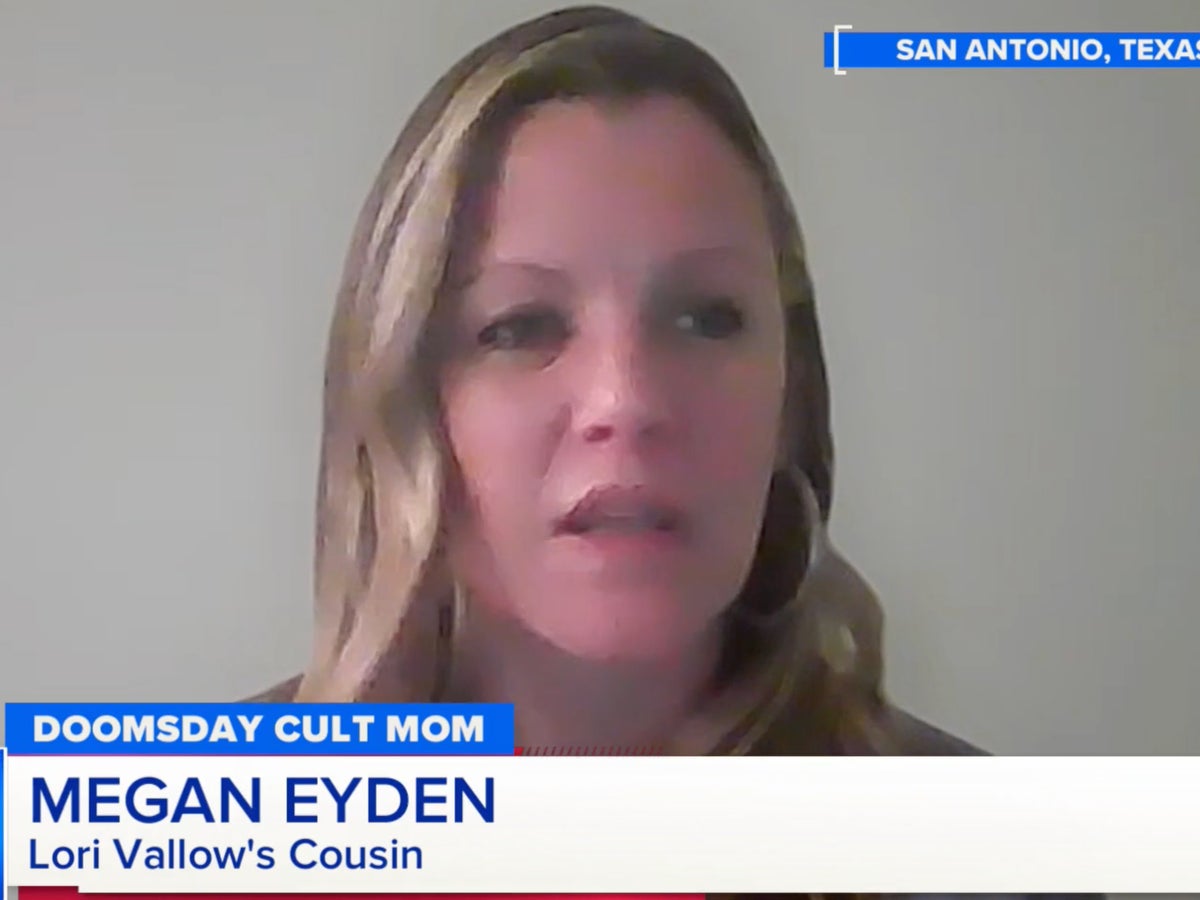 Lori Vallow's estranged cousin has revealed one of her most pressing fears over the murders for which the so-called "cult mother" is currently on trial.
Megan Eyden, whose father is Ms Vallow's uncle, spoke about the bombing incident in an interview with NewsNation's Ashleigh Banfield that aired on Friday night.
It came at the end of the third week of Ms. Vallow's Idaho trial for the murders of her children, Joshua "JJ" Vallow and Tylee Ryan, and Tammy, first wife of her new husband, Chad Daybell.
Ms Eyden said she had tried to distance herself from media coverage of the case for the past three years because it was difficult to hear all the horrific allegations.
"A lot of this was speculation, of course," she said. "And so it's quite difficult to hear everyone who's trying to talk about what they think happened and doesn't really know.
"So until the process started, I really stayed out of it for the most part. And I think most of my immediate family has done the same."
Ms Eyden revealed family tensions first flared in Idaho two months before the children disappeared when Ms Vallow's fourth husband Charles was shot dead by her brother Alex Cox in Arizona in July 2019.
Police initially ruled that Cox had acted in self-defense after a dispute broke out during a custody battle over JJ, Charles and Ms Vallow's adopted son. However, police have since ruled that Charles' death was a murder conspiracy. Ms. Vallow will be charged in his death independently of the Idaho trial, while Cox died in December 2019.
According to Ms. Eyden, some family members suspected something was wrong from the start.
"All I can tell you is that there was definitely a rift in the family when Charles was killed," she said. "There was part of the family that believed Alex acted in self-defense and there was part of the family that believed he didn't. And that was definitely a split in our family. And I think that kind of thing continues… to this day."
Ms Eyden said she's still struggling with the idea "that if her immediate family would have been willing to hold on [Vallow] Be accountable and hold Alex accountable that the children may still be alive."
She said Ms Vallow's other brother Adam Cox fought hard to find out the truth about what happened to Charles.
"The family really nailed it [Adam] Except because they wanted to protect Alex and Lori from the consequences," she said. "And I think that's the whole point of where it all comes down to — nobody wanted to hold Lori and Alex accountable."
Ms Eyden, who said she had been estranged from Ms Vallow for years before the children's disappearance, spoke of how little hope she had that they would be found alive during the nine-month search that ended with the discovery of their bodies at Mr Daybell's Property in June 2020.
"For my own mental health, I really had to come to terms with not being optimistic that the kids would be found alive," she said.
Ms Eyden also shared her belief that the greatest influence in Ms Vallow's life was her father, Barry Cox.
"All things considered, and from my own experience, I can tell you that Lori's father was a huge factor in her personality and her development," she said.
"Anyone who's done a little research into his story will tell you that he definitely believed he was above the law."
Barry Cox, she said, ended up serving a prison sentence for tax evasion after trying to sue the IRS.
"I think the most pervasive thing that ran through the family system was this concept that Barry talked about, called the bottom 95, where he thinks 95 percent of the population are stupid, unattractive sheep," she said.
"And he and his family are in the top 5 percent who are smarter than everyone else, more intelligent, more extraordinary, more beautiful. And that certainly plays a big part in Lori's personality."