LSU's Sa'Myah Smith faints during White House ceremony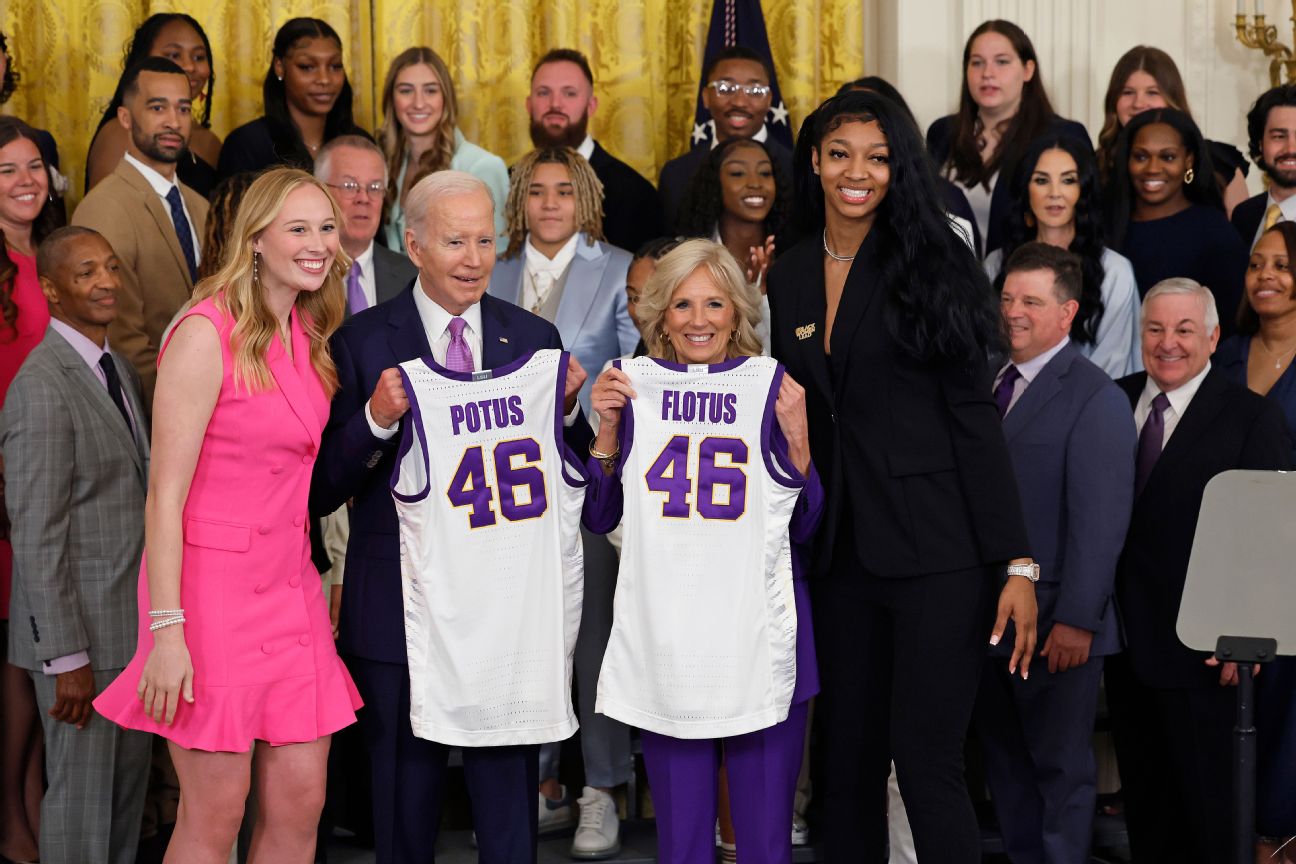 LSU freshman Sa'Myah Smith fainted and was carried off the stage during Friday's ceremony with President Joe Biden at the White House in celebration of the Tigers' national basketball championship in women's basketball.
After Smith passed out, medical personnel were brought to the East Room while Biden called for year-round support for women's sports. Smith, who was standing behind the podium in the stands, slid down and was carried off the stage as the ceremony was suspended for about ten minutes.
"It's a lot of standing," Biden said. "I apologize. It is in order. It has happened many times."
LSU coach Kim Mulkey said Smith was fine when staff pulled her out, and Smith later told NOLA.com she was "much better" after being released from White House custody.
"I'm doing great, better – much better than before," said Smith, who made her way back to the team hotel. "I can't quite remember how it all happened. I just remember waking up pretty scared. The last thing I remember saying to one of my trainers was, 'Hey, I think I'm going to pass out.'"
LSU said in a statement that Smith felt overheated and nauseous and thought she might faint. The school also said that Smith will undergo a further evaluation in Baton Rouge.
Mulkey joked, "As you can see, we leave our mark where we go."
Biden autographed a vintage leather basketball for Smith and wrote: "Sa'Myah – it was wonderful to have you in the White House. You are the best. /Joe Biden 5-26-23"
LSU's entry into the White House marked a thawing of earlier tensions between the team and the government. After the championship game, First Lady Jill Biden suggested inviting runner-up Iowa to the White House as well, in a break with tradition.
At the time, LSU star forward Angel Reese, who averaged 23 points per game last season, said she was "hurt" by the plan, but she was there on Friday to hug Jill Biden and present her with a commemorative jersey.
"Guys, we've seen history," President Biden said. "In this team we saw hope, we saw pride and we saw purpose. This is important."
Biden said since Title IX was passed in 1972, more than half of all college students are women and there are now 10 times more women athletes in college and high schools. He said that most sports stories are still about men and that that needs to change.
"We have to support women's sports, not just during the championship, but all year round," Biden said.
The Connecticut men's championship team also visited the White House on Friday for its own celebration, which saw Biden switch from a purple tie to a blue tie to welcome the Huskies.
"Congratulations to the entire UConn nation," Biden said.
Reuters and The Associated Press contributed to this report.