Lucy Letby sentencing: Nurse who murdered seven babies to spend life in prison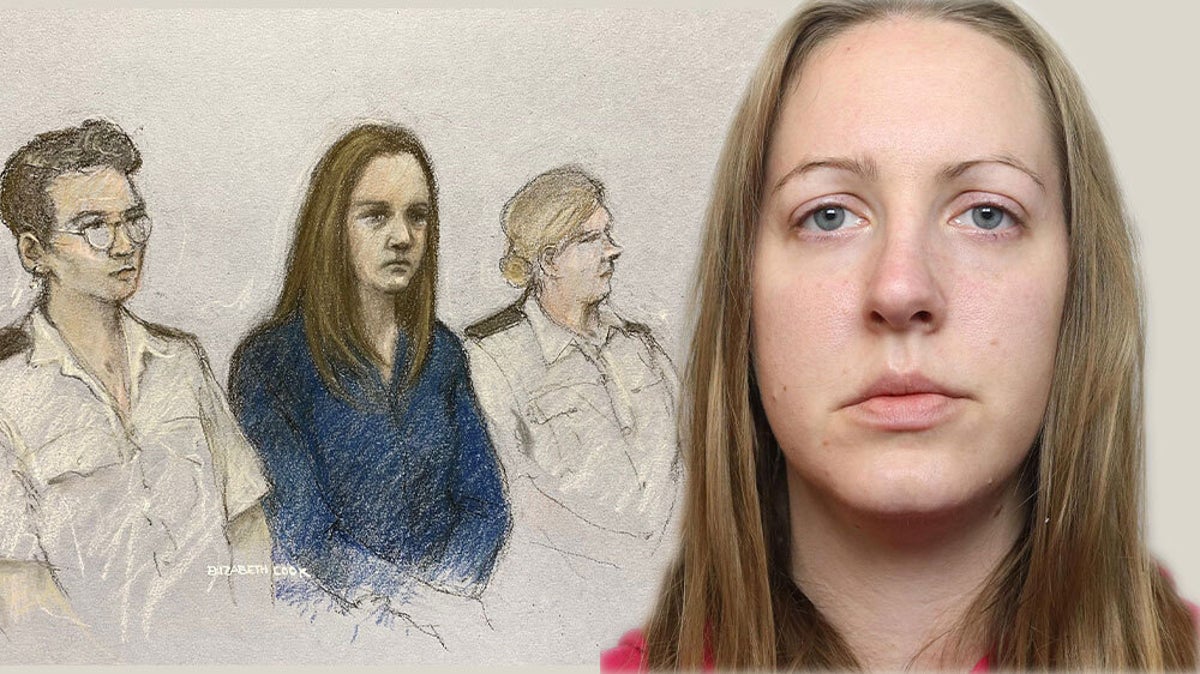 Serial killer Lucy Letby will spend the rest of her life in prison after murdering seven newborns and attempting to kill six others in the neonatal unit where she worked.
The 33-year-old, now the most prolific child serial killer in modern British history, intentionally injected infants with air, force-fed them milk or poisoned them with insulin during a "cruel, calculated and cynical campaign of infanticide" at the Countess of Chester Hospital.
In what one parent described as her "final act of wickedness," Letby refused to appear in court for the sentencing hearing, where her victims' parents described in harrowing detail the fallout from their crimes.
During her absence, she was given a life sentence. She is only the fourth woman in UK history to be told she will never be released from prison.
Judge Goss sentenced her at Manchester Crown Court, saying the nurse displayed a "deep malice bordering on sadism" in targeting "the smallest and most vulnerable children".
It came as:
Joining forces with serial killers Rose West and Joanna Dennehy, and the late Moors killer Myra Hindley, Letby became the only of just four women to be given a life sentence without parole
A mother described how her child was buried in a dress chosen by Letby
Rishi Sunak came under pressure to give judges the power to compel criminals to attend sentencing hearings
Keir Starmer joined calls for the Government to launch a legal inquiry into the NHS' failures in the case
The judge ordered that a transcript of his judgment observations and testimonies read by the families should be sent to Letby
Addressing the empty dock, the judge told Letby she acted "in a manner totally contrary to normal human instincts to feed and care for babies."
He added: "The babies you harmed were born prematurely and some were in danger of not surviving, but in each case you deliberately harmed them with intent to kill them."
The judge described her actions as "premeditious, calculated and cunning," adding that her claim to have done her best in caring for babies was "one of many lies" she told during the trial.
He continued, "You have cold-bloodedly denied any responsibility for your wrongdoing and tried to blame others…
"There is no doubt that you are intelligent and on the surface you were a very conscientious, diligent and knowledgeable nurse – which allowed you to hurt babies for a time."
Letby had been convicted by a jury of murdering seven babies and attempted murder of six others while he worked in the Countess of Chester Hospital's neonatal unit between 2015 and 2016.
She was found not guilty on two counts of attempted murder and the jury failed to reach a verdict on another six counts of the same charge.
Her parents, who were present throughout the trial, were absent during Monday's sentencing hearing, but more than a dozen relatives of Letby's victims, as well as eight jurors involved in the 10-month trial, sat in the gallery.
The court heard testimony from parents whose children had been killed by Letby, with some of the jury visibly upset upon hearing the testimony.
All families involved in the case were granted anonymity, the babies were identified only through a letter.
The mother of murdered child C told the court that "there will be no punishment that will ever compare to the excruciating agony we have endured".
"At least there's no debate now that you think you killed her on purpose. You are angry. you did that
"Realizing that the 'friendly' nurse who had been watching over the family was actually her child's killer felt like 'something out of a horror story,'" she said.
In a trembling voice, Child E's mother said she had to mourn her child's death in front of Letby and other members of the NICU and was not afforded any privacy. Shockingly, she added that her child, a twin, was buried in a dress chosen by Letby and gifted by the unit.
Criticizing Letby's absence, she added: "Even in the final days of the trial she has been trying to get things under control. The disrespect she showed to the families and to the court shows what kind of person she is."
"We've been in court day in and day out, but she decides she's had enough and stays in her cell – just a coward's last evil act."
The mother of children O and P, who were also murdered by Letby, said the serial killer was the last person to hold child P and also dressed him after his death.
With his head bowed and struggling to understand the statement, the children's father said he had considered taking his own life after her death.
The doctor who captured Lucy Letby describes how she stood over the sick baby
"Lucy Letby ruined our lives," he added. "The anger and hatred I hold towards her will never go away."
Due to concerns from counselors, hospital leaders are under intense scrutiny over the steps they have taken to remove Letby from the department.
The government has ordered an independent investigation into the circumstances behind the killings. Some of the grieving families of the Letby victims have said the inquiry should be expanded to one with statutory powers, which would by law require witnesses to attend.
The Independent expects the government to discuss expanding the inquiry, considering whether the speed that a non-statutory review could provide would be outweighed by the benefits of a full public inquiry.
Mr Sunak is under pressure to change the law to give judges the power to compel criminals to attend a sentencing hearing after Letby refused, amid growing calls for the no-show of Olivia Pratt-Korbel's killer, Zara Aleena and Sabina takes Nessa.
No10 said the law would be changed "as soon as possible" – but rejected the idea of ​​using the Victims and Prisoners Bill, which is currently being debated in Parliament.
The Prime Minister described Letby as "a coward" while Justice Secretary Alex Chalk said it was "the ultimate insult".
Mr Chalk, who promised action on the matter back in June, said: "Cases like these make me even more determined to ensure the worst offenders come to court to be brought to justice."
Sir Keir Starmer accused the government of "hesitating" on changing the law to force criminals to attend sentencing. "I want to see action as soon as possible," he told reporters Monday.
The Labor leader also commented on calls for the inquiry to be legalized – arguing that this would give a judge the power to order documents and ask witnesses to come forward and that it was also "that what the families of the victims want". ".
Former Justice Secretary and Conservative Lawyer David Wolfson KC told Times Radio that it was "very likely" it would now be made legal, while Steve Brine, Conservative Chair of the Special Committee on Health, told the BBC that there will be a judge-led investigation. Make sure it doesn't "go down the rabbit hole".
Police officers are checking the care of all the babies who were admitted to the hospital while Letby worked as a neonatal nurse. The review will cover her time at Liverpool Women's Hospital in 2012 and 2015 when she completed an internship.
Detective Chief Inspector Nicola Evans said Letby was a "calculated and dangerous person" whose sentence "reflects the true scale and seriousness of her horrific crimes".