Lyft driver shot, killed in downtown Seattle was a father of six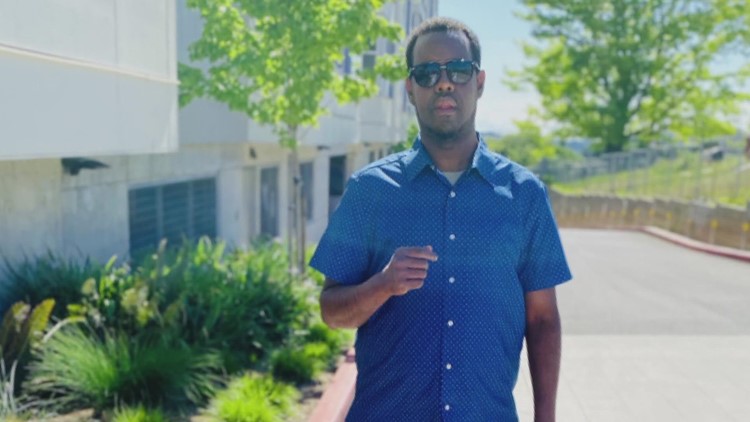 A Seattle family is looking for answers after one of their loved ones was shot and killed while driving to Lyft in downtown Seattle over the weekend.
SEATTLE — The community gathered Wednesday at the Abu-Bakr Islamic Center in Tukwila in support of the family of Mohamed Kediye, who was shot dead last weekend while driving to Lyft in downtown Seattle.
Kediye, 48, was a supportive father who just wanted to give his six children and wife a better life, his family said.
"It's so sad… Yesterday they had a father, today they don't have a father, they don't have anyone to support them," said Ahmad Geelle, a family friend.
Kediye was shot and killed near the corner of 7th Avenue and Lenora Street in downtown Seattle at 8:30 p.m. Sunday. The family said he parked on the curb to complete his final overnight ride for Lyft before returning home. According to the family, the police told them that a vehicle pulled up next to his car and at that moment someone shot and killed Kediye.
"The family they need … to find justice for the loved one they lost in downtown Seattle," Geelle said.
Meanwhile, friends at the Seattle Rideshare Drivers Association are devastated by the death of one of their own.
"They have been in shock for some time and have worked to make driver safety a priority for the city," said Ahmed Mumin, executive director of the Seattle Rideshare Drivers Association
Moomin said this was the fourth rideshare driver killed on the job in the Seattle area in the past two years.
"If it is enough, we call on the transport network companies to sit down with the associations and the drivers of the community and find a solution. We don't have a quick fix, but I know there is a solution out there. " he said.
The Seattle Rideshare Drivers Association is holding a demonstration at 1 p.m. Thursday at the Old Seattle Islamic School near the corner of 25th Street and Cherry Street to demand justice for Kediye's death.
If you would like to support the family, you can donate here on their GoFundMe page.
The Seattle Police Department told KING 5 there were no updates on the case as of 2:30 p.m. Wednesday.
A Lyft spokesman said in a statement:
"The events described are heartbreaking and our thoughts are with the driver's family and everyone affected by this tragedy. We are working to get in touch with the driver's family as soon as possible, have been in contact with the driver to offer our assistance and have reached out to law enforcement to offer our assistance in their investigation."
https://www.king5.com/article/news/local/seattle/lyft-driver-shot-killed-fatal-downtown-seattle/281-4ec9a029-ea5d-4441-9548-b951cd17a92a Lyft driver shot, killed in downtown Seattle was a father of six