Make a peachy keen plant-based pie – Makini's Kitchen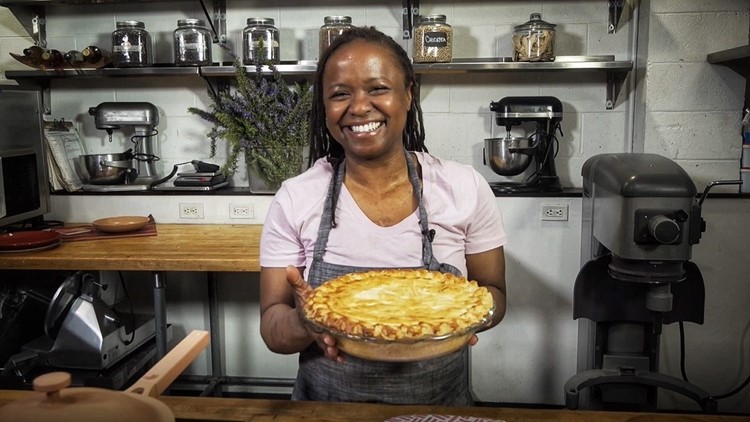 Since there were no eggs, Makini made her cakes brown with a rinse with Agave and Oat Milk! # k5evening
SEATTLE – Want a dessert idea that's sure to please? Our plant-based chef Makini Howell from Plum Bistro has a delicious recipe for you – cake! Makini grew up with her mother making cakes from scratch. If you prefer to buy pie crusts, a good vegan brand is Wholesome Wholesome.
Makini's Peach Pie
¾ cup granulated sugar
1 cup orange juice
2 tablespoons lemon juice
¼ teaspoon salt
½ teaspoon nutmeg
½ teaspoon cinnamon
1 teaspoon vanilla extract
4 cups peaches (if using drained canned peaches, fresh or frozen peaches may require extra cooking time when first cooking peaches)
¼ cup cornmeal
¼ cup of water
2 cups all-purpose flour
1 teaspoon granulated sugar
1 teaspoon salt
8 tablespoons vegan butter, cold and cut into 1/2 inch pieces
⅓ vegan shortening cup
4 tablespoons ice cold water
2 tablespoons oat milk
1 tablespoon agave
1 tablespoon raw sugar to top if desired
To make the filling, using a large saucepan, whisk together the sugar, orange juice, lemon juice, salt, vanilla, nutmeg, and cinnamon. Add peaches and bring to a boil, reduce heat and cook over medium heat until peaches soften and begin to separate slightly, about 15 minutes. Remove from heat.
Make a paste from cornstarch and water. Add this to the peaches and stir until thickened then set aside.
Preheat oven to 375F.
To make the crust, put the flour, sugar, and salt in a Cuisinart and mix well. If you don't have one, use a hand mixer or a pastry cutter. Add butter and shortening and "cut" (using short pulses) until mixture is crumbly. Some pea-sized pieces of butter can be seen. Add 2 tablespoons cold water and pulse a few times to combine. Add 2 more tablespoons of water and mix until the dough starts to stick together. Don't mix.
Pull the dough together and cut it in half. Form each half into a flat wheel. If the dough is too soft, put it in the refrigerator for about 4 hours (overnight is always best). Once the dough has hardened, take it out of the fridge and start rolling.
Take a dough roller and place it on a clean, well-kneaded work surface. Using rolling pins or a wine bottle, start in the center and roll into a circle large enough for you to have some protrusions. Put in your favorite worm cake.
Ladle the filling into the prepared pie crust. You may or may not be left with a little thick juice depending on the depth of the cake.
Take the second wheel and roll it out. Use a rolling pin or a wine bottle or glass. Once you've rolled it out, cut it into ¾ inch strips. Lay the first two strips down to form the letter X. Alternately lay the horizontal and vertical bands, weaving them in a top and bottom pattern. Use your shortest bands for the lattice edges. Trim the edges and fold the ends of the strips together with the bottom sheath.
Mix the oat milk and agave and then brush the mixture over the edges and lattice and sprinkle with raw sugar, if desired.
Bake 40-45 minutes or until top is golden brown. Cool completely before using.
https://www.king5.com/article/entertainment/television/programs/evening/peach-plant-based-pie-makinis-kitchen-plum-bistro/281-bb9c53f9-1043-45f2-869e-e136f1b808d7 Make a peachy keen plant-based pie – Makini's Kitchen