Manchester City boss Pep Guardiola sets sights on Club World Cup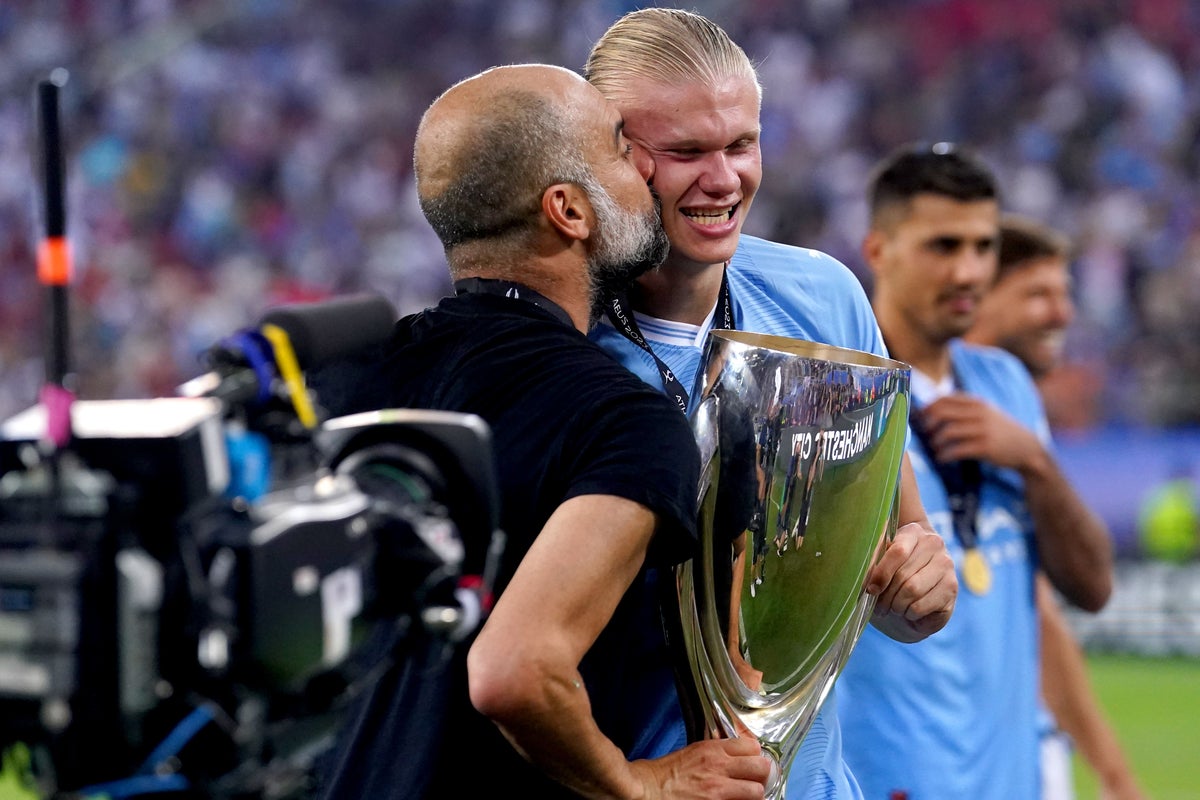 Pep Guardiola is aiming to finish the set at the Club World Cup after Manchester City endured a sloppy start, beating Sevilla on penalties and securing the UEFA Super Cup.
Two months after the Champions League winners became the second English club in history to win the treble, they met record Europa League winners in Greece.
Sevilla took the lead from a powerful header from Youssef En-Nesyri and had numerous chances to extend their lead before City struck back from a Cole Palmer header.
The Super Cup ended 1-1 after 90 minutes and Guardiola's men won 5-4 on penalties after Nemanja Gudelj's final penalty of the shoot-out hit the crossbar.
This was City's first time winning the competition and the Spaniard is determined to add December's Club World Cup to his cabinet.
"Of course we're not at the very best moment, I would say," said Guardiola after winning his fourth Supercup as coach.
"But knowing the players and the mentality of the backroom staff a little bit, I felt like we're going to try.
"We are very happy to have already won a title this season. I'm really happy for the club – we didn't have that title and now we have it.
"We are just missing one to come full circle and give this club a chance to win all the trophies we can have. It happens in December when we travel to Saudi Arabia to play the (Club) World Cup there.
"I would say really, really satisfied. A close game like in the (Champions League) final against Inter, a close game that we lost to Arsenal (in the Community Shield) in the last minute. Football at these stages, at this moment, at this time is a coin (a coin toss)."
It was a grueling evening for City in the hot and humid Piraeus, with play starting at 10pm local time and finishing in the early hours of Thursday morning.
It's a quick turnaround after a tough test that sees Guardiola blaming the Premier League for setting up their next game against Newcastle on Saturday night.
"Of course tomorrow will be even happier than today," he said, as City is due to fly back to the Northwest on Thursday.
"Relax, not a drop of alcohol today. Rest as well as you can because thanks again from Greece for letting the Premier League play us on Saturday. And not on Sunday and Monday. Thank you."
City's star was player of the match Palmer, who scored a clever header after his fine finish in the eventual Community Shield penalty shoot-out loss to Arsenal in Greece.
The 21-year-old has been the subject of speculation this summer and Guardiola ruled out a loan loan for the homegrown player.
"My opinion when he arrived was that he wanted to leave, but now I don't know what's going to happen," he said.
"I don't think there will be a loan. He will stay or sell but I don't think there will be a loan.
"He has character. It's not easy playing against defenders like (Marcos) Acuna who is a top defender.
"It's not easy, it's a final. He's a young player who plays in those phases. It's not easy for these guys. He played really, really well and scored a fantastic goal too."
For Sevilla, the heartbreaking penalty shoot-out meant their sixth consecutive Super Cup defeat.
Head coach Jose Luis Mendilibar said: "Making a good plan against a team as good as City is very complicated. I really wish we had played higher and put more pressure on them.
"When we had a chance to score the second goal, we didn't take it. But I really think we played well and probably created more chances than they did."