Mariners fall 6-3 to Rays, losing 3 of 4 in series between AL contenders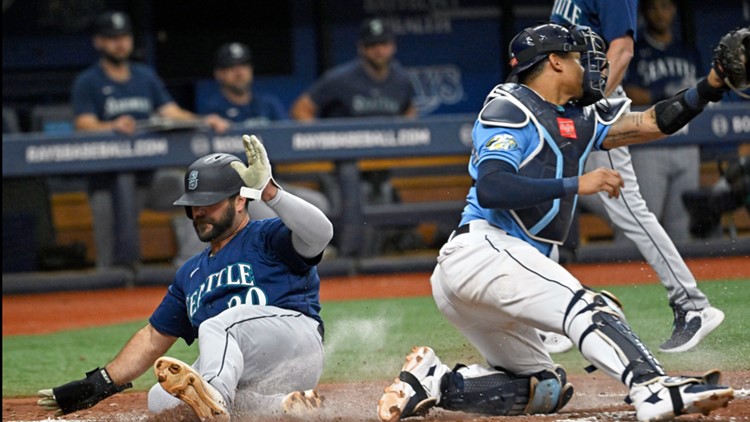 The Mariners are now just one game ahead of the Rangers for the AL's final wild-card spot.
ST. PETERSBURG, Fla. – Zach Eflin grabbed the American League lead with a 14-hour win and the Tampa Bay Rays beat the Seattle Mariners 6-3 on Sunday to take three of four in the series between the rivals in the playoffs.
Tampa Bay led Seattle by 8 1/2 innings for the top AL wild card. The Mariners enter the game against Toronto. The Rays begin play four games behind Baltimore in the AL East, while Seattle is 1/2 game behind AL West-leading Houston.
Eflin (14-8) lasted five innings in his second straight start, allowing three runs and seven hits. At one point in the fourth and fifth innings, six of nine batters hit the right-hander.
Seattle went 2-for-10 with runners in scoring position against Eflin, and 2-for-11 overall. Seattle was 5-for-30 during the series.
Eflin set a franchise record with his 11th home run in a season. He tied Toronto's Chris Bassitt and Baltimore's Kyle Gibson with his 14th win.
Four pitchers combined for two scoreless saves, with Pete Fairbanks pitching the ninth for his 21st save in 23 opportunities. The Rays' bullpen has not allowed an earned run in its last 21 2/3 innings.
It took the Rays just 11 pitches to score three runs in the first by Bryce Miller (8-5). Yandy Díaz had a leadoff hit, Brandon Lowe walked, Harold Ramírez hit a two-run double and Josh Lowe had a run-scoring double.
Luke Raley made it 5-0 with a two-run, third-inning double.
Miller gave up five runs and nine hits in five innings.
Seattle got run-scoring singles from Josh Rojas and Sam Haggerty in the fourth. Eugenio Suárez had a sacrifice bunt in the fifth inning.
Seattle had two outs in the second and two outs in the third, where Cal Raleigh started causing Mariners manager Scott Servais to argue unsuccessfully that the umpire had missed Raleigh's foot and should have called a foul.
Mariners: Closer Andrés Muñoz had a minor hip issue but was tossed before the game.
"Am I concerned? No," Servais said.
Rays: 3B Isaac Paredes did not play a day after receiving a pitch from Seattle right-hander RHP Luke Weaver. Tampa Bay manager Kevin Cash said Paredes, who has a team-best 29 homers, is "quite a headache."
Weaver was designated for assignment when Seattle recalled RHP Eduard Bazardo from Triple-A Tacoma.
Mariners: RHP Logan Gilbert (13-5) will look to join the group of 14-game AL winners on Monday night against Los Angeles Angels LHP Reid Detmers (3-10). Gilbert is 8-0 with a 2.89 ERA since the Fourth of July.
Rays: RHP Tyler Glasnow (8-5) and Minnesota RHP Sonny Gray (7-6) are Monday night's starters. Glasnow struck out 14 in six innings Wednesday in a win over Boston.