Maritime High School Students complete first canoe project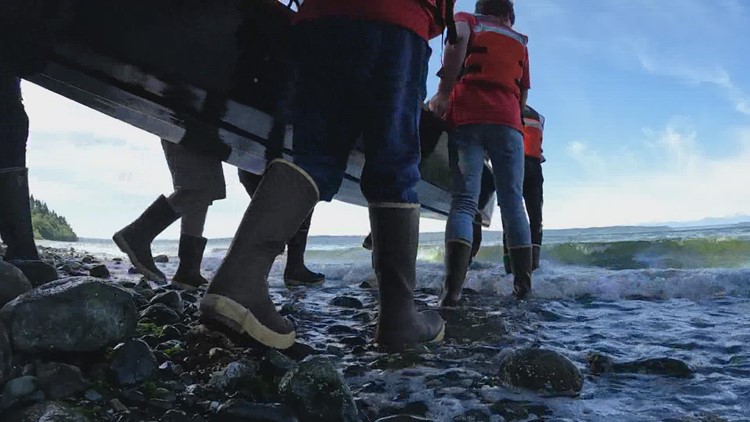 Maritime High School students spent three months designing and building wooden canoes, which they blessed with water from the Duwamish River.
BURIEN, Wash. — On Tuesday, students at Maritime High School took canoes they had spent three months designing and building on Puget Sound and baptized them with water from the Duwamish River.
Maritime High School is a collaboration between the Port of Seattle, Highline Public Schools, Northwest Maritime Center and the Duwamish River Community Coalition.
The project-based learning school provides prospective 9th and 10th graders with skills to start a career in the maritime industry or to continue their studies at a two or four year college.
Principal Tremain Holloway said it was important to the school that students understand the importance of the boat building project.
"We know that canoes are very symbolic to indigenous people and we want to take care of our indigenous community," he said.
Maritime High School students spend two days a week on the water on their floating classroom, the ship Admiral Jack. Students will learn how to command a boat, map waterways, participate in waterway restoration, meet with leaders in the maritime industry, build underwater robots, breed fish, and more.
"If you had told me a year ago when we were creating this, we would have said that we were starting a school where kids actually have the opportunity to go on the water, build canoes and ships and build, and to combine that with internship opportunities in the future and also mentoring opportunities in the future I probably would have laughed, right, but here we are," Holloway said.
Maritime High School program director Stephanie Burns said another unique feature is that new students can shape and influence the direction of the school.
"I have been in education for over 25 years, starting as a classroom teacher. I realized that the classrooms I loved were on the tops of mountains or on the decks of boats and so much of my career has taken place in settings outside of a traditional classroom," she said. "If anyone asked me to design a dream school, I think it would be Maritime High School."
The first student body consists of just over 40 students. Maritime High School is now accepting fall applications with open enrollment for students from across the region.
https://www.king5.com/article/news/education/maritime-high-school-enrolling-canoe-project/281-8003e754-db74-423e-89b3-da49c5d31a80 Maritime High School Students complete first canoe project