Marlon Vera knocks out former two-time champion Dominick Cruz at UFC San Diego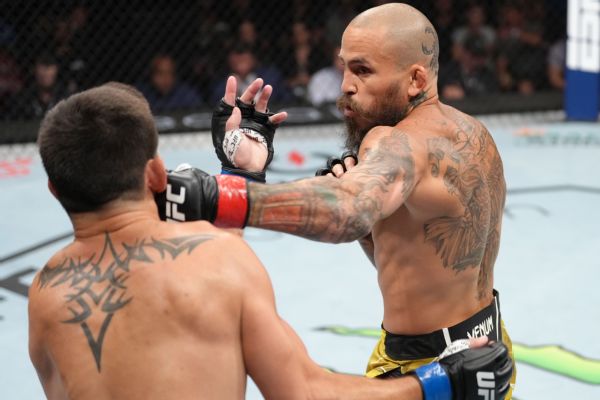 Marlon Vera's nickname is "Chito," a Spanish-language slang term that essentially means "Pst."
Vera briefly calmed the crowd on Saturday by knocking out former two-time champion Dominick Cruz in Cruz's adopted hometown of UFC San Diego's main event. Vera landed a left kick to Cruz's head, knocking him out in the fourth round. The finish was at 2:17.
In his post-fight interview, Vera told the San Diego crowd that he respected their "boy" Cruz and said his trainer Jason Parillo told him between rounds to "throw a bomb after your punches, and you will." find him". That's what "Chito" actually did. Vera threw a combination, Cruz tried to duck to his right, and Vera crushed him with a left headbutt.
"Props to Parillo," Vera said. "Thanks, Coach. I love you."
The crowd did not remain silent for long, eventually cheering the goal and Vera's post-fight speech.
The fight was a big one in the UFC bantamweight division. ESPN had Vera ranked 6th and Cruz ranked 10th in the world at 135 pounds. Big bantamweight fights are coming up over the next few months, including Aljamain Sterling, who will defend his title against former champion TJ Dillashaw at UFC 280 on October 22. "Chito" said he wasn't sweating what's next for now.
"At the end of the day, I'm out of control," Vera said. "I don't stumble. I'll keep working, I'll keep kicking ass. … I will be world champion."
Cruz actually led all three judges 29-28 in the fourth round, winning the first and second rounds. And rightly so. Vera dropped Cruz in the first round, but Cruz landed the cleaner, harder shots and used his superior footwork to stay away from Vera's power for the most part. Cruz also had a few timely takedowns that left Vera in the dark.
The momentum shifted in the third round when Vera dropped Cruz with a right hand. In the fourth, Vera caught Cruz coming in with a jab that also dropped Cruz. Not long after, Vera connected with that highlight reel head kick finish, one of the best knockouts of the year in the UFC.
Vera (20-7-1) has won four fights in a row, most recently a unanimous decision win over Rob Font in April. The Ecuadorian fighter, who lives and trains in Southern California, defeated former UFC Lightweight Champion Frankie Edgar with a front kick at UFC 268 last November.
Vera, 29, has won a total of nine of his last 11 fights and his ten UFC bantamweight appearances are the most in division history. Cruz (24-4) is arguably the greatest bantamweight fighter in MMA history. The Arizona native, who has lived and trained in San Diego for well over a decade, won the WEC bantamweight title for the first time in 2010 and became the first-ever UFC bantamweight champion when the WEC was merged into the UFC a year later.
Cruz, 37, has been hampered by several serious injuries over the years but has been on a two-fight win streak. The Dominator has only lost to fighters who won a world title before Saturday: Henry Cejudo, Cody Garbrandt and Urija Faber.
https://www.espn.com/mma/story/_/id/34396603/marlon-vera-knocks-former-two-champion-dominick-cruz-ufc-san-diego Marlon Vera knocks out former two-time champion Dominick Cruz at UFC San Diego