Married couple revisit The Rust Mansion where they first met nearly 50 years ago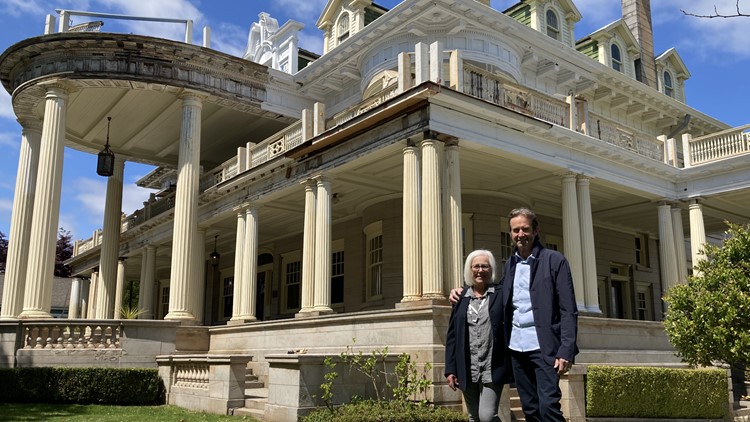 Mario and Susan Oblak met in 1973 when she needed to borrow chairs for a party. #k5evening
TACOMA, Wash. — It's been almost 50 years since Mario and Susan Oblak last set foot in Tacoma's Rust Mansion. That's going to change.
"There she is," said Susan. "Ten-Oh-One North I."
It was here, on the top floor, that the couple met. She was a 23-year-old speech therapist living in an apartment. He was a 23-year-old sculptor living in another.
"I mean, how often does it happen that people who live across the street get married?" asked Susan.
For the past three months, owner Ashley Burks has been busy restoring the "Western White House" to its former glory.
RELATED: Tacoma's iconic Rust Mansion is getting a million-dollar makeover
"My time here is coming to an end," Burks said.
She bought the house for $2.5 million and invested about $1 million in renovations. She wants the iconic house back on the market well before July 4th.
"It's going to be really exciting, but it's also like finishing the last chapter of your favorite book," she said.
Before that happened, Burks invited the Oblaks to the mansion, where they met. Susan had emailed KING 5 Evening about a previous story. Now she and her husband climbed two flights of stairs to the former maid's apartment, where they each had separate apartments in 1973.
"That was my bedroom," she said as she entered a room. "Holy smokers! It hasn't changed at all!"
"Was it the same lamp?" asked her husband.
"I don't remember that," she said. "I only remember that the beds were built in."
Mario Oblak lived opposite. Now it was his turn to visit his old apartment.
"Wow, I got goosebumps," he said as he opened the door. "Oh my god! This is it. Look at it. It's so small!"
The two met when Susan needed to borrow chairs for a party.
"We met and bonded straight away," Mario said.
"We started dating and nine months later we were married," his wife said.
Mario compared the visit to a journey through time.
"I never in my wildest dreams dreamed that I would set foot in space again," he said. "It's incredible."
"And it's basically the same," Susan added.
But the couple has changed.
"We have two beautiful children who we couldn't be prouder of and a brand new grandson," Mario said.
"We've been waiting for this for a long time," added his wife.
They've been here before just to walk around outside, but this time they have to add a new memory to all the old ones. For our camera, they reenacted the moment when Susan knocked on the door and asked to borrow Mario's chairs.
"Well hello," Mario said as he opened the door. "You are back!"
And for a moment all those years seemed to slip away and it was 1973 again.
"You know that everything happened quickly," Mario said. "I think that's why we have such great memories of this place."
As they left, Mario and Susan left the Rust Mansion arm in arm.
"That was fun," she said.
Morrison House/Sotheby's International Realty is the exclusive agent for the Rust Mansion.
The evening of KING 5 celebrates the Northwest. Contact us: Facebook, TwitterInstagram, email.
https://www.king5.com/article/entertainment/television/programs/evening/married-couple-revisit-the-rust-mansion-where-they-first-met-nearly-50-years-ago/281-4d2787b3-647a-4e7d-86c8-519ba30a29c0 Married couple revisit The Rust Mansion where they first met nearly 50 years ago