Martha Stewart and a Big Fish Hit the Tin Building Fête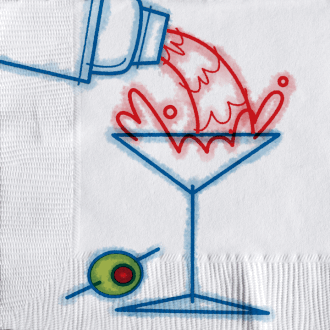 On Wednesday night, an upscale food fair took place at the Tin Building, Jean-Georges Vongerichten's new "foodie destination" (pronounced: food hall) in South Street Seaport. Housed in a former wholesale fish market and impeccably decorated by Roman and Williams, the newly restored space now features a mix of full service restaurants, quick service, specialty shops , bars and a hidden nightclub complex, all "managed" by Mr. Vongerichten himself.
The space has been open to the public for weeks, but to honor its arrival, New York's best-dressed devotees gathered early Wednesday evening to celebrate with a ribbon-cutting ceremony. citadel and an elaborate procession of 50 chefs through cobblestone streets led by Jean-Georges bronzed and his giant toque. Also relevant: a giant wire fish sculpture that the chefs placed outside the building.
The meeting continued inside, where I overheard someone describe the situation as a "haunted house, but fun" – not far away. Each zone is themed according to its cuisine and offers a small menu of dumplings, which everyone will sip between snaps with various artists dressed in stilts . As a mostly inactive home cook, I can't rate the food, but I did rate every other aspect of the evening on a scale of 1 to 10 toques.
Big fish.
Photo: Madison McGaw / BFA.com
It seems that taking advantage of the Tin Building's marked status, there is a vague historical theme to the event. Outside, two separate actors dressed as Bonnie and Clyde posed for photos near a line of antique cars. A group of costumed "fishermen" shouted "More! More!" and handed out site-style flyers at the entrance. Everywhere I looked, someone in brightly colored clothing was waving at me from atop stilts. woman dressed like Eliza Doolittle was hanging out inside a large color-coded flower display. Score: 8 toques.
As I walked in, I picked up a pink cocktail from a tray, and I quickly exchanged it for a hibiscus-encrusted margarita. Apparently each station offers its own themed cocktail to go with the food, and throughout the evening I managed to try an espresso martini, several flavored margaritas, a sip of sake from a sushi bar where a woman playing a Shamisen violin was above my head, and a gin and tonic from the upstairs bar. (Fortunately, I also took advantage of the bottles of Fiji water provided.) Near the circus-y candy store and gelato station, I came across an ice sculpture in the shape of a fish that turned out to be an iceberg too – Two bartenders stand behind the ice sculpture forming a premixed tequila cocktail directly over the fish and into a plastic cup.
In what appears to be a $15 customizable breakfast bakery, two women are holding glass containers that appear to have been crafted around their bodies and filled with caviar dumplings. I dropped the salad in a cone (which, admittedly, looked quite appetizing) and circled the huge fish display into a dizzyingly bright candy bar, home to JG toffee and gummy bears. su is artistically packed on the shelves.
Photo: Rupert Ramsay / BFA.com
Upstairs, a '50s baking show is taking place inside a dark room with an ON AIR sign outside that also features a dessert bar and a full marble table. French pastries and cakes that Marie Antoinette might consider excessive. Next was the packaged taco stand, where I enjoyed a green corn tacos and a cup of chips and guacamole. No elbow room either: the vaguely East Asian-themed nightclub, hidden behind the curtain in Mercantile East, a tea and noodle shop with candy-red walls. There's also fresh pasta and pizza at the Frenchman's Dough stand, an amazingly delicious Brussel sprout situation at a plant-based cafe, piles of bone-in steaks in a brasserie, and pellets Small gelato with toppings. Scored: 9 toques, minus one toques for a nasty cold focaccia-corn pizza square that would be perfect under a heat lamp.
Amidst the influencers and gourmets walking on stilts, I try to miss Martha Stewart, Luann de Lesseps, Questlove and Brooke Shields, who I later know have all passed. I wonder what Martha thinks of prosciutto? Score: 7 toques
Photo: Rupert Ramsay / BFA.com
A man carrying a small bouquet of flowers told me he had to "suck someone's ball" to get it from the screen downstairs. Another woman I overheard inside the packaged taco stand kissed her friend on the cheeks and reassured her, "We're not in Paris anymore. We're in España or something! " Scored: 2 toques
A barely prominent DJ booth, which I could barely hear the buzzing and rambling of. Scored: 5 toques
https://www.thecut.com/2022/09/tin-building-jean-georges-opening-party.html Martha Stewart and a Big Fish Hit the Tin Building Fête