Matteo Messina Denaro: Notorious Sicilian mafia boss dies after being said to be in irreversible coma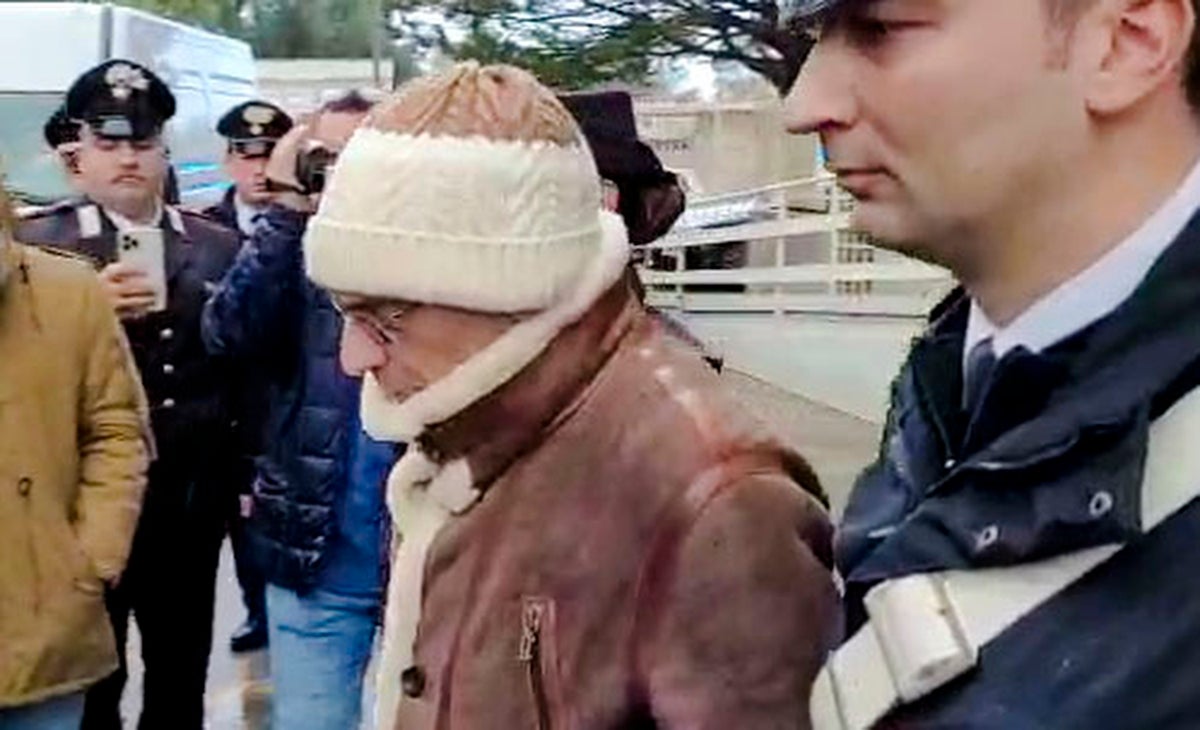 A notorious Italian mafia boss has died while receiving medical treatment for cancer after being arrested earlier this year, according to media reports.
Matteo Messina Denaro was considered the last "godfather" of the Cosa Nostra or Sicilian Mafia. He was arrested in January after being on the run since 1993 and suffering from colon cancer at the time of his arrest. He is believed to have ordered dozens of Mafia-related murders for Cosa Nostra.
Messina Denaro's condition worsened in recent weeks and he was transferred from a high-security prison in central Italy to the San Salvatore hospital in L'Aquila.
He did not seek aggressive medical treatment, the Italian news agency ANSA reported on Monday. Doctors had stopped feeding him after he was found to be in an irreversible coma.
Messina Denaro, who had been on the run for 30 years, was arrested at a private hospital in the Sicilian capital Palermo, where he was being treated for cancer under an assumed name.
He was sentenced in absentia to life in prison for his role in the 1992 murders of anti-Mafia prosecutors Giovanni Falcone and Paolo Borsellino. He also faced a life sentence for his involvement in bombings in Florence, Rome and Milan that killed ten people the following year.
Messina Denaro was accused of helping to organize the kidnapping of 12-year-old Giuseppe Di Matteo in order to dissuade the boy's father from also testifying against the mafia. The boy was held for two years and then murdered.
Nicknamed "Diabolik," he was once considered a candidate for the position of "boss of bosses" of the Sicilian Mafia following the deaths of Bernardo Provenzano in 2016 and Salvatore "Toto" Riina in 2017.
According to medical records leaked to the Italian media, he underwent surgery for colon cancer in 2020 and 2022 under the false name "Andrea Buonafede". This was announced by a doctor at the clinic in Palermo La Republica According to the newspaper, Messina Denaro's health had deteriorated significantly in the months before his arrest.
Messina Denaro, who had a power base in the Sicilian port city of Trapani in western Sicily, was considered Sicily's top Cosa Nostra boss even as a refugee.
Police said in September 2022 that despite his long disappearance, he was still able to give orders related to the leadership of the Mafia in the area around Trapani, his regional stronghold.
Messina Denaro was born in 1962, the son of a Mafioso, in the southwestern Sicilian town of Castelvetrano. He followed his father into the mafia and was already carrying a gun at the age of 15. Police said he committed his first murder when he was 18.
The Castelvetrano clan was allied with the Corleonesi, led by Salvatore "The Beast" Riina, who, thanks to his ruthless pursuit of power, became the undisputed "boss of bosses" of the Sicilian mafia.
Messina Denaro, nicknamed "U Siccu" (The Thin), became his protégé and showed that he could be as ruthless as his master, receiving 20 life sentences in absentia for his role in a series of mob killings.
He himself once claimed that he had murdered enough people to fill a cemetery.
He went into hiding in 1993 as more and more renegades revealed details about his role in the mafia. However, investigators believe that he rarely ventured far from Sicily.
Police said he spent much of 2022 hiding in Campobello di Mazara, a town of about 11,000 people just a short drive from his mother's home in western Sicily.
He communicated with other Mafiosi through "pizzini," small pieces of paper sometimes written in code and distributed by messengers, some of which were intercepted by police.
He never married, but is known to have had several lovers. He wrote that he had a daughter but had never met her.
Despite his fame, prosecutors always doubted that Messina Denaro became the Mafia's "boss of bosses," saying it was more likely that he was simply the boss of the Cosa Nostra in western Sicily.
Additional reporting by agencies