Mayor Bruce Harrell selects Adrian Diaz as Seattle police chief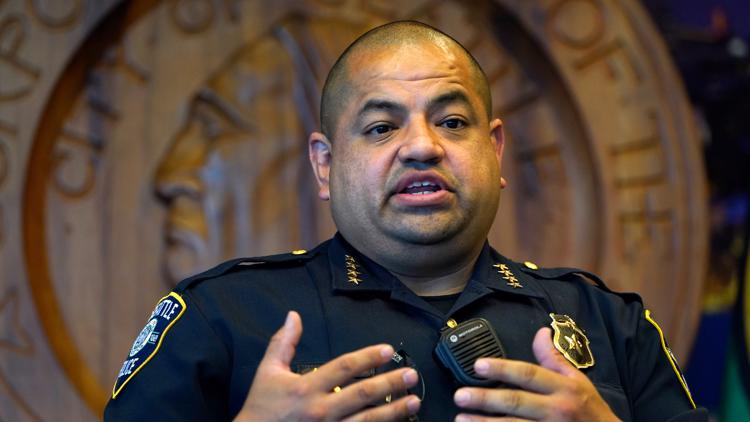 Adrian Diaz, who has served more than two decades with the Seattle Police Department, has been named the next permanent chief.
SEATTLE — Seattle Mayor Bruce Harrell chose interim police chief Adrian Diaz to be the city's new permanent police chief.
Harrell announced his choice during a news conference on Tuesday. Seattle City Council members must now confirm the selection.
From the start, the mayor said he was looking for a leader who would build trust in the community, meet the department's recruiting and retention goals, and help Seattle set a new standard for public safety.
Harrell made his choice from three candidates who were selected as the top three finalists: Diaz, Seattle Deputy Police Commissioner Eric Greening, and Tucson Deputy Police Commissioner Kevin Hall.
Diaz has served as interim chief since former police chief Carmen Best resigned in August 2020. Best's resignation came after a tumultuous summer of racial justice protests, which culminated in the Seattle City Council voting to cut police department spending.
Diaz has worked for the Seattle Police Department (SPD) for over two decades. He worked in the patrol, mountain bike unit, and anti-crime team before joining the Bureau of Investigation. He also served as deputy chief of the Collaborative Policing Bureau before being promoted to deputy chief.
Greening is a 28-year veteran of the department and has served as deputy chief of the Collaborative Policing Bureau since 2021. Hall has been with the Tucson Police Department for more than three decades and has held a variety of roles.
The recruitment process for a permanent police chief officially began in April. The process involved sourcing candidates through a third-party company, gathering public feedback, and engaging in community conversations.
The city narrowed its pool of applicants to five top candidates earlier this month, each of whom has passed a qualifying exam. The three finalists then participated in a televised forum where they answered questions about policing alternatives, violent crime and department culture.
Diaz is tasked with addressing ongoing staffing issues at the department. The number of operational officers is the lowest in over 30 years. Officials are still walking faster than the department can hire them, data shows. The department has lost 400 officers over the past two and a half years.
https://www.king5.com/article/news/local/public-safety/new-seattle-police-chief-adrian-diaz-selected/281-448556b6-3a91-45ab-8314-083e50b362e7 Mayor Bruce Harrell selects Adrian Diaz as Seattle police chief