McGregor Forever: The problem with the new Conor McGregor documentary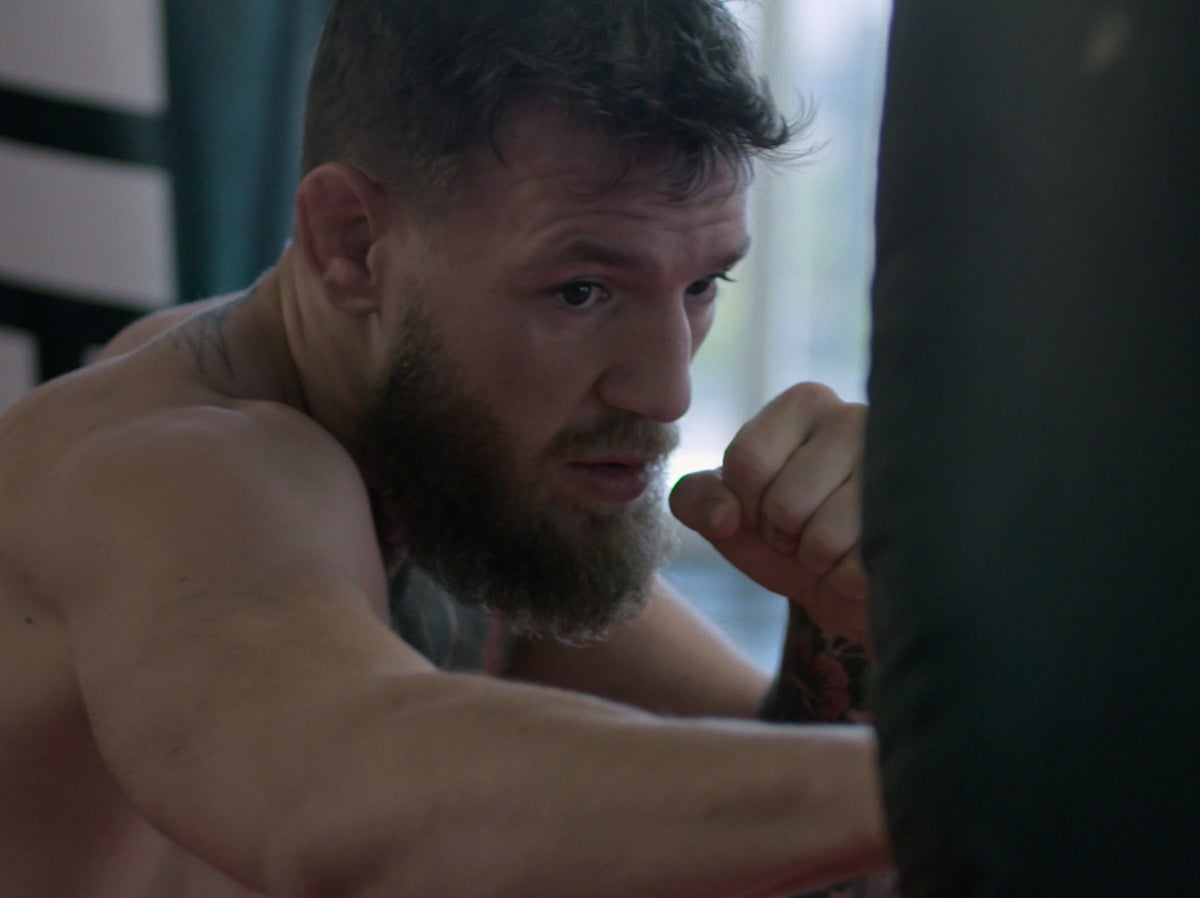 Conor McGregor sits in a hospital bed, dressed in a surgical gown, his face still drained from weight loss. "I thought it was over," he says of his career, before the set transforms into an "octagon" with McGregor sitting on the screen, wearing his fight night clothes, his face contorted in pain. "It's not over!" he hisses at Dustin Poirier.
That's how Netflix is McGregor forever begins, the second documentary about the MMA megastar. During 2017 movie Notorious Covering the Irishman's rise to become the first doubleweight champion in UFC history and his iconic rivalry with Nate Diaz, this new series chronicles the journeys surrounding his last four fights – three of them losses – with each, broadly speaking , an episode dedicated to.
McGregor foreverdirected by Gotham Chopra and produced by Religion Of Sports, begins at the end: after McGregor's broken leg against Poirier in July 2021. Then it's back to 2018 and the Irishman's bitter rivalry with Khabib Nurmagedomov, culminating in his return in 2020 against Donald Cerrone, his duel with Poirier in January 2021 and finally their ill-fated rematch six months later.
Notorious was released shortly after McGregor's spectacle of a superfight with boxing legend Floyd Mayweather, whose backstory was absent from that film and is not included in this series. And so McGregor forever begins in earnest leading up to the UFC star's clash with Khabib, an intriguing and hitherto little-explored period in McGregor's career. It's a spell made all the more enchanting by the stark contrast between the scenes in which McGregor plays with his firstborn son, partaking in the reveal of his daughter's gender, and the venom of his exchanges with Nurmagomedov. An eerie soundtrack only reinforces the sinister feeling.
McGregor's trainer John Kavanagh once spoke before the fight about his fighter's menacing attitude; how McGregor beat up sparring partners instead of trying to learn from them before going out and drinking to celebrate. In fact, this particular installment of the series confirms those revelations by painting a picture of an uncertain McGregor, and every second of never-before-seen footage is welcome — even an agonizing scene where McGregor's dislocated toes are put back into place three weeks before Battle; most notably footage of a teary-eyed McGregor grappling with defeat, surrounded by teammates in his dressing room, yet desperately alone. Despite all the intriguing elements of this phase of McGregor's career, the fighter himself sees it simply: "I got beaten and that's it. I got beaten where it counted, in the end."
A similarly telling moment comes in the third episode, after McGregor suffers his first-ever KO loss. "It was just miserable," he says before questioning his team. "How come you guys don't have anything… I was shot, my leg was dead and there was no rattle at all [from you]." Both scenes follow a satisfying cinematic rendering of the fights themselves, and the other episodes use the same powerful tone and visual processing.
The opening episode ends with McGregor doing community service, which is the series' only acknowledgment of his various legal troubles over the past several years. But as McGregor expresses his genuine feelings about the experience, perhaps the documentary's most disappointing aspect is highlighted: Elsewhere, McGregor's commentary is noticeably lacking, instead old interviews are superimposed over much of the fresh footage, undermining the excitement of being new to watch clips.
The biggest problem, however, is the timing of the series itself.
McGregor forever is being sold as the story of the Irishman's comeback after numerous setbacks and his impending comeback after his broken leg; However, he has yet to come back in the way that matters most to his fans and the sport: in the ring, and ideally with a win. What's more, the series isn't exactly convincing that such a victory is imminent. If you hadn't seen McGregor's final encounter with Poirier, the final episode of the series would have you believe the Irishman was in for a redeeming win, rather than the worrying performance and devastating injury that followed.
McGregor's ability to recover from this injury is nothing short of commendable and shouldn't be overlooked. The 34-year-old opens up about his desire to keep fighting in this documentary, about how he is and always will be a fighter first and foremost, but we haven't even announced a date for his next fight against Michael Chandler yet. When it comes to fights, the number and type of moving parts can be staggering, so McGregor's continued, prolonged absence isn't entirely his fault. But fans want clarity on the situation, which this documentary can't provide.
Between this series are his appearances as a coach The ultimate fighterThanks to his consistent social media presence, there's plenty of McGregor content to consume in 2023. There just aren't enough McGregor competitions.
Click here to subscribe to The Independent's sports YouTube channel for the latest sports videos.