'Miami Girl,' Schwartz, Epic Shade and More
In her first interview since the "Scandoval" broke, "Vanderpump Rules" star Ariana Madix sat down with Andy Cohen for "Watch What Happens Live" after the cheating scandal between her ex-bf Tom Sandoval and ex-bff Raquel Leviss exploded all over the show's season finale.
Ariana Madix appeared to have achieved some sort of peace in her first interview since the "Scandoval" that blew up the life she thought she was leading. On Wednesday, the "Vanderpump Rules" dropped by Andy Cohen's playhouse on "Watch What Happens Live."
The reality star was incredibly candid and honest about everything to do with the cheating scandal that ended her nine-year relationship with Tom Sandoval, after she caught him with her best friend Raquel Leviss, its aftermath and even some other scandals … like "Miami Girl."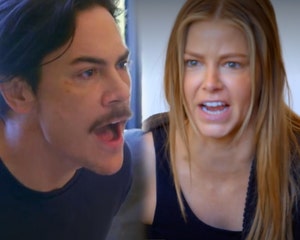 Bravo
Everything Ariana Madix Said During Gut-Wrenching Tom Sandoval Confrontation on Vanderpump Rules Finale

View Story
She also took aim at Sandoval's best friend Tom Schwartz and definitely had some words about how both Sandoval and Raquel reacted when she confronted them about the affair — let's just say, it wasn't a good look for either of them.
Here's some of the biggest bombshells, biggest shade and biggest highlights from her chat during both the broadcast show and the aftershow.
Reactions from Sandoval & Raquel
One thing that stood out to Ariana both in the moment and even later when they filmed the explosive three-part reunion (that starts next week) was Raquel's seeming lack of emotion.
Describing Raquel's demeanor as "odd" the night she confronted her after finding a compromising FaceTime on Sandoval's phone, Ariana said, "It was like she didn't want to tell me anything," said Ariana. "I had to beg– I was screaming, crying throwing up, begging for some sort of something.
"Like, I said, 'If you've ever given a crap about me, if you've ever cared, just as a woman, tell me something,'" she said. "And all I could get out of her [was] that there was a kiss, and of course she framed it as after 'Girls Trip,' which is just insane."
After this conversation, Ariana confronted Sandoval who admitted that it had been way more than a kiss; he and Raquel had had sex in Raquel's car while Ariana was inside mourning the death of her dog — she then had to let Sandoval back in the house.
As for his reaction, Andy asked her thoughts on him seeming to be more emotional with Schwartz than he was with her, and she shared how that went down — and what he seemed concerned about.
"It didn't strike me watching the episode because that's how he was from the moment that I found out: he was just screaming at me," Ariana said. "We were in the backyard, he threw a beer can all the way across the backyard into the back wall. He was more concerned, even that night, in that moment in the back of TomTom, about people hearing that we're at TomTom than, like, how I felt at all."
She also said that she believes "there's some part of [Sandoval] that's really loving the attention that this has brought him and as long as people continue to give him that attention, he will be happy about it."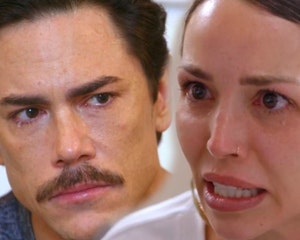 Bravo
Tom Sandoval Admits He Cheated on Ariana Madix with Another Woman, Shocks Scheana on Vanderpump Rules Finale

View Story
Zero Affair Suspicions — But Something
One of the cringiest moments — in hindsight — was when Raquel seemed so eager to help her friend when Ariana wanted to talk about her intimacy struggles with Sandoval. Considering Raquel was sleeping with him at the time — yeah, it's a lot.
Ariana didn't have any answers as to what Raquel was trying to get out of that experience, admitting that she was oblivious or misreading all of Raquel's cues in that moment.
"I was so excited to have that conversation because I feel like over the years I have had bits and pieces of those types of conversations with other women on the show and it's always felt a little bit uncomfortable because I wasn't as close with those women as I was with Rachel," she shared. "And so I was like, 'Oh my gosh, I'd love to have this conversation with someone who's actually my close friend.'"
"I thought that her expressions and her demeanor was more because we were filming a finale and that she was leaning into being, like, animated and giving it, and I truly just was not picking up on what she was putting down," she added.
Andy asked her if she got a "remorseful vibe" from Raquel even at the reunion, which was filmed in March. "Absolutely not," came her terse reply.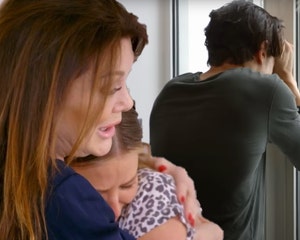 Bravo
Tom Sandoval Has Complete Breakdown with LVP Over Ariana Madix on Vanderpump Rules Finale

View Story
Ariana also conceded that she had zero suspicions about Sandoval and Raquel being a thing. When Andy challenged her on that, though, asking about her "woman's intuition" that sent her into Sandoval's phone the night she found the incriminating evidence of the affair.
"I wasn't suspicious about an affair or about Rachel, but I was like, something was clearly going on with him mentally and that's what I was picking up on," she said.
At the same time, she said that when she had asked him prior about when he would be out late, he covered very well. "He would say, 'I was at Schwartz's.' And I would say, 'Really? Let me see your phone.' And he would say, 'Sure, here you go,'" she said. "So I would look at his texts, I would look at his phone. And he was very good at concealing the double life and hiding all of the evidence."
Later, Andy noted a comment Sandoval made where he said he'd "normally" delete stuff like what Ariana found. She agreed that this would indicate this was a common thing, but also shared, "I do know he had that app on his phone that's like a calculator; it's like a vault where you can hide secret stuff. He was very committed to the double life."
Bravo
Ariana and Katie Confront Tom Schwartz Over Scandoval Involvement on Vanderpump Rules Finale

View Story
Believes Schwartz Fully Complicit
It wasn't just that Sandoval was using Schwartz as his cover, Ariana said that she fully believes Schwartz was complicit in helping him cover up everything.
When asked if she thought he'd been covering for his best friend (Sandoval) the whole time, Ariana said of Schwartz, "I don't think it was just covering, I think it was actively participating in my downfall."
She said that watching the Toms making their sly comments about the bagel truck was a turning point for her. Obviously, those episodes aired after she knew about the affair, but there was still a lot she didn't know … like Schwartz's knowledge about everything.
"That was the first time I cried in a long time, because watching Tom Schwartz fully cosign and alley-oop the whole thing disgusted me to my core," she told Andy.
Ariana clearly has no love lost between her and Schwartz, either, because she said the most cringeworthy thing about the season is "the fabrication of the narrative that was being formed, like, the entire time without my knowledge behind my back by, not just my ex-boyfriend but his little flying monkeys as well." That last reference was "Tom Schwartz, mainly."
Bravo
Kristen Doute Returns to Vanderpump Rules to Comfort Ariana Madix, Bond Over Tom Sandoval Infidelity

View Story
At another point in the show, Andy asked her if she thought the Toms friendship could survive this. "Well, if Tom Schwartz wants to save himself in any way, it won't."
Producers have even admitted they aren't yet sure what future seasons of "Vanderpump Rules" will look like in the aftermath of this cheating scandal. It not only rocked the cast to its core, it divided them in some pretty fundamental ways.
Can Ariana, Lala Kent, Katie Maloney, Scheana Shay, James Kennedy and the like be on the same show with the Toms and Raquel? Would any of them even want that? Could Kristen Doute, Jax Taylor and Brittany Cartwright come back (maybe to replace the Toms and Raquel?). There are so many questions yet to be answered, and it doesn't look like the reunion answered them all.
In fact, Ariana said at one point she wishes she'd known all that she knows now when the reunion was taped "because I would have brought a lot of that stuff up." Maybe we need a reunion reunion?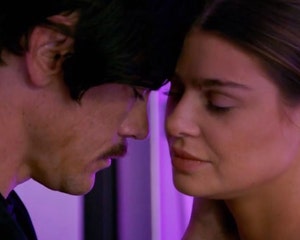 Bravo
Tom and Raquel Say They 'Love' Each Other In First On-Camera Talk Since Affair on Vanderpump Rules Finale

View Story
"Miami Girl" and More Juicy Nuggets
–Now that she and Sandoval are no longer together, Ariana had no problem answering a viewer question about what really happened between him and "Miami Girl" Annemarie Maldonado early in his relationship with Ariana.
"They slept together," she said candidly. "It was before he and I were exclusive and I didn't want people to think the absolute worst of the man I thought I was going to spend the rest of my life with so … I defended him."
–Ariana confirmed that she and Sandoval are still living together, but her intentions are to sell their house. "I want my money out of that house as quickly as possible, I want to move on," she told Andy.
She also said that while they are co-habitating technically, they have zero contact with one another. Instead, they have go-betweens.
–At different points in the interview, Andy asked her about her feelings that Lala and Katie had been right about Tom, and even that Jax had perhaps been right all along.
She said she didn't regret not listening to the girls even though "their intuition was clearly on." But, "I think that at the time I was doing my best to be the best friend to Rachel that I could be."
As for Jax being right, Ariana made a "darn" gesture with a laugh before answering. "Yeah, who would've thought, right?" she said. "Me especially would have never thought that me and Jax would be, like, bonding over a mutual hatred of someone– honestly, it's just wild."
–One thing that has helped Ariana through this, oddly enough, is just how big the story has gotten. Not that everyone knows her business, but that some famous people are talking about it, or even reaching out to her.
"My mind was completely blown by seeing J.Lo even have any knowledge of my existence," she told Andy. "Watching Molly Shannon talk about this. Kristen Chenoweth, one of my heroes, talking about– like, honestly, like, its just– I don't even know who– it's mind-blowing, like, it's insane."
She also shared that on days she'd wake up feeling "bummed out or something," it would perk her up to see that someone surprising had sent her something. "It, like, took me out of the moment," she explained. Sometimes that's just what's needed.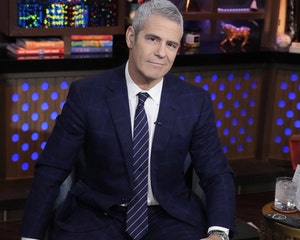 Getty
Andy Cohen Recreates Totally Nude Photo from 30 Years Ago, Housewives React In Shock

View Story
–Ariana proved herself the shade queen beyond referring to Tom Schwartz as a "flying monkey" when Andy asked her about Lisa Vanderpump's comment that Sandoval just couldn't resist the beauty queen, referring to Raquel.
"She's never won a pageant, ever," Ariana said. After a strong audience reaction, she added, "I mean, I was there, so–"
–The reality star seemed to drop a pretty big hint about those rumors she's been approached about being on "Dancing with the Stars." It's a combination of what she said and how she said it.
When Andy asked her, she replied, "No, I don't know anything yet." That last word carried a lot of weight, indicating that there had been preliminary talks.
She then perhaps overcompensated by turning to the camera and crowing, "It would be really cool, though. You guys wanna ask me, I would love to do it!" It seems a pretty strong likelihood, if the contracts can be worked out — Bravo and "DWTS" have had a strong relationship over the years.
–Ariana was definitely careful when responding to Andy asking if she had any thoughts about reports Raquel was seeking treatment. "Obviously, mental health advocacy is very important to me," she said, conceding that she doesn't know what Raquel is or isn't doing.
"I don't know what her situation is at all, so I can't really speak on it," she said. "I obviously don't know her on any level, none of my friends know her on any level anymore. If she's getting help, I mean, I think she needed it."
Getty
Scheana Shay and Lala Kent Share Their Thoughts on Ariana Madix's New Man

View Story
–There has been a lot of talk in the public that Sandoval and Raquel are no longer an item, but Ariana isn't subscribing to that gossip. "I don't buy that at all," Ariana told Andy, per Page Six. "She was sending letters to my house like four days ago."
Ariana said she didn't open the letters, becaase it's "illegal" to tamper with the mail, after all. But she still knows correspondence is coming and who it's coming from.
"I just brought in the mail, saw it, put it on the table and walked away," she said. "It was in her handwriting."
When Andy asked if it was maybe coming from Raquel's treatment facility, Ariana said, "I guess. I don't know." Sandoval had previously told TMZ he was not in contact with Raquel (as no one was in contact with her) since she entered treatment. At the same time, he did also say she was "doing great."
–As for why she thinks this story has resonated in such a huge way, Ariana told Andy, per People, "It's so layered. It's the manipulation, it's the narcissism, it's the double life. There's so many layers to it." Everybody has experienced one of those things and can relate to it — and has listened to my ex saying, 'Accountability!' for years."
–While she didn't offer up much about her new romance with Daniel Wai, Ariana did say she is "very happy and satisfied," adding, "I feel good. I definitely feel as though my friends have put me in the best position to heal and grow, and I'm honestly just looking forward — only forward — and not looking back."
Fans are looking forward, too, to the sure-to-be-off-the-hinges-wild three-part "Vanderpump Rules" reunion specials, kicking off next Wednesday at 9 p.m. ET on Bravo.