Michigan 13-year-old who used a slingshot to save his sister says he 'was just lucky'
ALPENA TOWNSHIP, Michigan — A 13-year-old Michigan boy who used a slingshot to save his 8-year-old sister from a kidnapping attempt said he "freaked out" and simply reached for something that might stop the attack.
"So I'll grab my slingshot, open the window and grab two things — a marble and a pebble or something," Owen Burns told WWTV/WWUP-TV in Cadillac, northern Michigan.
Police said Owen punched the 17-year-old attacker in the head and chest, and his sister managed to escape.
"I was just lucky. He's just a big target because he's not like a Pepsi can," Owen said.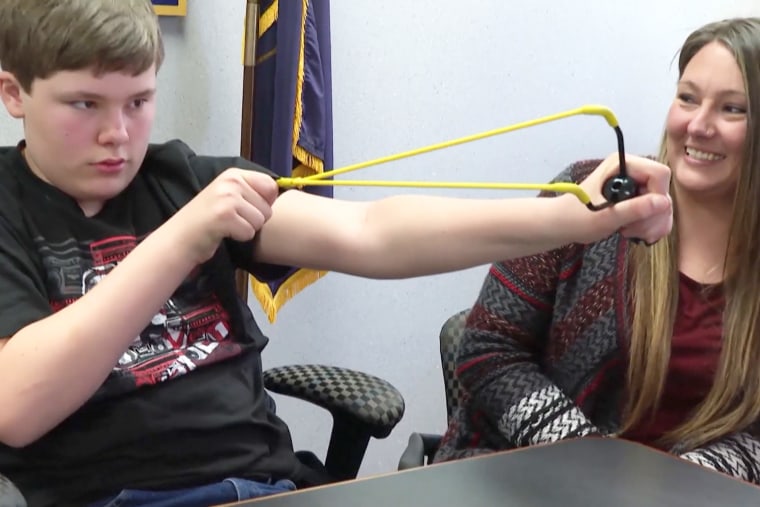 The kidnapping attempt happened on May 10 in front of the family's home in Alpena Township. Owen's sister was outside looking for mushrooms.
"I say, 'Okay, be careful.' … And then, boom, something happens," he recalls.
Owen heard a scream while playing video games, but assumed his sister was just "joking around" with friends. A second scream startled him.
"So I looked out the window and saw her being kidnapped by a person and I almost freaked out," Owen said.
Then he grabbed his slingshot. Police identified the suspect and said he had visible wounds. The teenager was charged with attempted kidnapping and other offenses.
State Police Lieutenant First Lieutenant John Grimshaw said Owen's actions were "extraordinary".
He said the boy saved his sister's life, or at least prevented "something really bad happening to her."
Owen said he had to act.
"If I wasn't out there and didn't hear her scream, then she was gone," he said.