Missing Oakley Carlson's father Andrew Carlson released from jail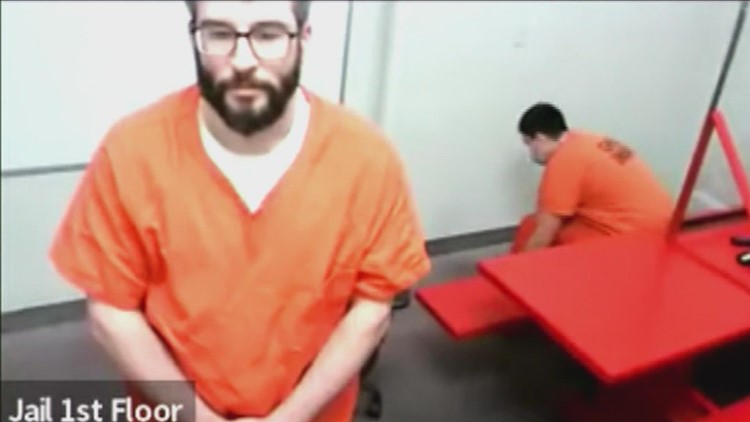 Andrew Carlson was released from prison on Wednesday after serving a sentence on charges unrelated to the disappearance of his 5-year-old daughter.
GRAYS HARBOR COUNTY, Wash. — Andrew Carlson, the father of missing 5-year-old Oakley Carlson, was released from the Grays Harbor County Jail early Wednesday morning. He has been behind bars since December 2021 on charges unrelated to his daughter's disappearance.
Oakley Carlson was last seen alive in February 2021, according to Grays Harbor detectives.
Andrew Carlson pleaded guilty to two counts of controlled substance exposure in March for exposing children to methamphetamine and was sentenced to 12 months in prison. He had no criminal record, which made him eligible for parole.
Among the endangerment charges, Andrew Carlson was charged with knowingly or intentionally allowing two of his dependent children to be exposed to, ingested, breathed in, or had contact with methamphetamine. According to court documents, Oakley's siblings had "extremely high" levels of methamphetamine in their system, suggesting they were either exposed to the drug or may have taken it.
>> Download KING 5+, our new Roku and Amazon Fire apps, for 24/7 live coverage
In addition to 12 months in prison, Judge Katherine Svoboda said in March that Andrew Carlson cannot use controlled substances, including marijuana or THC, without a valid prescription. He must also receive a chemical addiction assessment within 45 days of his release, follow up on any recommended treatment, and present evidence to the court within six months of his release.
Additionally, Andrew Carlson may not have firearms or unsupervised contact with anyone under the age of 18, other than his biological children, pending hearings in the dependency court.
Jordan Bowers, Oakley's mother, was sentenced to 20 months in prison in April on two counts of child endangerment with a controlled substance. Bowers pleaded guilty in the Grays Harbor County Superior Court after initially pleading not guilty.
Bowers had also previously been charged with a count of leaving, but the charges were dropped as part of the plea deal. The charges, both of which are Class B felonies, are unrelated to Oakley's disappearance. Because of her criminal history, Bowers faced a longer sentence than Andrew Carlson. She is scheduled to be released from prison in January 2023.
Neither Andrew Carlson nor Bowers have been charged in connection with Oakley's disappearance. She was last seen alive on February 10, 2021.
RELATED: Timeline of Events: The Search for 5-Year-Old Oakley Carlson
Grays Harbor County Undersheriff Brad Johansson said Andrew Carlson was questioned Tuesday by officers from the Grays Harbor County Sheriff's Office and an FBI special agent, but "did not provide any information that would help with the location." [Oakley] Carlsson." Johansson said Andrew Carlson and Bowers remain of interest in the case.
"Detectives are still trying to prove what happened to Oakley Carlson," Johansson said. "Answers to that question would most likely result in criminal charges being brought against those responsible."
Jamie Jo Hiles, Oakley's former foster mother, fought for justice in Oakley's case. Oakley was sent to live with Erik and Jamie Jo Hiles for more than two years before returning to her biological parents in November 2019.
"We were mom and dad," said Jamie Jo Hiles. "We, you know, read to her, we sang to her, we shared all the adventures with her."
The couple said they feared for Oakley's safety as she returned to her birth parents.
"Oakley had come home from a visit and once told us that she had experienced violence during an unsupervised visit," Hiles said. "I informed the social worker. Unfortunately nothing came of it. So, here we are today."
The couple said they reported the incident to the Washington State Department of Children, Youth, and Families (DCYF).
Jamie Jo Hiles told KING 5 on Wednesday that her thoughts are with Oakley and the other victims in this case.
"I'm hurt for her siblings because this is great trauma and the time Jordan and Andrew will spend in prison and in prison is so short compared to the lifelong trauma these children will feel," Jamie Jo said Hiles on Wednesday. "That's where I get angry and I don't think Andrew should have come out today."
Jamie Jo Hiles said the DCYF filed a detention review on Oakey's behalf with Attorney General Bob Ferguson in hopes of bringing Andrew Carlson before a judge on Oakley's case and trying to keep him behind bars.
"I'm really frustrated and disappointed," Hiles said. "I suppose it's still on his desk and that's a shame because that could have stopped Andrew [in jail]wondering where oakley is?
KING 5 have reached out to Ferguson's office for comment but have yet to receive a response.
Police began searching for Oakley in December 2021 when a principal called and asked for a welfare check. The principal of Oakville Elementary School called police after one of Oakley's siblings told her during a sleepover that "Oakley doesn't exist anymore," according to court documents.
Investigators said Oakley was not seen during social screening and both Bowers and Andrew Carlson did not cooperate.
During a search of the family home, police found toys and clothing for all of the children except Oakley. They also found blood on blinds in the house and on the front door. Investigators searched the family's 300-acre property but did not find Oakley.
But the Hiles aren't giving up the fight to find Oakley.
"Who else will fight for them? I don't see any family here for her other than my family and our family," said Jamie Jo Hiles. "Who will stand up for this little girl if we don't?"
Anyone with information regarding Oakley's disappearance is asked to contact the Grays Harbor County Sheriff's Office at 360-533-8765 or Detective Sgt. Paul Logan at 360-964-1729 or email sodetectives@ co.grays-harbor.wa.us.
https://www.king5.com/article/news/local/oakley-carlson-father-andrew-carlson-released-grays-harbor-county-jail/281-0472e6ad-a96b-46e5-9ce0-7f889c14b433 Missing Oakley Carlson's father Andrew Carlson released from jail