Missouri parents learn their daughter is alive 10 hours after police notified them of her death
Family members of the actual victim were those who told the morgue they had an "identity problem" after spotting their car in a news report of a hit-and-run accident.
One family breathed a sigh of relief while another was confronted with a heartbreaking reality after getting mixed up in a fatal car accident.
On May 22, Nichole Kent was killed in a hit-and-run behind a pickup truck allegedly ran a red light just after midnight in East St. Louis, Missouri. But less than five hours later, sheriffs went to Mae and Charlie Ferguson's home and informed them that their daughter, Danika Ferguson, had died.
However, Danika wasn't even in the vehicle.
Accordingly fox 2The Ferguson's spent the next ten hours arranging the funeral, organ donation and telling their grandchildren – who they cared for when Danika moved into a new apartment – what had happened.
However, Kent's family began to suspect something was wrong when they saw a news report of the accident, spotted Nichole's car and were unable to contact her. Her mother, Cynthia Mobley, then reportedly called the morgue.
"I told the city morgue that they have an identity problem," Mobley told Fox 2 in a previous interview this month. "I told her you need to look at your body down there and tell me if it has a sleeve tattoo. I said, 'And on one side there will be a flower,' and she says, 'A Hello Kitty.' ' And I said, 'You have Nichole Kent.'"
Kent and Ferguson are distant relatives and according to Nichole's sister, someone in the car had Danika's ID on them. "A few months ago she lost her ID and I guess my sister and little brother had it and they wanted to give it back to her," she explained.
According to Mae Ferguson, a hospital worker told her that a survivor of the crash asked, "Where's Danika?" leading her to believe she was the one who had died.
However, Danika was later found asleep in her new apartment, with a phone whose battery died.
"I'm alive," Danika exclaimed in an interview with Fox 2. "They said, 'Your mom thinks you're dead, this county thinks you're dead, call your mom!'
The hospital did not respond to the network's request for comment, although Sheriff Darin Layman – who Fox said was not at fault – apologized and asked that not only would all future death reports be sent directly to him, but also said: Notifications "also require written notice."
"Every morning I wake up and think my daughter is gone, and then it bursts out, 'No wait, she's fine, I still have her,'" Mae told the outlet. "She's my baby. She always will be."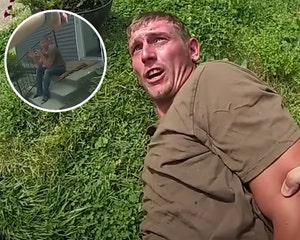 Clermont County Sheriff's Office
Horrific bodycam video shows arrest of father accused of employing and killing three sons, ages 3, 4 and 7

view history