Moscow murder victim's father, Steve Goncalves, talks about his daughter Kaylee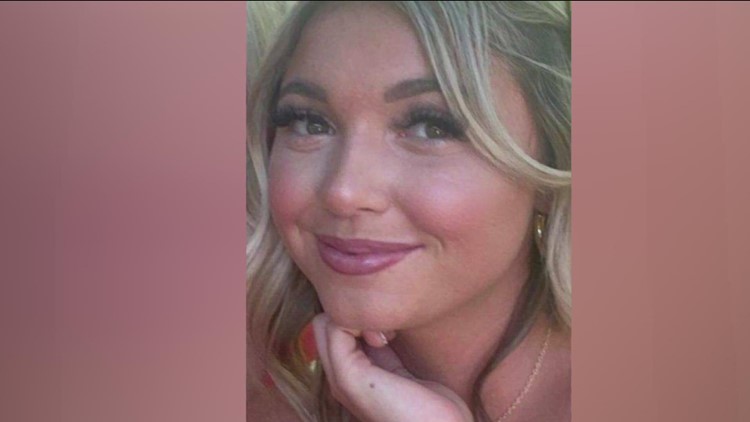 BOISE, Idaho — A grieving father reflects on the week he began to receive answers. Steve Goncalves' daughter, Kaylee, was taken away almost two months ago. The man accused of killing four students was arrested in Pennsylvania and flown to Idaho this week.
Goncalves sat down with KTVB's Morgan Romero to discuss his daughter, family, friends and his thoughts on arresting a suspect.
"I'm relieved. It's been almost seven weeks with absolutely no clear guidance that we're on the right track," Goncalves said. "We know there's evidence but all of that means nothing until you have a face and a person or personality to look up to."
Investigators said she was killed in the same bed as her best friend, Madison Mogen, in a home just off the University of Idaho campus on November 13, 2022.
Downstairs, their roommate Xana Kernodle and her boyfriend Ethan Chapin were also stabbed to death.
Bryan Kohberger, a 28-year-old Washington State University doctoral student, faces four counts of first-degree murder and one count of burglary for entering 1122 King Road in Moscow, with intent to kill .
A detailed probable cause affidavit (PCA) was also released Thursday, setting out why investigators think he was the one who killed the four students.
As Kohberger sat in the Latah County Jail without bail, Goncalves said he breathed a sigh of relief.
"I remember what she meant to the family," Goncalves said.
Kaylee Goncalves, 21, leaves a huge void in her family.
"On the holidays, she's the one who wants to make gingerbread houses and push it away. She knows to make memories, you have to do things like this. We'll miss the gift she brought us every day, and she's also a bit of a mean person. So we'll remember that too," Goncalves said.
Kaylee's father smiles at the thought of her love of country music and concerts. Also, her love for her best friend Madison Mogen, with whom she grew up and died together.
"I just read a letter Maddie wrote to Kaylee about their friendship and it was powerful. They're not just sisters, because sisters are forced to get along, these two, they're not forced," Goncalves said.
"They are like yin and yang," he said.
Goncalves also thought about the other two lives that had been taken.
"I'm here for my daughter and Maddie but there are two other people who are just as important," Goncalves said.
He said he didn't want the story to die. So he kept trying to get people involved if he could, and kept talking about his daughter for motivation.
When police announced they had arrested a man they believe took the lives of students, that momentum increased.
"It took me a lifetime," Goncalves said.
"If there was ever a team, a dream team to solve a case and put it together correctly, we'd have them," Goncalves said.
He said he felt relieved after seven weeks of waiting for some sort of answer.
An unusually long and detailed PCA was released on Thursday. It presented DNA, cell phone records and surveillance video that investigators said would link Kohberger to the crime scene.
Investigators said they found a knife sheath next to Maddie's body and that the sheath contained DNA that matched that of Kohberger's father.
"It was worth the wait and they have a lot of evidence to back it up. We're on the right track and there's still a long way to go, but it feels great. It's great to be in this position," Goncalves said.
The affidavit also said Kohberger's phone was near the girls' home on King Street in Moscow at least 12 times in the months leading up to the murders.
"He was close enough to touch their wi-fi," Goncalves said.
However, public opinion has not yet been heard from the defense in the case. Kohberger is presumed innocent at this point and he is entitled to a fair trial.
Goncalves said that when he saw Kohberger in court, he looked like a man who probably knew he had been arrested and that the evidence against him was damning.
"I see a man who looks like a failure in his body language, looks like someone who is shocked and dismayed. I think he knows how much he has to resist and the reality of it going on, ' said Goncalves.
The PCA also revealed that one of the roommates who survived woke up to a noise and saw a masked man in the house around 4am.
She told police she was in a "stiff phase of shock" when he walked past her to the back door.
911 was not called until noon on the day of the murder.
"It's natural for girls to freeze, lock themselves up and put themselves in a safe position. I don't hold that against them. I checked that, can they live? You know, is that slow bleeding or something? And it didn't. So there's a bad guy here that I have to focus on," Goncalves said.
When asked if there could be any connection between the suspect and the victims, Goncalves said it was a small area.
"It was like 9-10 miles. I mean, I would be shocked if these people didn't meet in groceries and everyday life," Goncalves said. "If he had been there for a year, I assume he would have followed them, and he might have figured out what their pattern was. Then he tries to bump into them or he tries to hang out in those spots.
Goncalves does not think that any strong connection will be found between Kohberger and the students.
"No, what kind? Like my girl is bullying him? Or what kind of behavior could explain someone being so cruel to others? He's probably just obsessed with their overall looks and social media accounts, and the fact that they (Kaylee and Madison) are so close," Goncalves said.
Along with any possible connection, the affidavit also does not reveal a motive.
Since Kohberger was earning a doctorate in criminology, Goncalves guessed that he might want to live up to what he was taught.
"I think he thought in his little fantasy world that he was going to teach a class where he actually did it and no one had a clue. Then it gives him a sense of superiority, like you're getting your mark, graded by someone who's actually lived this lifestyle," Goncalves said.
The grieving father said that instead of honoring the suspect, with all the national attention on his case, we must remember to highlight the beautiful lives lost.
He also feels he must forgive the person who did this.
"I hope this story here is all about these kids. Otherwise, it's just a cancer inside of you. I'm not ready to live with that inside of me. We're not going around with the darkness in our hearts for the rest of our lives and his name is written there like a tattoo in our consciousness," Goncalves said.
Watch the latest news from across the Treasure Valley and Gem State in our YouTube playlist:
https://www.king5.com/article/news/special-reports/local-i-miss-what-she-meant-to-the-family-and-what-she-meant-to-the-world-steve-goncalves-on-his-daughter-kaylee/277-82cea7d8-8f7e-4c22-acc2-cdb2312009ce Moscow murder victim's father, Steve Goncalves, talks about his daughter Kaylee