Mothers providing lunch for Kent students amid strike react to district's announcement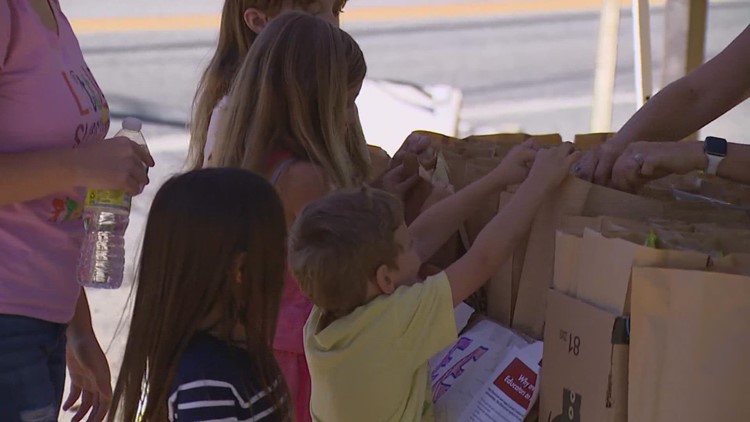 "Finally," Jennifer Liggett Giampapa said with relief after hearing the news from KSD.
"We are pleased that the district is doing this and hope that we can actually work with them to continue to serve more students," Giampapa said.
Giampapa and her KSD mom, Meg Heron, were featured on KING 5 Monday as they launched their own free student lunch program, as the district had no plans to serve meals at the time.
"I always say if you know better you do better and in this situation I believe that is my personal opinion that the Kent School District knew better and ultimately did not do better for the sake of our students and affecting families," Giampapa said.
According to the Washington Office of Superintendent of Public Instruction, as of October last year, more than half of the nearly 25,000 students enrolled at KSD rely on free and discounted lunches. Giampapa said they were able to provide nearly 5,000 meals in the past week alone through generous donations from the community.
"Grateful is the response we are getting from our community members and our striking educators are just so grateful for what we are doing and it takes away their fear to know that their students are now being fed and cared for by," said Giampapa.

Details on Wednesday's district meal plans are still limited. But Giampapa said she and Heron would continue to serve the community they love after the holiday weekend next Tuesday.
"We are so thankful for everyone who has hope and cares about our youth out there in the community and cares about each other in other ways," Giampapa said.
https://www.king5.com/article/news/education/mothers-providing-lunch-kent-students-amid-strike-districts-announcement/281-3e4129b5-2b0d-4b95-83c2-2b1d620b83b8 Mothers providing lunch for Kent students amid strike react to district's announcement