Mountain rescue team called to save tired and injured dog on Scafell Pike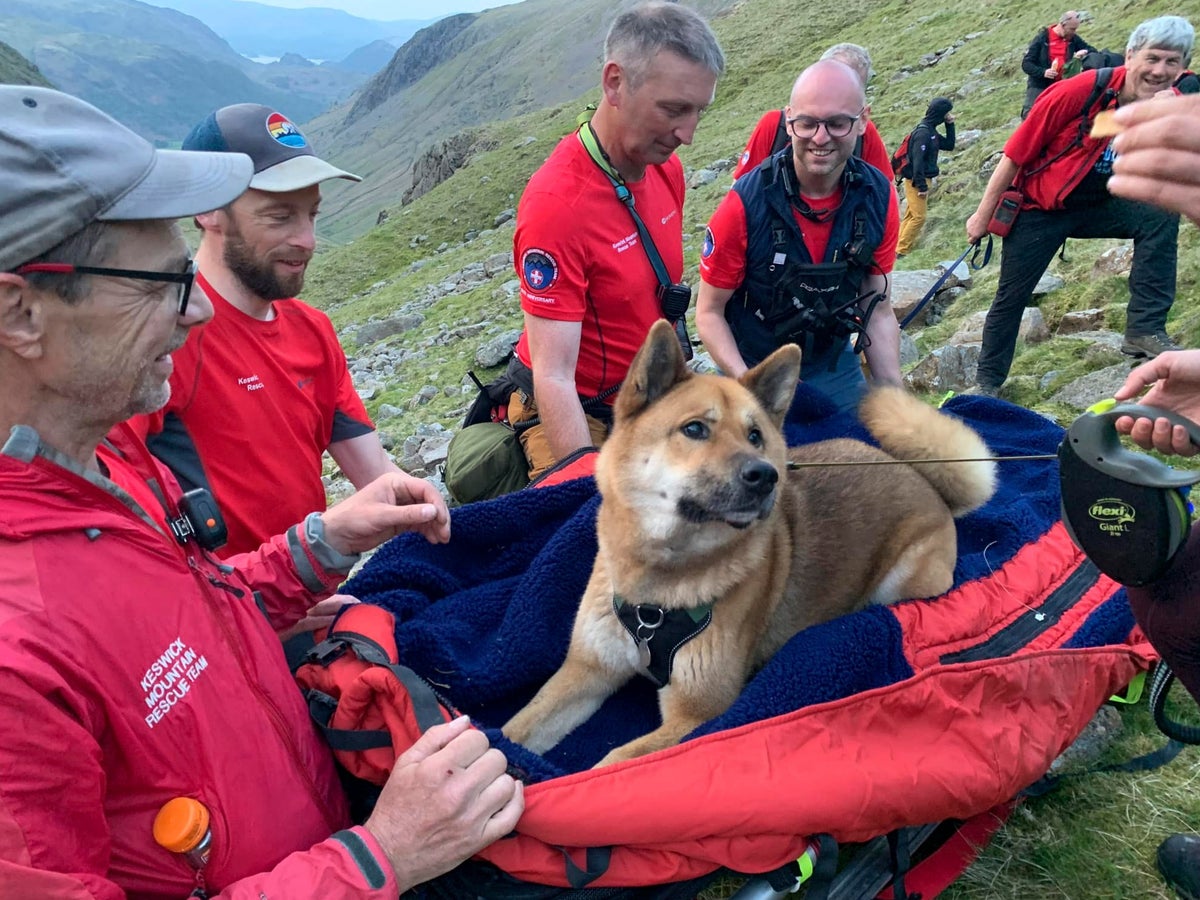 A mountain rescue team was called to help a tired and injured dog who didn't feel like walking down Scafell Pike.
The puppy, an Akita named Rocky, was exhausted and suffered cuts on his paws. That's why it was carried down the highest mountain in England by 13 volunteers.
Despite weighing 33 kg, Rocky remained "cool, calm and downright majestic" throughout the mission, according to the Keswick Mountain Rescue Team (KMRT).
In a statement published on its website, the KMRT said the owners had asked for help with a walk back to Langdale after climbing the mountain in the heart of the Lake District around 6.25pm ​​on Saturday.
The rescue team met the injured dog and his owners at Grains Gill before Rocky settled on a stretcher and the volunteers made their way up the mountain.
In a statement, the group said: "Although it was quite a large dog at 33kg, it was a pleasure to carry such a relatively light victim."
"The victim remained cool, calm and downright majestic the whole time! The victim and owners were taken to Keswick Team Base where they were picked up by other members of their group."
Pictures posted to the group's Facebook page show the Akita – a Japanese breed – appearing to be relaxing while being escorted to safety. The rescue took 4 hours and 18 minutes.
A spokesman for the group said: The Telegraph that it's not clear how long the owners and Rocky had been away, but "there's a lot of rock in the area and especially on Scafell Pike it could have caused the cuts" on the dog's paws.
The National Trust's Guide for Dog Owners states: "Well behaved dogs are welcome on Scafell Pike and many will enjoy a long day of climbing as much as their humans."
"Remember it's a long and tiring day in rocky terrain. Therefore, climbing Scafell Pike is only suitable for dogs used to long walks in the fells.
"If your dog isn't used to the fells, it might be worth doing a few trial hikes at lower elevation before trying Scafell Pike.
"Please follow local and seasonal guidelines and please keep dogs on leads when livestock are grazing. For safety reasons, please keep your dog on a leash in the car parks."