Mt. Baldy is L.A.'s favorite mountain. That's the problem
About 1,000 feet below the summit of one of the deadliest mountains in the United States, Ron Bartell and Christine Mitchell stood in soft snow under a bright blue sky.
It was just before noon on Friday and so warm that they didn't need jackets. Ron wasn't wearing gloves.
They had climbed 3,000 feet up a steep trail covered in snow and ice. Less experienced hikers probably wouldn't have stopped. But Bartell and Mitchell have been climbing mountains for decades; They have climbed it more than 400 times each. They knew what could go wrong.
Getting back up might be easy, they thought; may not come down.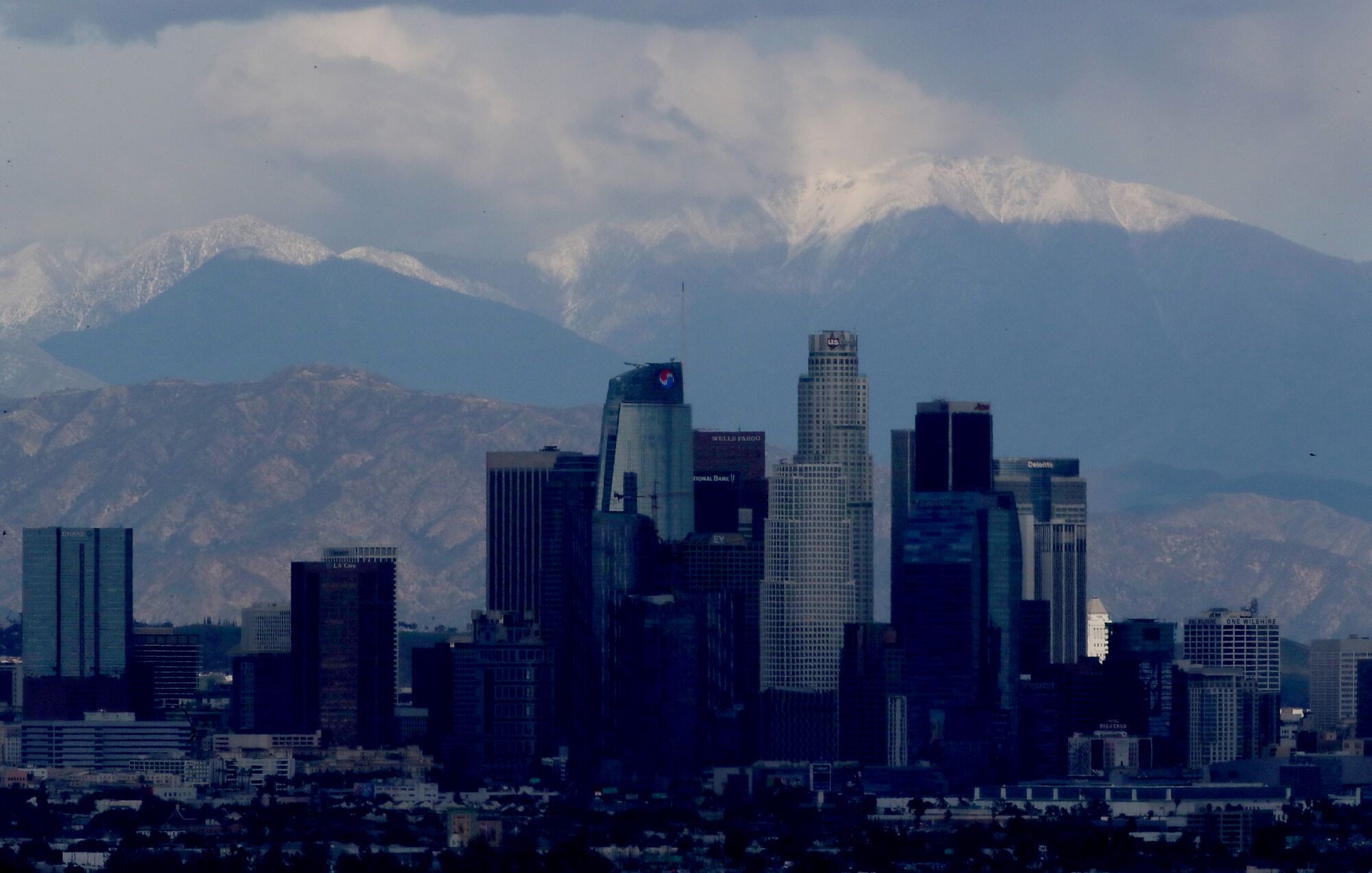 Mt. Baldy towers over Los Angeles at 10,064 feet and looks like a winter wonderland to millions of people who live below.
Despite flashing signs on the Claremont road that read "WARNING ICY TRAILS" and "HIKING NOT ADVISED", some Angelenos with little mountain experience – let alone in winter – can't resist trying.
"Nobody goes up there with bad intentions."
– Eric Vetere, commander of the West Valley Search and Rescue
That familiarity and easy access from a vast metropolitan area has given the mountain one of the worst records for deaths and injuries in the United States
As of 2020, there have been more than 100 searches for missing hikers on Mt. Baldy, with six confirmed deaths, according to the San Bernardino County Sheriff's Department. Comparable statistics are hard to come by, but knowledgeable climbers rank Baldy among the deadliest peaks in the United States behind Mt Washington in New Hampshire and Mt Rainier outside Seattle, both of which are accessible to major cities.
The last few weeks in particular have been trying for the Mt Baldy search and rescue crews. As recent epic storms have dumped snow on the mountainsides, crews have been called to search for lost climbers 14 times since Christmas. Two of these people died from injuries sustained in long falls. British actor Julian Sands, who disappeared on Baldy on January 13, has still not been found.
"Nobody goes up there with bad intentions," said Eric Vetere, commander of West Valley Search and Rescue, a volunteer rescue operation that works on the mountain. "I think it's just a lack of awareness."
The problem with Baldy is that it's a serious mountain that's easily accessible by car from a huge city. It's a long, strenuous hike most of the year, but easily manageable without special equipment.
Even in the snowy winter, the summit can be as pleasant and inviting as Southern California's beaches, an hour away.
But as soon as the sun goes down, clouds gather or the wind picks up, it's all mountain – risky even for experienced climbers.
"Took us 3½ hours just to hike into the general area. Then another 10-hour day to find him."
– Eric Vetere, commander of the West Valley Search and Rescue
Vetere's team is regularly called out to look for people to lead Baldy in trainers and light jackets—typical SoCal winter gear.
"Then something happens," said Vetere. "They slip and fall and hurt themselves. And there is poor cell phone reception, if any. You won't be able to text a friend or call 911. You'll be up there for hours until someone calls you overdue."
Most of these people are found and brought to safety before the elements do any real damage, but not all are so lucky.
On December 28, 43-year-old Jarret Choi had just reached the saddle of nearby Icehouse Canyon and was making his way to scenic Cucamonga Peak. He lost his footing at a point where the trail narrows to the left with a steep drop, Vetere said.
Choi was better prepared than many visitors. He wore crampons—long, heavy steel spikes strapped to his boots—but his boots didn't have the stiff soles needed to keep them in place: a common mistake.
As his life depended on the spikes supporting his full weight, the boot appears to have buckled and one of the crampons twisted out of position, Vetere said.
After rescue workers were contacted and mobilized, steep terrain and inclement weather hampered their efforts.
"It took us 3½ hours just to hike to the general area," Vetere said. "Then another 10-hour day to find him." Choi was already dead by then.
On Jan. 8, 57-year-old Crystal Paula Gonzalez fell more than 500 feet at Baldy Bowl, a steep and technical route on the mountain's upper reaches that lures experienced climbers and those seeking social media fame.
Gonzalez was known as the "hike queen" on Facebook. Her profile is full of pictures of her in the mountains, including a painfully triumphant video of a successful 2019 ascent of Baldy Bowl in soft snow. She shared it again two days before her accident with the caption, "Oh the memories."
But the conditions in the mountains are constantly changing. Seemingly subtle changes in temperature and humidity, even moving from direct sunlight to shade, can turn an inviting slope into a deadly one.
Gonzalez suffered multiple blunt force injuries during her fall, Vetere said, but she was alive when a rescue team lowered from a helicopter reached her. Then clouds came up and the helicopter had to take off before she could be brought to safety.
Rescuers began the slow, arduous process of carrying her down on foot. Her condition worsened along the way; The crew spent approximately two hours performing CPR. The weather had cleared and the helicopter was coming back for her when her heart stopped.
She was pronounced dead near the ski lodge, a well-known landmark and meeting point at 8,300 feet on the Baldy Bowl Trail, one of the most traveled routes on the mountain.
Sands, 65, who starred in "The Killing Fields" and "A Room with a View," was also a skilled climber. In September, he shared family photos of himself clinging to a dizzying ridge high in the Swiss Alps. According to The Independent, an English newspaper, he once described his happiest moment as "near the top of a mountain on a gloriously cold morning".
On Friday, as Bartell and Mitchell paused under Baldy's summit to decide whether to proceed, a helicopter circled overhead searching for Sands: a pounding reminder that caution is needed.
Looking at their watches, they could see that it was almost noon, which put them behind schedule. Experience taught them that on the return trip late in the day, the snow they were standing in could be covered by the shadow of the mountain and quickly turn to unforgiving ice. A fall can have devastating consequences.
Worse, where the trail passes under the bowl, the sheer head wall can shed ice and debris as it warms up in the afternoon sun. This can turn the path below into a high-altitude bowling alley with climbers for pins.
Climbers cringe at the sound of falling debris the way the rest of us cringe at a sudden car horn and screeching tires.
The choice was obvious: Bartell and Mitchell turned back.
At lunch at the ski lodge, they met Tony Banuelos, who had just scaled the bowl for the first time, on the descent.
It was more adventure than he wanted.
A bowling-ball-sized chunk of ice falling from above hit him in the chest, he said, throwing him off his feet and forcing him to arrest himself: the final life-saving act, an ax and crampons burying in the snow.
"You must react immediately," said Banuelos.
Any delay, even a few seconds, is enough for a falling climber to accelerate enough to render climbing tools useless. A professional mountain guide was killed in a similar fall on Mt Shasta in June.
When Banuelos stopped sliding, he rolled into a ball for protection and waited as more debris fell around him. Some bounced off his helmet, he said.
Banuelos had barely finished telling his story when Jesse Saldana, 28, hurried down the path to the cabin, his long hair and full beard blowing in the stiff breeze. From a distance it looked like he was having an animated conversation with himself.
"If you haven't had any training, if you've never done it, don't do it," Saldana announced upon arrival.
He, too, had just climbed onto the bowl. He hadn't skimped on equipment: helmet, axe, hiking boots, crampons. It featured the latest GPS technology, allowing rescue workers to locate you even without a cell phone signal.
And he's spent thousands on mountaineering courses and alpine trips with professional guides, he said.
Still, the bowl had left him a little shaken. The lower, shallower section was deceptively easy, he said. But as he climbed hundreds of meters to the steepest climb, where traction can make the difference between life and death, the wind began to "lash around" and he encountered a thick slab of ice a few inches below the snow that his crampons could not fully penetrate.
"Spare other people the trouble of coming out and saving you," he said. "Anything for a few pictures? It is not worth."
Bartell and Mitchell shed layers of clothing as they made the two-hour descent to the trailhead in the afternoon sun. They removed the spikes from their boots as the soft, slushy snow gave way to dirt and sand. Conversations switched from mountaineering to the things people talk about on a walk with friends – work, family, what's for dinner.
At the bottom, they met a slim, middle-aged man in running shoes and a light cotton shirt going upstairs. He had no backpack, no mountaineering equipment, no spare clothing. If he had food and water, where he hid it was a mystery.
"How high are you going?" asked Mitchell.
"Upstairs," he said.
https://www.latimes.com/california/story/2023-02-02/beautiful-sight-deadly-climb-las-favorite-mountain-can-be-a-killer Mt. Baldy is L.A.'s favorite mountain. That's the problem