Multiple homes in Southern California evacuated after landslide, officials say
Dozens of homes in a Southern California community were evacuated over the weekend after the ground beneath them shifted, putting them at risk of colliding into a nearby canyon, according to Los Angeles County officials.
Los Angeles County Fire Department (LACFD) officials red-tag and evacuated homes in the Peartree Lane neighborhood in Rolling Hills Estates Saturday, forcing 16 people to evacuate, the city said.
in one video shared on Twitter by the Los Angeles County Fire Department, homes partially collapsed and the ground cracked, causing significant damage.
The City of Rolling Hills Estates is working with Los Angeles County and Red Cross agencies to provide shelter to displaced residents, the city said in a statement. declared on its website.
The city said it is also working with the LACFD and the Los Angeles County Sheriff's Department to monitor the situation in the affected area.
Los Angeles County Board of Supervisors President Janice Hahn tweeted Sunday: "Homes have been removed from their foundations. The land is continuing to move, but the evacuation order continues to be limited to these 12 homes."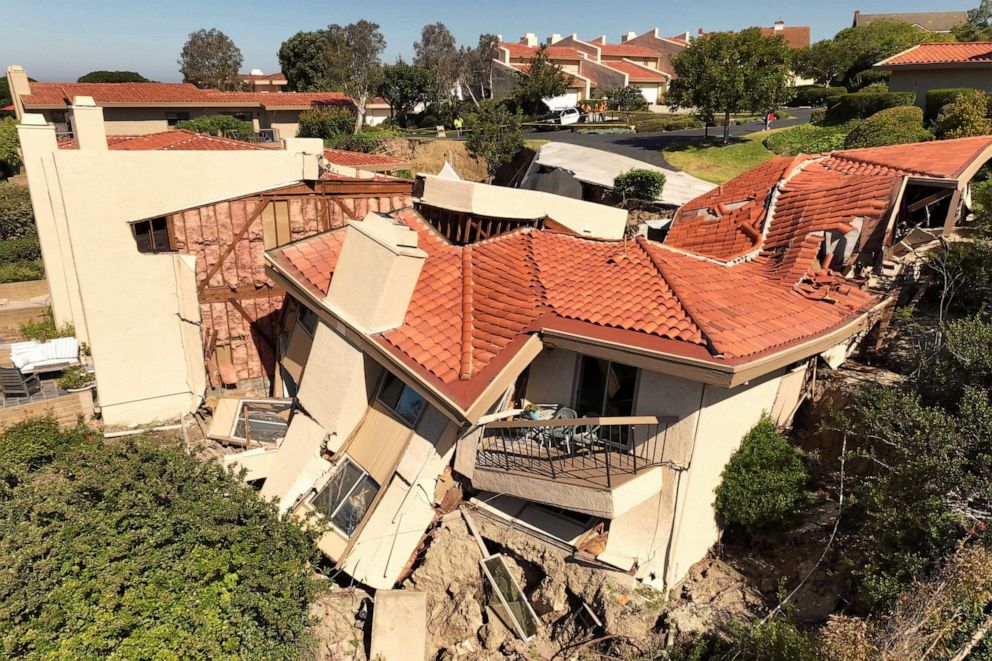 Hahn said at a news conference Monday that the landslide had displaced the ground about 20 feet since she was in the area the day before when there were only "a few cracks" and the garage was damaged. curved.
Hahn said the garage and back deck had "disappeared" and had fallen into the ravine.
"I've never seen anything like it. They are completely uninhabitable," Hahn said, adding that officials were waiting for the houses to fall into the ravine to find out what caused the crash.
Southern California is prone to landslides because of its location on large tectonic plate boundaries and geological complexity. according to the United States Geological Survey (USGS) and the California Geological Survey.
The USGS said in its report that the area experienced various types of landslides, including rapid debris flows caused by heavy rains.
Hahn said the landslide could have been caused by heavy rainfall, which led to the groundwater cracking, causing houses to fall into the canyon.
Google Maps data shows that Rolling Hills Estates is located on the northern side of the Palos Verdes Peninsula in Los Angeles County.
A 1956 landslide destroyed 140 homes in the city of Rancho Palos Verdes, and soil still moves in the area, according to The Associated Press.
"Fortunately we got everyone out, everyone had 20 minutes to get their stuff," she said. "Everybody cooperates. Ultimately, we're here in recovery mode to see what we can do to help people."
The city said Peartree Lane is closed to the public and is open only to residents, city officials and public safety officers.
City officials and their partners are investigating the incident, according to Rolling Hills Estates.
"The support from our community has been incredible over the past few days. Not only from within Rolling Hills Estates, but also from neighboring cities and our elected officials at the County and State levels. state," Mayor Britt Huff said in a statement on the city's website. "It's really inspiring to see how people come together to provide support, especially for our displaced residents and their families."