Murder charges in Tacoma shooting of 14-year-old Iyana Ussery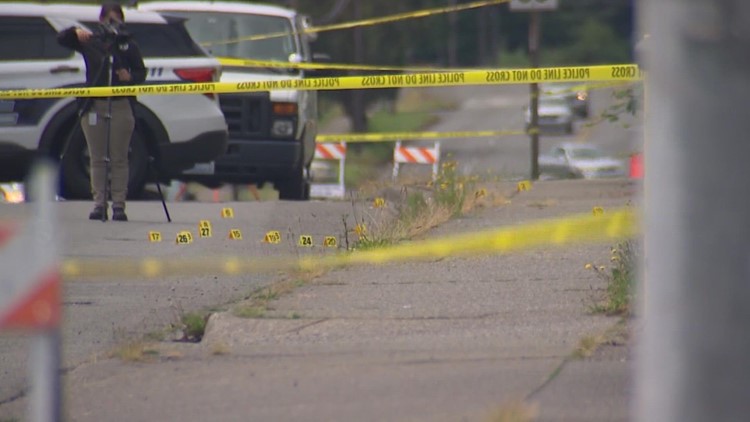 Police believe the shooting was gang-related, although there is no evidence the 14-year-old girl who was shot was a gang member.
TACOMA, Wash. – Two 17-year-old boys have been charged with murder in the shooting death of a 14-year-old girl in Tacoma.
Pierce County prosecutors on Friday charged Christopher Anthony P. Felizardo and Jeremiah Anthony Greg Averitt.
"The ruthlessness of the shooting in a densely populated area put several people at risk," said Pierce County Assistant District Attorney Lisa Wagner.
Felizardo and Averitt are accused of shooting a car in Tacoma's Hilltop neighborhood on July 6, hitting Iyana Ussery, who later died.
On the morning of the shooting, police said, Ussery and several friends drove to the Speed ​​E Mart in her mother's Dodge Magnum to buy snacks.
On the way, they passed a white sedan that one of the passengers recognized. When the group reached the parking lot, one of the guys got out of the Dodge and headed to the store. Surveillance footage shows the Flash gang boys staring at the people in the white car, according to probable cause documents.
He returned to the Dodge and the group drove across the street to Ezell's Chicken.
Surveillance footage shows two people exited the white car before it drove away from the scene. One of Ussery's friends told police she saw two boys run into the parking lot and shoot the Dodge.
Ezell's Chicken employees reported hearing five to nine shots, one of which smashed through the restaurant's front door.
The group in the Dodge fled the parking lot and drove home, where Ussery's mother called the police.
One of the victims told police she recognized one of the shooters. She believed the shooting happened because the shooter and one of the guys in the Dodge had an argument about membership in a rival gang.
Police say there is no evidence that Ussery or her friends are linked to any gangs.
Ussery's mother told police her daughter is "the glue that holds the family together," she helps take care of younger siblings, and that she is a model student about to enter high school.
Felizardo and Averitt, who were arrested on July 7, are both charged with second-degree murder, two counts of first-degree assault, shooting from a car and unlawful possession of a firearm.
Bail was set at $1 million for both suspects on Friday. However, the lawyers argued that additional steps needed to be taken to protect the community.
"I would like to point out once again that the two weapons used have not been found to this day," said Wagner. "This appears to be motivated by gangs, so the witnesses and victims have concerns about retaliation."
Her hearing was scheduled for August 24th.
https://www.king5.com/article/news/crime/2-teens-charged-murder-shooting-14-year-old-tacoma/281-09519157-716b-4d8d-a5a3-9b2c6cdf3ef3 Murder charges in Tacoma shooting of 14-year-old Iyana Ussery