Murekatete, Motuga lead WSU's upset of No. 19 Arizona women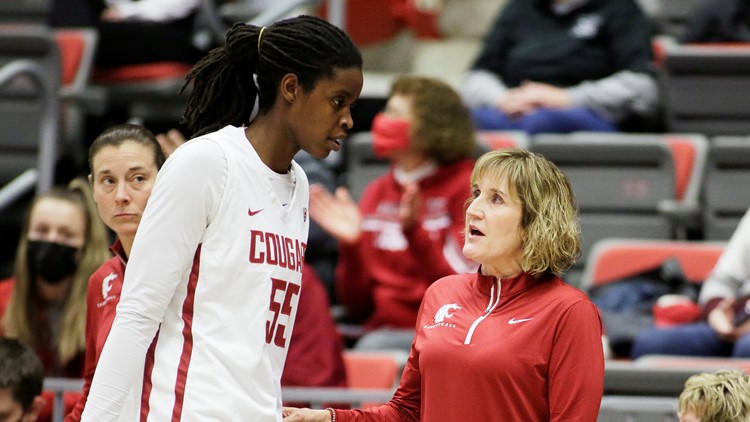 Bella Murekatete scored 18 points, Ula Motuga added 16 and led Washington State to a 70-59 win over No. 19 Arizona on Sunday.
Motuga and Murekatete each hit two buckets within 1 1/2 minutes late in the fourth quarter, giving the Cougars a 66-57 lead with 1:07 to go. The Wildcats missed on their next two possessions and a Murekatete free throw with 27 seconds left gave Washington State a 10-point lead.
Washington State led 48-46 heading into the fourth quarter, building a 58-50 lead before Madison Conner hit a 3-pointer to put the Wildcats within five points. That was as close as Arizona would come before Murekatete and Motuga took over down the track.
Tara Wallack had 12 points and 12 rebounds for Washington State (15-6, 5-5 Pac-12). Astera Tuhina scored 10 points and Murkatete had nine rebounds. Charlisse Leger-Walker had 10 rebounds, seven assists and five points despite being 0 for 13 from the field.
Esmery Martinez led Arizona by 14 points. Conner added 13 points and Kailyn Gilbert scored 11. The Wildcats (16-5, 6-4) shot just 30.8% and lost for the third time in five games.
After Arizona got the first bucket of the game, the Cougars ran 10 straight points and led 10-2 by 5:54 in the first quarter. Arizona rebounded with Martinez scoring 13 points in a 20-5 run that stretched well into the second quarter, giving the Wildcats a 22-15 lead with a 6-30 at the half. It was the Cougars' turn and a 14-3 run just before halftime led them 29-25. Washington State led 29:27 at the break.
The Cougars continued their climb in the third quarter, scoring the first nine points to build a 41-29 lead with 5:55 in the quarter. Arizona then got their turn with a big scoring run as Conner scored eight points in a 15-3 burst that decided the game.
The Cougars, who defeated Arizona State 61-57 on Friday, won their Arizona road trip for the first time since the 2012-2013 season. The Cougars are 8-1 in real away games this season.
https://www.king5.com/article/sports/ncaa/ncaaf/cougars/murekatete-motuga-lead-wsus-upset-of-no-19-arizona-women/281-e5dc54ef-2f51-4418-8f04-dd3a40a950ff Murekatete, Motuga lead WSU's upset of No. 19 Arizona women