Mysterious giant white sturgeon could shed light on toxins in Lake Washington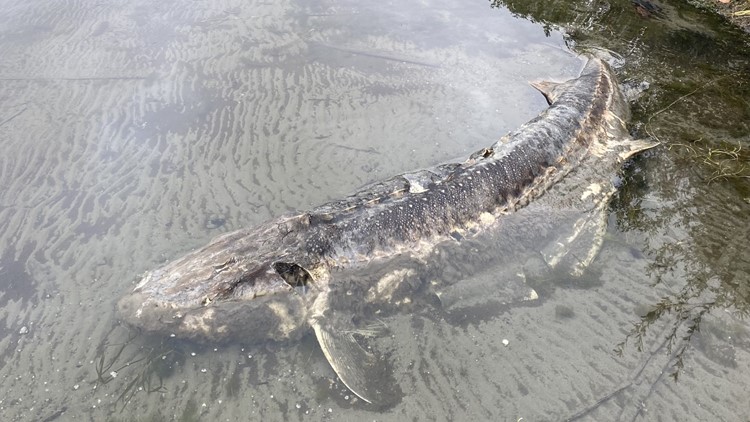 Community members say the fearsome-looking fish brings a "message from the deep".
KENMORE, Wash. – Elizabeth Mooney is on her way to search for clues at the north end of Lake Washington.
"That's her spine," Mooney said, pointing to a rotting corpse.
Mooney is investigating the death of someone she considered a friend.
"We want to know why she died here," Mooney said.
That "friend" is named Samantha: Samantha the Sturgeon.
Mooney found the giant fish dead in Kenmore's Log Boom Park earlier this month. The sturgeon was more than 80 feet long, about 70 years old and weighed between 300 and 400 pounds.
Sturgeon are native to Washington and date back 200 million years to the planet.
No one knows how many people live here, but everyone here wants to know how this person died.
When scientists examined the corpse, they found no evidence of injuries.
Initial thinking is that it may have died from warming Lake Washington waters or possibly parasites, but at this point, no one knows.
"She's giving us clues," Mooney said. "Is that poison at the head of the lake or is it something completely different?"
Mooney and other concerned citizens on the north end of Lake Washington worry Samantha Sturgeon could be the canary in the lake's coal mine because toxins are known to be in its water.
They want to test the water and sediment to see how bad it is.
Sturgeon are bottom dwellers and feed from sediment at the bottom of the lake.
Clam shells are found in fish stomachs.
Bob Pacunski, a Fish and Wildlife research scientist with the Washington State Department of Fish and Wildlife, said tissue samples are being tested to determine what, if anything, may have poisoned Samantha.
"We can determine whether there is any contamination in the fish meat," Pacunski said. "Perhaps that contributed to its demise. It's hard to say. Fish die of old age. They die of stress."
Meanwhile, Mooney takes comfort in knowing Samantha's death will help shed light on conditions at the dark bottom of Lake Washington.
"I don't want her to go to waste," Mooney said. "Her message from the depths has connected this community in ways we humans cannot imagine."