Nation's first Mermaid Museum opens near Westport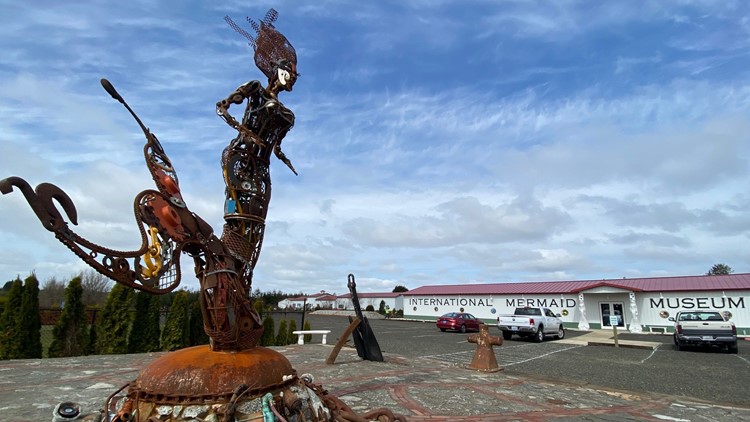 ABERDEEN, Wash. – Next time you head to the Washington waterfront, you might be distracted by the siren song of a new attraction.
The International Mermaid Museum has just opened on the highway between Aberdeen and Westport. This one-of-a-kind museum feels like a journey beneath the waves, all the way down to its glittering 'sea floor'.
"Well, you know, as mermaids, we just throw glitter all over the place, that's our thing," said Kim Roberts – the museum's founder. Kim and her husband Blaine also own Westport Winery and Gardens and once operated Hawaii's largest dive shop. So jumping into this latest venture was a natural one.
"Growing up I always wanted to be a mermaid, either a mermaid or a lighthouse keeper. And I have to do both to have a lighthouse here as part of our winery," Kim said, referring to the lighthouse that makes Westport Winery a landmark along State Highway 105.
The museum features mermaid mythology in addition to marine ecology. There's also a bit of kitsch and plenty of pop culture, from Ariel (Did you know her best friend Flounder wasn't a real flounder?) to "Splash" to a display featuring a Seattle-born siren: "The most famous mermaid of all." is Starbucks Coffee's two-tailed mermaid," Kim said.
This place has "International" in its name, but the non-profit museum was built by Washington's coastal community.
"What I love most is that it was a grassroots effort — it was Kim's vision, she pitched it to a bunch of people and just rode it," said board member Karyl Vasereno.
Aberdeen Architect Jamie Walsh designed and built the twin mermaid entrance pillars and a 12ft tall scrap metal siren that waves to passers-by is the work of Tokeland artist Yosef Adams.
Locals also donated much of what's inside — from mannequin merfolk to a World War II diving helmet worn during salvage operations after the Pearl Harbor bombing. Kim said the importance of this historic contribution gave her goosebumps.
Occasionally real mermaids from Seattle and Portland drop by and laze in a specially designed grotto. Maranda was with us during our visit, combing her hair and posing with young visitors who may have been mermaids-to-be. There's also a gift shop stocked with merchandise, including award-winning Westport wines and spirits with mermaid-themed bottles painted by Kim herself.
Though Kim Roberts says she's 100 percent human and simply loves the underwater world due to her past as a professional fisherman and deep sea diver, we believe she's secretly a denizen of the deep.
The International Mermaid Museum is located at 1 South Arbor Road, Aberdeen, WA 98520 and is open daily from 11am to 6pm. Visit website or call Westport Winery 360-648-2224 for more information.
https://www.king5.com/article/entertainment/television/programs/evening/international-mermaid-museum-westport-aberdeen-new-siren-ariel-starbucks/281-0d5464ae-de25-4a6a-a73e-f420ddbc50a0 Nation's first Mermaid Museum opens near Westport