Nato refuses to offer Ukraine timeframe on joining – after Zelensky criticises 'absurd' delays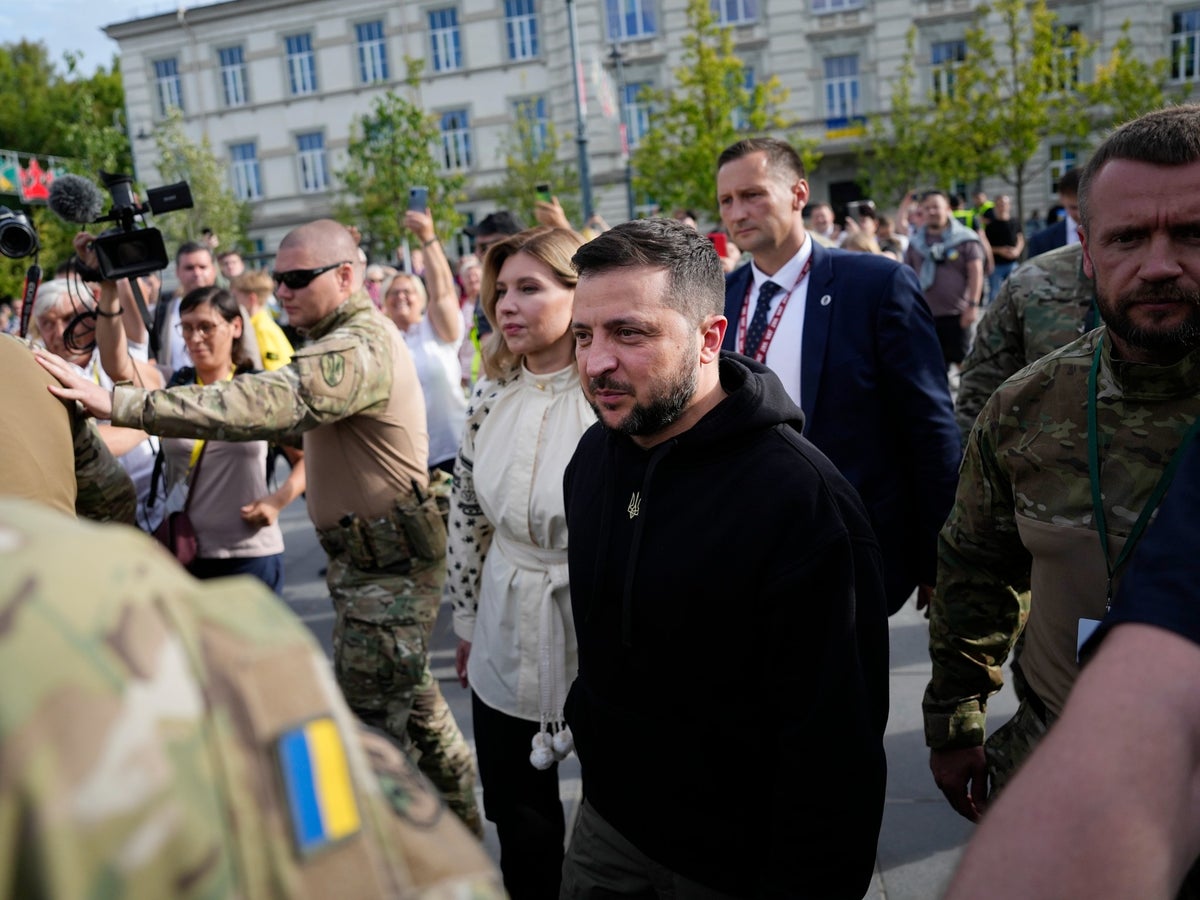 NATO leaders have refused to offer Ukraine a timetable or clear terms for membership – a stance the country's President Volodymyr Zelenskyy called absurd.
A communiqué released on the first afternoon of a two-day summit in Lithuania said only that Kiev would join the alliance "if the allies agree and the conditions are met".
This came despite Mr Zelenskyy denouncing the delays in the process and accusing NATO of giving Russia "motivation" for its invasion.
"It is unprecedented and absurd if [a] "There is no timeframe for either the invitation or the membership of Ukraine," he said at the beginning of the summit.
He also claimed that the alliance was giving Ukraine a "window of opportunity" to use as a bargaining chip in negotiations with its invaders, and expressed anger at a "vague" draft treaty. "Insecurity is weakness," he said.
NATO Secretary General Jens Stoltenberg later emphasized that the alliance had "taken important decisions at a critical moment" and that the allies had agreed on "a strong, united and positive message for Ukraine" and a "positive path forward for membership". .
Asked about Mr Zelenskyy's concerns, Mr Stoltenberg said it was important to ensure Ukraine won the war because "until Ukraine wins, there is no discussion of membership at all".
"There has never been a stronger message from NATO, both in terms of the political message of the path to membership and the concrete support from NATO allies," he said, adding that former members joined without a timetable. "They're conditional, always have been," he said.
Mr. Stoltenberg could not hide the differences between the 31 members over Ukraine's path to membership. Britain had been pushing for the US and other more reluctant allies like Germany to agree to wording that would signal increased support for Ukraine's accession, while many eastern European countries have been pushing for a speedy solution. However, all participants – including Ukraine – agree that the country cannot join during the war, as it would bring the group into direct conflict with Russia.
NATO did not name any conditions Ukraine must meet, but said members would help Kyiv make progress on military issues, as well as further democratic and security sector reforms. The US in particular was interested in Ukraine making progress in fighting corruption.
When he later addressed thousands of people in central Vilnius – many waving Ukrainian flags – Mr Zelenskyi's disappointment was clear. "I came here with confidence in decisions, with confidence in partners, with confidence in a strong NATO. In a NATO that doesn't hesitate, doesn't waste time and doesn't look back at an aggressor," he said.
"And I want that faith to grow into trust — trust in the choices we deserve — that we all deserve and that every warrior, every citizen, every mother, every child expects," he added. "Is that too much to expect?"
President Joe Biden has stressed that NATO must remain united. "I still think President Putin believes his success lies in breaking nato, and we're not going to do that," Mr. Biden said.
Rishi Sunak told reporters that both Britain and Ukraine have acknowledged that Kiev cannot join the alliance "in the midst of conflict".
Mr Sunak said: "I have always said that Ukraine has its rightful place in NATO and that in 2008 we stand by the Bucharest language. I think what is important at this summit is that that commitment is reaffirmed and that there is demonstrable progress towards that goal."
He also appeared to confirm reports that Ukraine would be offered an "Israeli-style" security deal as part of a multi-year plan to defend itself against Russia. Mr Sunak told reporters he was "eager to try and get things across the finish line".
He said it was "contrasting with the NATO talk" and would "send a very strong signal of deterrence to Putin that he cannot wait and see for the people about this conflict."
The UK and its G7 allies will on Wednesday agree on a new framework to ensure Ukraine's long-term security in a system dubbed "Nato-Lite".
Under the plans, Ukraine will receive more defense equipment, intelligence, support for cyber and hybrid countermeasures, and expanded training programs. The move will also contribute to the development of Ukraine's industrial base.
The UK will also announce new support for Ukraine, including thousands of additional rounds of ammunition for Challenger 2 tanks and more than 70 combat and logistics vehicles.
As the war takes a toll on Ukraine's military resources, there will also be a £50m package to repair equipment and set up a new military rehabilitation centre.
Mr Sunak said the countries would "reinforce our formal agreements to protect Ukraine in the long term".
The first meeting of the new NATO-Ukraine Council will also take place on Wednesday.
Western nations continued to pledge arms and cash support for Ukraine's fight against Russia. President Emmanuel Macron said France would start delivering long-range cruise missiles after a similar announcement by Britain.
With a range of 250 km (155 miles), the missiles nearly triple Ukraine's previous capacity and allow forces to hit Russian troops and supplies deep behind the front lines. Defense Secretary Ben Wallace said Ukraine had already "successfully" used Britain's missiles, known as Storm Shadow.
Germany also announced new aid worth €700m (£600m), including two Patriot anti-aircraft missile launchers and more tanks and combat vehicles.
An 11-nation coalition will also begin training Ukrainian pilots to fly F-16 fighter jets in Denmark in August, and a training center will be established in Romania.
The summit was also buoyed by the prospect of Sweden joining as the newest member, after Turkish President Tayyip Erdogan abruptly dropped his objections to the move while urging a resumption of talks on Turkey's accession to the European Union. Finland also attended the Summit as a member for the first time since joining the Alliance in April.
Moscow, which has disingenuously cited NATO's eastward expansion as a factor in its decision to invade Ukraine, said the first thing Europe would face was "catastrophic consequences" should the war escalate.
"Possibly this problem [of Ukraine joining Nato] is very dangerous for European security… and therefore those who make the decision must be aware of it," said Kremlin spokesman Dmitry Peskov.