NBPA issues statement condemning antisemitism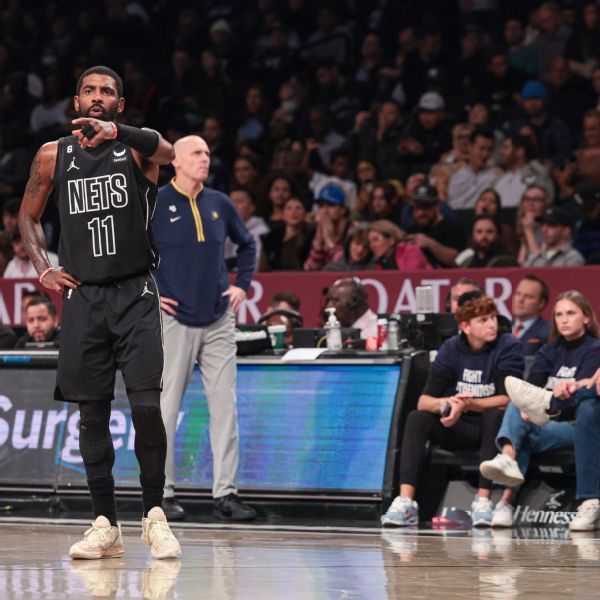 The National Basketball Players Association issued a statement Tuesday condemning anti-Semitism.
"Anti-Semitism has no place in our society," said the players' union. "The NBPA is focused on creating an environment where everyone is accepted. We are committed to helping players fully understand that certain words can lead to the propagation of hateful ideologies. We will continue to work to identify and combat all hate speech, wherever it arises."
Though not credited by name, the statement comes after Brooklyn Nets star Kyrie Irving tweeted about a 2018 film based on a book containing anti-Semitic tropes.
Thursday's tweet was condemned by Nets owner Joe Tsai in a tweet on Friday, and the NBA issued a statement Saturday night condemning hate speech. Irving tweeted on Saturday that he was not an anti-Semite, but when addressing the media after Saturday night's game, he stuck to his tweet.
"I'm not here to argue about any person, culture or religion and what they believe," Irving said Saturday night. "No, this is here. It's on a public platform. Did I do something illegal? did i hurt someone did i hurt someone Do I go out and say I hate a certain group of people? So out of all the verdict people got for me post without talking to me and then I respect what Joe is [Tsai] said, but how proud I have to be has a lot to do with not being ego or pride [of] African heritage but also living as a free black man here in America and knowing the historical complexities that I get here.
"So I'm not going to reject anything I believe in. I'm only getting stronger because I'm not alone. I have a whole army around me."
Irving, one of the NBPA's vice presidents, deleted the original tweet on Sunday. The Nets did not make Irving available to speak to the media after Monday night's game.
Information provided by ESPN's Nick Friedell was used in this report.
https://www.espn.com/nba/story/_/id/34926729/nbpa-issues-statement-condemning-antisemitism NBPA issues statement condemning antisemitism