Nets' Kevin Durant 'shocked' by Steve Nash's exit as head coach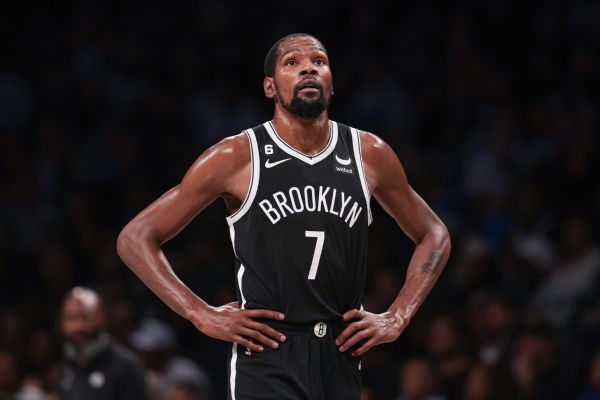 NEW YORK — Nets star forward Kevin Durant said he was "shocked" to learn of Steve Nash's departure as Brooklyn's coach on Tuesday, a decision the organization has announced as mutual.
"You're always shocked when a change like that happens," Durant said after a 108-99 loss to the Chicago Bulls on Tuesday night. "But it's normal in the NBA. It's about preparing for the game tonight. It's always a quick turn in the league, especially during the season. You have practice, games are coming up, so you can't do too much thinking about it. It's been on my mind for a bit today."
Durant said he got the news about Nash around 1:15 p.m. ET after waking up from a pregame nap and watching ESPN. Nets general manager Sean Marks said before the game that no players were consulted ahead of the decision, which is notable given that Durant reportedly asked to have Nash and Marks fired over the summer before withdrawing his preseason swap request .
Durant developed a solid relationship with Nash during her time with the Golden State Warriors when Nash served as player development advisor. He was asked why he thought things didn't work out for Nash in Brooklyn.
"A lot of stuff," Durant said. "We didn't have a healthy team. We just didn't play well. And that happens in the league. S— happens. It doesn't take away from Steve's basketball IQ as he teaches the game. I don't think that takes away from anything. It just didn't work out."
Durant said he hasn't spoken to Nash since the move became official. With Jacques Vaughn as interim head coach, the Nets fell back to 2-6 after Tuesday's loss. Durant has said several times over the past year, and reiterated Tuesday night, that he believes Nash was not treated fairly given all the circumstances of his two-and-a-half year tenure.
"Let's be honest, we're professionals, we're veterans. We got off to a rough start," Durant said when asked if he had been previously consulted about the decision. "Last year was a rocky year, a rocky summer. We knew everyone was being judged.
"That's just the way it is in the league. So I enjoyed working with Steve. I like working with the coaching staff. It's been a rollercoaster ride for the past few years, but at the core of it – basketball – is something we all love to do do, so no matter who the coach is [is], no matter the circumstances, you still have to come to work. So I enjoyed working with Steve."
Durant was asked if he felt there was too much volatility on the team to win over time.
"This is the NBA," Durant said. "Everyone has volatility if you want to look at it. It's just a matter of – outsiders might see what we do as bigger than what it is, but we come to work every day. People have asked for trades before, coaches get fired, we have disagreements in our locker room, it happens in the NBA. But at the end of the day, we all got to work. It just didn't work out on the floor."
https://www.espn.com/nba/story/_/id/34929650/nets-kevin-durant-shocked-steve-nash-exit-head-coach Nets' Kevin Durant 'shocked' by Steve Nash's exit as head coach