New Jersey man arrested for using drone to drop green dye into neighbourhood pools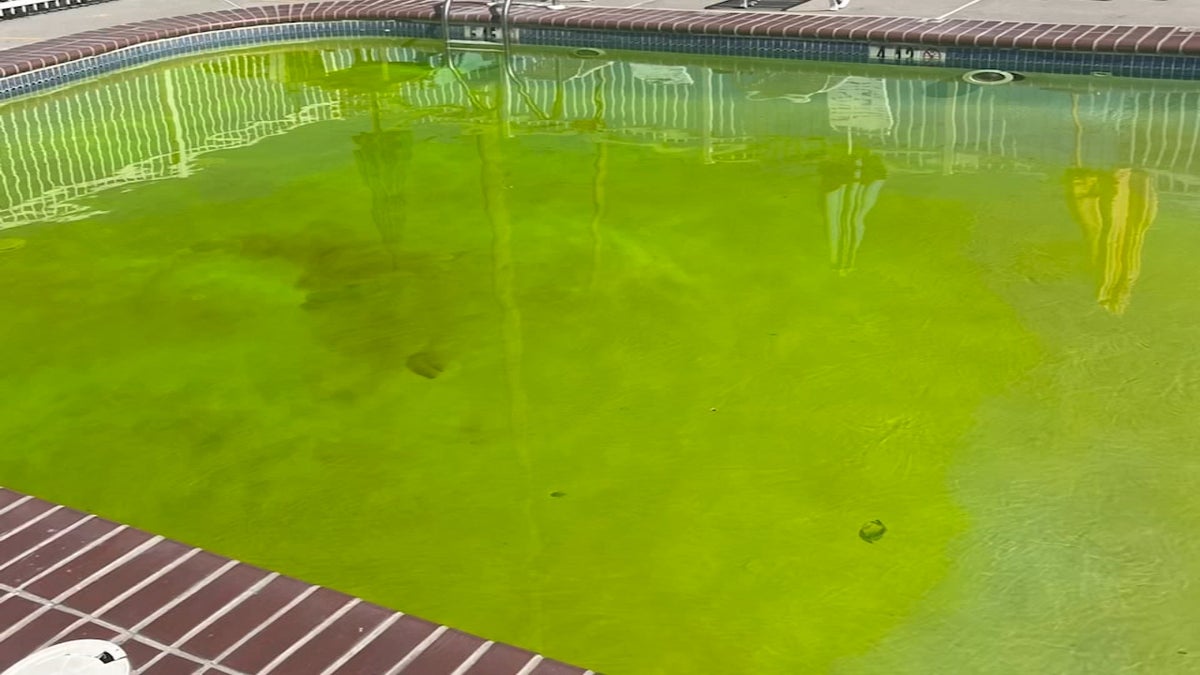 A bizarre mystery that saw several swimming pools near Atlantic City, New Jersey suddenly turn green has apparently been solved.
Patrick Spina IV, 45, was arrested last week when police tracked a drone dropping dye into pools in neighborhoods from Absecon to his business. He is accused of multiple crimes.
Mr. Spina's peculiar pastime was first discovered in late June by a local hotel manager, who noticed that the pool used by guests had turned a neon color.
"I saw it all green and I was like, 'Oh wow, what's going on?' "So we saw a packet of dye at the bottom of the pool and didn't know what it was," said Sandra Woolstion, manager of a Quality Inn in Galloway Township ABC.
Ms. Woolstion said she knew it wasn't green algae, but even after the pool was drained and cleaned, the drone bandit dropped the dye at least a dozen times over the summer.
Cleaning the pool was always very expensive, she said, maintenance cost tens of thousands of dollars, and guests were often very disappointed by the pool's closure.
"The girls are standing here and they're like, 'Oh my God, we want to go swimming. Some of them were crying," Ms Woolstion said. "I was like, 'Are you kidding?!' I cried myself. I went to my office and had a nervous breakdown."
Not only were there bills for the renovation of the swimming pool, but she also suffered losses due to the closure of the swimming pool and also had to pay her employees overtime for monitoring the swimming pool.
"It was just more than we expected," she told the New York Times. "I thought, 'I can't handle this anymore.' That's crazy. This is costing me too much.'"
Police also received additional calls reporting that the same incident had occurred in the swimming pools of their homes.
"We had a resident enjoying time in his pool and saw a drone overhead and the drone actually dropped something in his pool and it immediately turned green," Absecon Police Chief James Laughlin said.
However, Mr. Spina's drone had now made too many missions to fly under the radar. When the drone with the green dye hovered over the Quality Inn again last Friday, police called in Federal Aviation Administration personnel to trace the drone to a nearby business, Comfort Solutions Heating and Cooling.
With this information, police arrested the business owner, Mr. Spina.
The green pigment turned out to be marine dye, which is typically used by search and rescue teams and can have a damaging effect on swimming pools.
Police say they are still unsure of Mr. Spina's motive for dyeing the pools.
Meanwhile, the FAA is investigating the crimes and said people who use drones in an unsafe manner could face fines of up to $30,000 and have their drone license suspended or revoked.
In a statement Tuesday, the agency warned: "FAA regulations prohibit unsafe or unauthorized operation of aircraft. We encourage the public to report unauthorized drone operations to local law enforcement to stop this dangerous illegal activity."