New study says high housing costs, low income push Californians into homelessness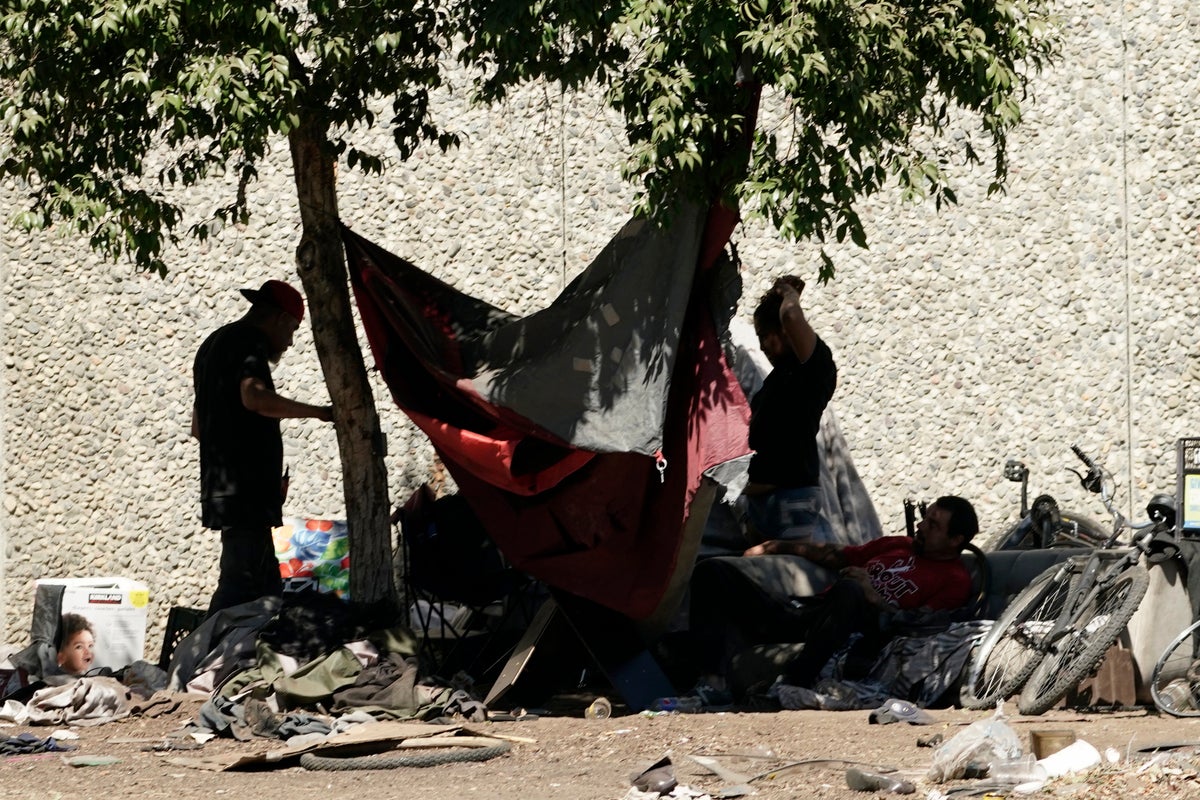 California homeless people are already a vulnerable group, often struggling with ill health, trauma and deep poverty before losing their homes, according to a new study of adult homelessness.
The study, released Tuesday by the University of California, San Francisco, seeks to paint a comprehensive picture of how people in California become homeless and what hinders their efforts to find permanent housing. The representative survey of nearly 3,200 homeless people found that their median household income at the time of the home loss was $960 per month and for leaseholders was $1,400 per month, with an average of half of that going towards rent.
Homelessness is a national crisis and all too common in California, where an estimated 171,000 people — or 30% of all homeless people in the US — are homeless. Political leaders are divided on how to deal with the crisis. Some, including Democratic Gov. Gavin Newsom, advocate clearing camps and a tough stance on people with mental health and addiction problems.
It's not groundbreaking news that the state's exorbitant housing costs are a top reason for homelessness, but researchers with UCSF's Benioff Homelessness and Housing Initiative hope the study will bolster public support for policies that focus on providing housing and emergency assistance focus on renting—rather than policies that emphasize punishment or stigma.
"People are becoming homeless because their rent is too high. And their chances are too small. And they don't have a cushion," said Dr. Margot Kushel, leader of the initiative and lead investigator. "And it really makes you wonder how different things would be if we could solve this underlying problem."
Kushel's team surveyed nearly 3,200 adults across California and then conducted in-depth interviews with 365 people between October 2021 and November 2022.
The study found that blacks made up 26% of the homeless population in a state where they make up just 6% of the total population. About 90% of the participants were living in California when they became homeless. Half stated that they were unable to work for reasons of age, health or disability. The average duration of homelessness was a little less than two years.
More than a third of the adults surveyed met the criteria for chronic homelessness, meaning they had a disability and had been homeless for at least a year—or been homeless four times in the last three years, for a total of more than 12 months.
In 2015, Sage Johnson's mother was evicted from her Los Angeles apartment because she was unable to pay rent, which had increased to $1,200. She received about $1,340 a month as disability benefits. She hopped around from LA's infamous Skid Row to various convalescent homes while her daughter lived in an animal shelter.
Later, 28-year-old Johnson was able to place her mother in a home, where she stayed for about two years. However, in 2018, her mother died of a massive stroke.
Johnson, who now has stable housing, wished she could have done more.
"But she ended up having a bed. she was inside She stopped having strokes outside. And she was able to regenerate, rejuvenate and restore part of her life in the convalescent home," said Johnson, co-chair of one of the study's advisory boards.
Substance abuse and mental health problems were common among study participants, even before they became homeless. Of those surveyed, 45% said they regularly use cocaine, amphetamines and opioids or occasionally drink alcohol regularly. Participants described how heavy drug use contributed to home loss, but also how methamphetamine use allowed them to stay alert to protect themselves from assault or theft.
Almost half of the adults surveyed had not rented in the six months prior to becoming homeless and had likely moved in with family or friends and contributed to the rent whenever they could. Almost a quarter cited conflicts among roommates, a desire for more space, or a desire to stop imposing on family and friends as the main reasons for leaving.
On average, respondents who did not have a lease only received a day's notice before they had to move out.
Among those with rent and lease contracts, more than 20% cited a loss or reduction in income as the main reason for losing their home. "So it wasn't so much that their housing costs were going up as it was that they couldn't keep up with it," Kushel said.
According to an annual report by the National Low Income Housing Coalition, California is the state with the most unaffordable housing. A person earning a minimum hourly wage of $15.50 would have to work nearly 90 hours a week to afford the statewide average for a modest one-bedroom rent, which is nearly $1,800 a month, it said the coalition.
The study was commissioned by the Newsom government, which has made tackling homelessness a priority. However, the state did not fund them and therefore played no role in the analysis of the data or the interpretation of the results.
The report makes many recommendations, including a broad expansion of rental subsidies and pilot programs to facilitate shared accommodation for people trying to escape homelessness — as well as a rental grant program for people temporarily staying with family or friends.
Johnson said she hopes the public will take the report's findings as evidence that taxpayers' money is being wisely spent on social safety nets. She also hopes people will support robust mental health and addiction treatment services, as well as affordable housing options.
"I don't want to make anyone fail," she said. "And I'm sure many of my colleagues would agree that people need time to practice getting back into normal social life."