Nick Nurse out as Raptors coach; Ime Udoka to be candidate, sources say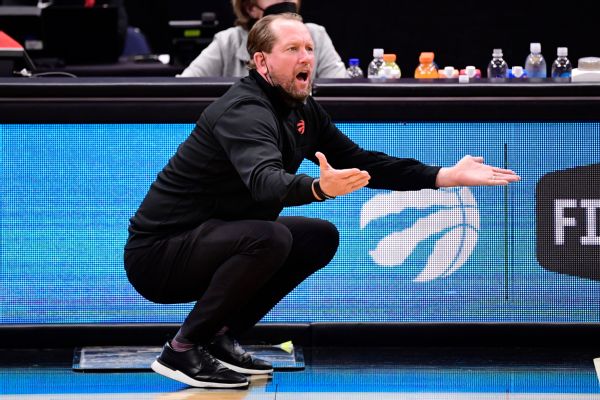 Nick Nurse was fired after five seasons as coach of the Toronto Raptors, the team announced Friday.
Former Boston Celtics coach Ime Udoka is expected to be a serious contender to succeed Nurse, sources have told ESPN's Adrian Wojnarowski.
The move comes after Raptors President Masai Ujiri and Nurse have met several times since the end of their season to discuss how they could move forward together. Nurse had a year and more than $8 million left on the contract, sources said.
"The decision to make such a change is never made lightly or taken lightly, especially when it comes to an individual who has been an integral part of this franchise's most historic accomplishments and who has held consistent leadership roles on some of our most challenging teams Times," Ujiri said in a statement. "Reflecting on Nick's many accomplishments, we thank him and his family and wish them all the best in the future.
"This is an opportunity for us to refocus, refocus and deploy the staff and players who will help us achieve our goal of winning our next championship."
Nurse will be a high-profile candidate in the Houston Rockets' coaching search, sources said.
Nurse led the Raptors to the NBA title in his debut season in 2018-19 and was NBA Coach of the Year in 2020 but never guided Toronto to the same heights again. Toronto finished this season 41-41 before losing to the Chicago Bulls in the 9-10 game of the play-in tournament.
Nurse was 227-163 with the Raptors, which led them to three playoff appearances. He served as the Raptors' assistant for five seasons before being promoted in June 2018.
Udoka was suspended by the Celtics before the start of the 2022–23 season for multiple team rule violations. He was replaced by Joe Mazzulla, who received the permanent coaching job in February.