Nikola Jokic in rare company after 40-point, 27-rebound triple-double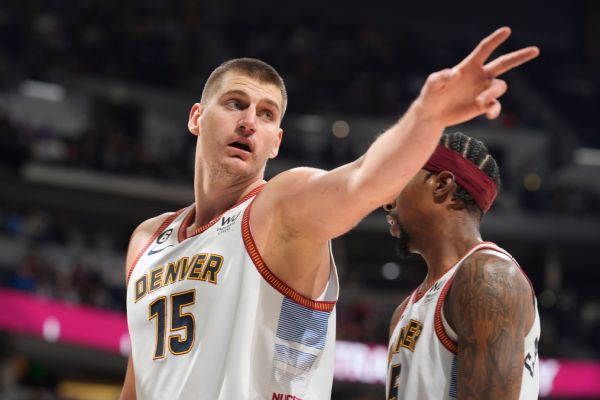 DENVER — Nikola Jokic had 40 points and a career-high 27 rebounds in another triple-double to help the Denver Nuggets beat the Charlotte Hornets 119-115 on Sunday night.
Jokic also had 10 assists for his fifth triple-double of the season and 81st overall. He is the third player in NBA history to have at least 40 points, 25 rebounds and 10 assists in a game, along with Wilt Chamberlain, who did it four times, and Elgin Baylor.
Aside from Jokic, Chamberlain is the only other player to have a stat line of at least 40-27-10, which he did four times, most recently with 53 points, 32 rebounds, and 14 assists for Philadelphia on March 18th, 1968.
Others came close but didn't make the 40-27-10 line: Baylor had 52 points, 25 rebounds, and 10 assists on December 13, 1961. DeMarcus Cousins ​​had 44 points, 23 rebounds, and 10 assists on January 22, 2018. Kareem Abdul-Jabbar had a game on February 26, 1972 with 44 points, 20 rebounds, and 11 assists, and Oscar Robinson finished a game on January 9 1965 with 42 points, 21 rebounds and 10 assists.
Jokic, who was the second player to act this season alongside Dallas' Luka Doncic with a 40-point triple-double (Doncic has three), sealed Denver's win on Sunday with two free throws and 13 seconds left.
Nuggets coach Michael Malone said he didn't notice the numbers Jokic was putting up throughout the game, particularly the number of rebounds.
"I didn't know it was a 40-27-10 night, but I knew he had another standout performance from Nikola Jokic, efficient," Malone said. "And it's not just about Nikola. It's about his ability to make each of his teammates better. Yes, Nikola is a generational talent."
Jokic's rebounds enhanced the other aspects of his game, helping the Nuggets make defensive stops and igniting Denver's transition game with quick exit passes to teammates from the rebounds. Many of the rebounds are also due to just being in the right place at the right time, said Jokic.
"To be honest, I think it's because of our defense and I was in exactly the right place to bounce the ball off," said Jokic. It just happened you know? I wish it could be every night to be honest."
Kentavious Caldwell-Pope added 20 points and Aaron Gordon had 19 as the Nuggets sent the Hornets to their eighth straight loss.
LaMelo Ball had 31 points for Charlotte. Kelly Oubre Jr. added 16 points and Gordon Hayward had 15.
Jokic had 20 rebounds in the first half, the first player with a 20-rebound half since Dwight Howard in 2018.
Fueled by Jokic's 11-point third period, Denver extended a three-point lead to 94-80 at halftime as they headed into the fourth quarter.
However, Charlotte fought back, making it 107-104 on Ball's fadeaway jumper with 3:29 minutes remaining. The Nuggets regained a cushion when Gordon pulled in a reverse layup after a feed from Jokic before Jokic hooked in a hook shot on the Nuggets' subsequent possession to forge a 111-104 lead with 1:57 minutes remaining.
Jokic completed the triple-double with a pass that set up Bruce Brown's 3-pointer that gave Denver an eight-point lead with a 1:20 lead. The 40-point triple-double was the third of Jokic's career; the only other Nuggets player to do so is Michael Adams.
But again Charlotte came back to two on a Washington dunk before Jokic hit two free throws and Charlotte was unable to get a shot in the final moments after turning the ball around.
In his last three games, Jokic has aggregated 108 points, 52 rebounds, 26 assists, and 11 steals, becoming the first player to have 100 points, 40 rebounds, 20 assists, and 10 steals over a three-game span since steals became official in 1973 -74.
ESPN Stats & Information and The Associated Press contributed to this report.
https://www.espn.com/nba/story/_/id/35283676/nikola-jokic-rare-company-40-point-27-rebound-triple-double Nikola Jokic in rare company after 40-point, 27-rebound triple-double