Nikola Jokic, Serbia top Giannis Antetokounmpo, Greece in FIBA World Cup qualifier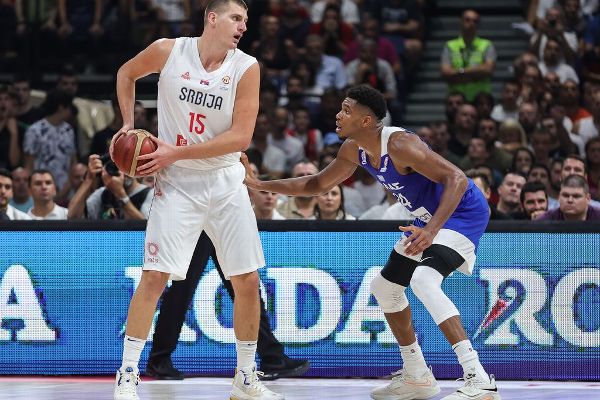 Nikola Jokic helped Serbia to a much-needed victory over Giannis Antetokounmpo and Greece in a duel of back-to-back MVPs in a FIBA ​​World Cup qualifier on Thursday in Belgrade.
Despite 40 points from Antetokounmpo, the most in European qualifying history, the hosts won 100-94 in extra time.
However, Jokic had the last laugh, striding down Serbia with 29 points, 8 rebounds and 6 assists. The reigning MVP delighted the home crowd late in the fourth quarter when he hit a one-legged turnaround jumper at the 3-point line with Antetokounmpo draped over him to give Serbia an 8-point lead, less than two minutes before the end.
Greece charged back and former Oregon standout Tyler Dorsey nailed a 3-pointer with 11 seconds left to send the game into overtime. Jokic dominated the extra frame and scored back-to-back baskets against Antetokounmpo at the post to give Serbia a 6-point lead they wouldn't give up.
Antetokounmpo became the first player to reach 40 points in European qualifiers history, shooting 14 of 25 from the field, plus 8 rebounds and 5 assists. Depth for Serbia proved crucial, however, as the hosts complemented Jokic's performance with 33 points from the bench.
The victory was huge for Serbia, who are now 3-2 in the qualifying tournament. Serbia shares fourth place with Turkey in a group that also includes Greece, Latvia, Belgium and the UK. Latvia leads the group with 9 points, followed by Greece and Belgium with 8 points. Only the top three teams in the group qualify for next year's World Cup.
In another European qualifier on Thursday, Dallas Mavericks star Luka Doncic led Slovenia to a resounding win over Estonia, posting a near triple-double with 25 points, 11 rebounds and 8 assists. Slovenia are currently third in their group with 12 points, two games ahead of fourth place Israel.
https://www.espn.com/olympics/story/_/id/34460039/nikola-jokic-serbia-top-giannis-antetokounmpo-greece-fiba-world-cup-qualifier Nikola Jokic, Serbia top Giannis Antetokounmpo, Greece in FIBA World Cup qualifier