No deals for tagged RBs Saquon Barkley, Josh Jacobs, Tony Pollard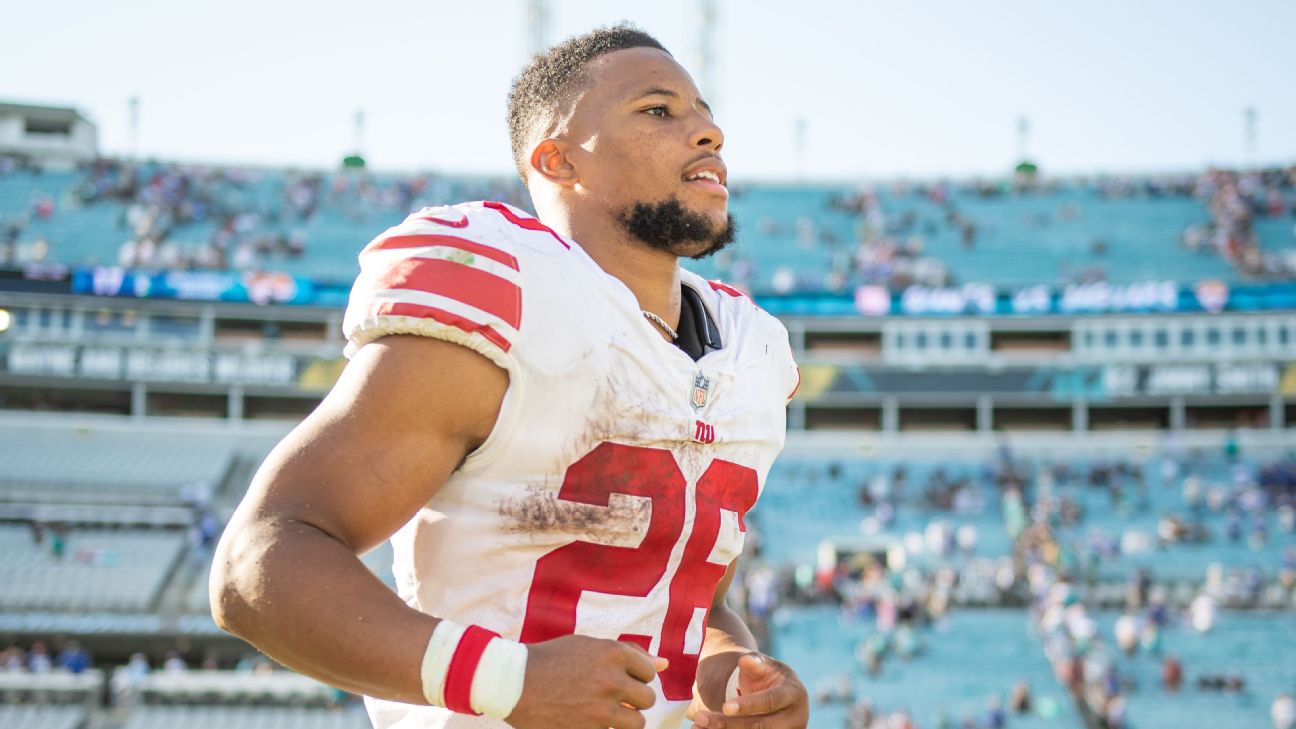 New York Giants' Saquon Barkley, Las Vegas Raiders' Josh Jacobs and Dallas Cowboys' Tony Pollard all missed Monday's deadline for franchise players to agree to long-term contracts.
The three running backs were the only players to receive the franchise tag who were not on a long-term contract, and they had until 4 p.m. ET Monday to get one. They now have to play the 2023 season as part of their franchise tenders, which are worth $10.091 million for running backs. Pollard has already signed his tender. However, Barkley and Jacobs remain unsigned and are staying away from their teams' offseason programs.
"It is what it is," Barkley tweeted Monday.
Because they are not under contract, Barkley and Jacobs cannot be fined for not attending training camp, which begins July 25 for the Giants and Raiders veterans. Barkley and Jacobs are not expected to report for training camp with the rest of their teams, ESPN Adam Schefter reported Monday. The two non-signed stars only lose money when they miss regular-season games and drop game checks.
The player to last sit out an entire season was running back Le'Veon Bell in 2018.
The Giants' contract negotiations with Barkley did not go smoothly from the start. The Giants made an initial offer during bye week last November that Barkley had never seriously considered, multiple sources told ESPN's Jordan Raanan. Both sides then held talks until after the season.
The Giants' offers for Barkley increased earlier in the year, reaching a point where a deal could max out at $14 million per season, sources told Raanan. The sticking point, however, was the guaranteed money and structure. They never came close to his satisfaction.
When the Giants signed quarterback Daniel Jones just minutes before the start of the new league year, they immediately used the franchise tag for Barkley. According to general manager Joe Schoen, this was always one of the options. At that point, the Giants took their last offer off the table and talks didn't get off the ground in earnest until recently.
Barkley admitted it made him realize the NFL is a business. However, he did not like the label and the way the whole process was presented publicly, which indicated on several occasions that the offers were not always as they were perceived.
"I got tagged, was I upset about that? Nobody wants to be tagged," Barkley said last month. "To sit here and say I was frustrated, I was angry, I was upset. What really upset me were the stories that leaked about how misleading they were and how untrue they were. I feel like it was an attempt to draw a narrative of me, a picture of me, that's not even true. Not even close to the truth."
Barkley consistently maintained that the way the money was presented made him appear greedy. A source told Raanan that by the end of last week, the Giants had never come close to bidding the $22.2 million they wanted (the grand total of franchise tags this year and next).
Barkley, 26, finished fourth in the NFL last season with a career-best rushing yards of 1,312 and rushed for 10 touchdowns. With 57 receptions, he was also tied in the team leadership. He has appeared in 60 career games in five seasons since being the No. 2 overall draft pick in 2018 and subsequently being named Offensive Rookie of the Year. He has 4,249 rushing yards and 37 total touchdowns.
The Raiders had presented Jacobs with a deal and he chose not to take it as he wanted a bigger payout, Schefter reported on Monday.
Jacobs, a first-round pick by the Raiders in 2019 when Jon Gruden was coach and Mike Mayock was general manager, had not taken up his fifth-year option from the new team of coach Josh McDaniels and GM Dave Ziegler last spring.
Jacobs, 25, surprisingly played in the Raiders' 2022 season opener, prompting rumors he was a trade candidate. Instead, he responded with a career season in which he led the NFL in rushing yards (1,653) and yards from scrimmage (2,053) while scoring 12 touchdowns and catching 53 passes, which set career records. His 86-yard walk-off TD in Seattle was the longest run in the NFL last season. He was the first Raiders player since Marcus Allen in his 1985 MVP season to lead the league in rushing.
Jacobs' performance surprised McDaniels, who admitted he was used to a running back-by-committee approach in his offensive system. After the season, Jacobs insisted he wanted to return to Las Vegas, but added, "It has to make sense."
Raiders owner Mark Davis said at the NFL's annual convention in March that Jacobs is "the heart of our team." Jacobs, on the other hand, remained silent throughout the process, save for a few cryptic tweets.
"Sometimes it's not about you," he tweeted in June, making it appear as if he wanted to change a system that financially undervalues ​​the running back position. "We must do it for those who come after us."
The last time a running back signed a long-term contract worth $10 million or more per season was the Cleveland Browns' Nick Chubb in 2021 — 716 days ago.
Tennessee Titans star Derrick Henry was one of those to take notice of the weak running back market. tweeted on Monday: "At that point you just take the RB position out of the game. Those who want to be great and work as hard as possible to give their all to an organization just don't seem to matter. I" "I'm with every RB struggling to get what they deserve."
Pittsburgh Steelers running back Najee Harris added on twitter: "I agree with my running back brothers in the NFL – history will show that you need running backs to win – we set the tone in every game, running through walls for our team and leading in in many ways — this notion that we earn less is true." a joke."
And Los Angeles Chargers running back Austin Ekeler tweeted: "Everyone knows it's hard to win without a top RB and yet they act like we're disposable widgets. I support any RB who does whatever it takes to get their sack."
Pollard, 26, will take on the role of lead running back for the Cowboys this season after the team fired longtime starter Ezekiel Elliott earlier this offseason. Pollard said in May that he expects to be fully ready for training camp after undergoing surgery to repair an ankle injury sustained in Dallas' playoff loss to the San Francisco 49ers in January.
Two days after the playoff loss, Pollard underwent a "rope-rope" procedure instead of surgery that required screws in the tibia and fibula to repair. In this procedure, instead of using a rigid surgical screw, a braided polyethylene cord is used to restore the bones to their original position and allow for proper healing.
Pollard was named to the Pro Bowl after rushing for a career-best 1,007 yards on 193 carries and nine rushing touchdowns. He also caught 39 passes for 371 yards and three touchdowns. Prior to last season, he had never had more than 130 carries or 719 rushing yards in a season.
ESPN's Paul Gutierrez and Todd Archer contributed to this report.