North Korea's Kim watches cruise missile launches as US, South Korean troops begin annual drills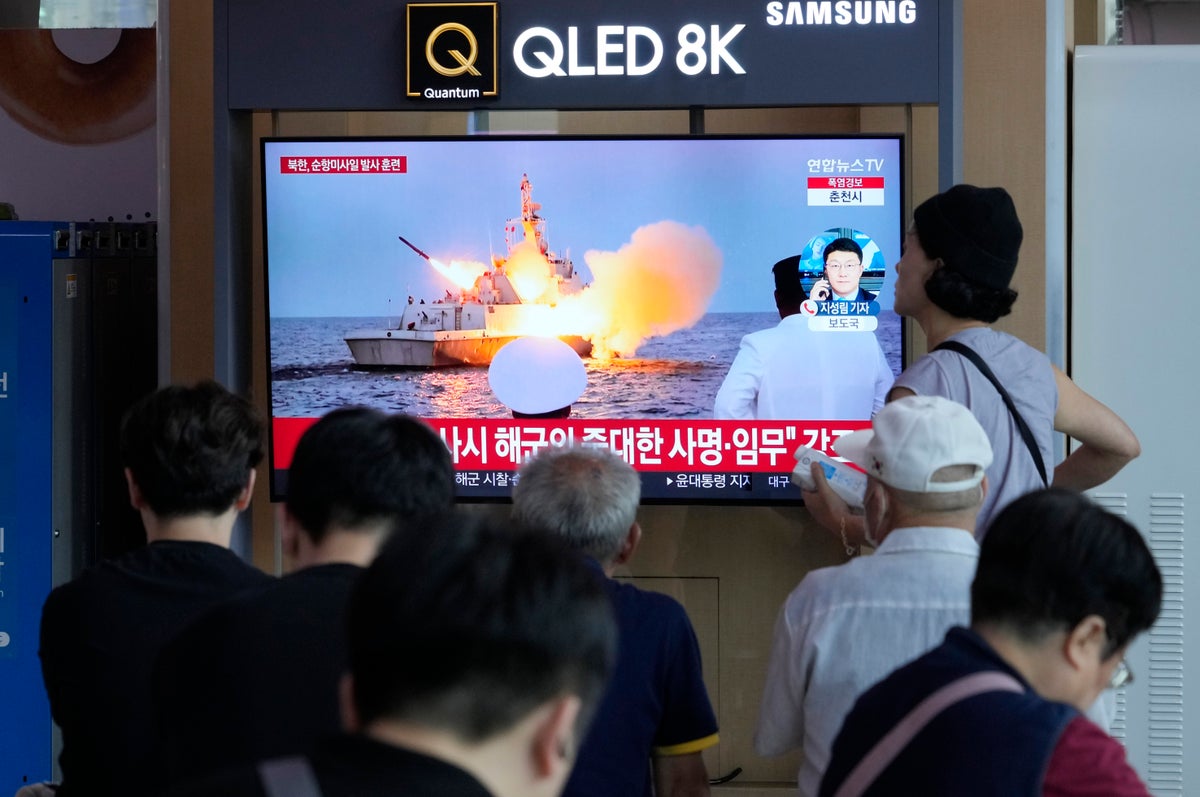 North Korean leader Kim Jong Un has watched the test launch of strategic cruise missiles from a naval ship, state media reported on Monday, as US and South Korean forces launched major annual exercises the North regards as an invasion rehearsal.
The North's missile test report came three days after leaders of the US, South Korea and Japan agreed at a summit in the United States to expand their security and economic ties.
During an inspection visit to a naval flotilla on the East Coast, Kim boarded a patrol boat to inspect its weapons and combat preparations. He later watched the sailors conduct an exercise launching "strategic" cruise missiles, the official Korea Central News Agency reported.
KCNA did not say when the missiles were launched, and a photo released by state media showed Kim watching the missile launch from a different location, not on the patrol boat. KCNA's use of the word "strategic" in reference to the weapons tested implied that they were designed to carry nuclear warheads.
Kim said he will step up efforts to build more capable warships and modernize the North Korean Navy's airborne and underwater weapon systems. He urged the country's seafarers to build "overwhelming ideological and spiritual strength," saying it was more important than numerical or technical superiority in weapons, according to KCNA.
North Korea was widely expected to resume weapons testing in response to summer military training between the US and South Korea, which began for an 11-day period on Monday.
The "Ulchi Freedom Shield" training is a computer-simulated command post exercise. The US and South Korean militaries said they also plan to conduct large-scale field exercises.
North Korea has labeled large-scale US-South Korean exercises as an invasion exercise and responded with missile tests. US and South Korean officials claim the exercises are defensive in nature and have no intention of attacking the north.
Since opening in 2022, North Korea has conducted more than 100 weapons tests, including some nuclear-capable ballistic missiles aimed at attacking the US mainland and its allies South Korea and Japan. In response, the US and South Korea have expanded their regular training drills.
During their summit at Camp David, US President Joe Biden, South Korean President Yoon Suk Yeol and Japanese Prime Minister Fumio Kishida said they intend to implement real-time missile warning data sharing on North Korea and hold annual trilateral meetings by the end of the year exercises.
It was the three countries' first-ever stand-alone summit, and the leaders said they were determined to seek enhanced anti-ballistic missile cooperation to counter North Korea's nuclear and missile threats.
North Korea has said that the three countries' drive to strengthen their security cooperation is forcing it to strengthen its own military capabilities.
South Korea's spy service told lawmakers Thursday that North Korea is taking the necessary steps to launch long-range missiles and attempt to put a spy satellite into orbit. The North's first attempt to launch a spy satellite in late May failed when a missile carrying the satellite crashed into the sea shortly after launch.