Not enough drivers to support all Seattle Public Schools bus routes, district says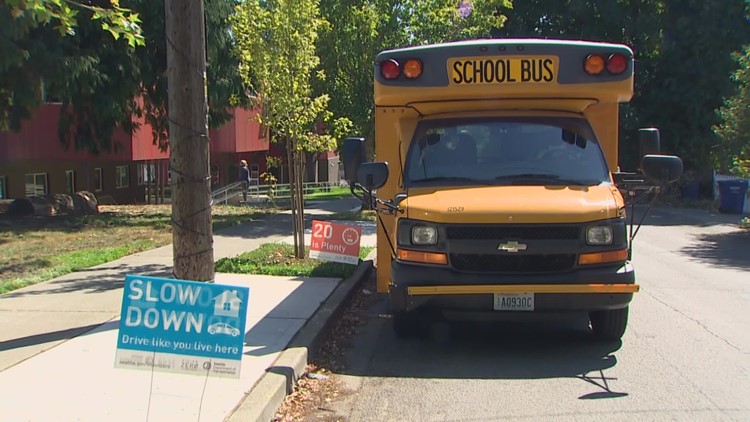 The district has contracted with two private companies to provide bus services, but neither company is fully staffed.
SEATTLE — Seattle Public Schools' transportation companies do not have enough drivers to offer all bus routes at the start of the school year, according to a notice the district sent to parents Monday.
That means some parents have to find another way to get their kids to school for a period of time. The district said parents will receive a notification if their child's route is not operational before the start of the school year.
Classes begin on September 7th for grades 1-12 and on September 12th for kindergarten and preschool children.
SPS and other school districts across the country have struggled to find enough bus drivers.
SPS warned parents last year that transportation problems were likely to continue after the district abandoned a proposal to switch to a three-tier bell schedule. The plan was to move the school start times between 7:30 a.m. and 9:30 a.m. so that fewer bus drivers could drive more routes. However, the school board declined to proceed with the proposal after hearing concerns from parents.
>> Download KING 5's Roku and Amazon Fire apps to watch live newscasts and videos on demand
SPS signs contracts with two transportation providers for the 2022-2023 school year: First Student and Zum. Along with the two companies, the district still doesn't have enough drivers to staff all of the bus routes.
Providers are undergoing "robust recruitment efforts," and the district plans to offer more routes as companies hire more staff.
"We are committed to ensuring that all students who need it have safe and reliable transport to and from school. We hope that the driver shortage will be resolved quickly so that we can resume all bus services," the message to parents said.
The district suggested additional transportation options for families who will not have bus service at the beginning of the school year.
Beginning September 1, riders under the age of 18 can ride the King County Metro, Sound Transit's Link light rail system and many other local transit services for free. Visit the Free Youth Transit Pass website for more information.
The district also has walking, cycling, and rolling-to-school resources on its website.
https://www.king5.com/article/news/local/seattle/not-enough-bus-drivers-seattle-public-schools/281-43ec9b7e-a55a-44a2-a719-2d416ae5159b Not enough drivers to support all Seattle Public Schools bus routes, district says