Novak Djokovic begins Wimbledon defence with strange return to 'second home'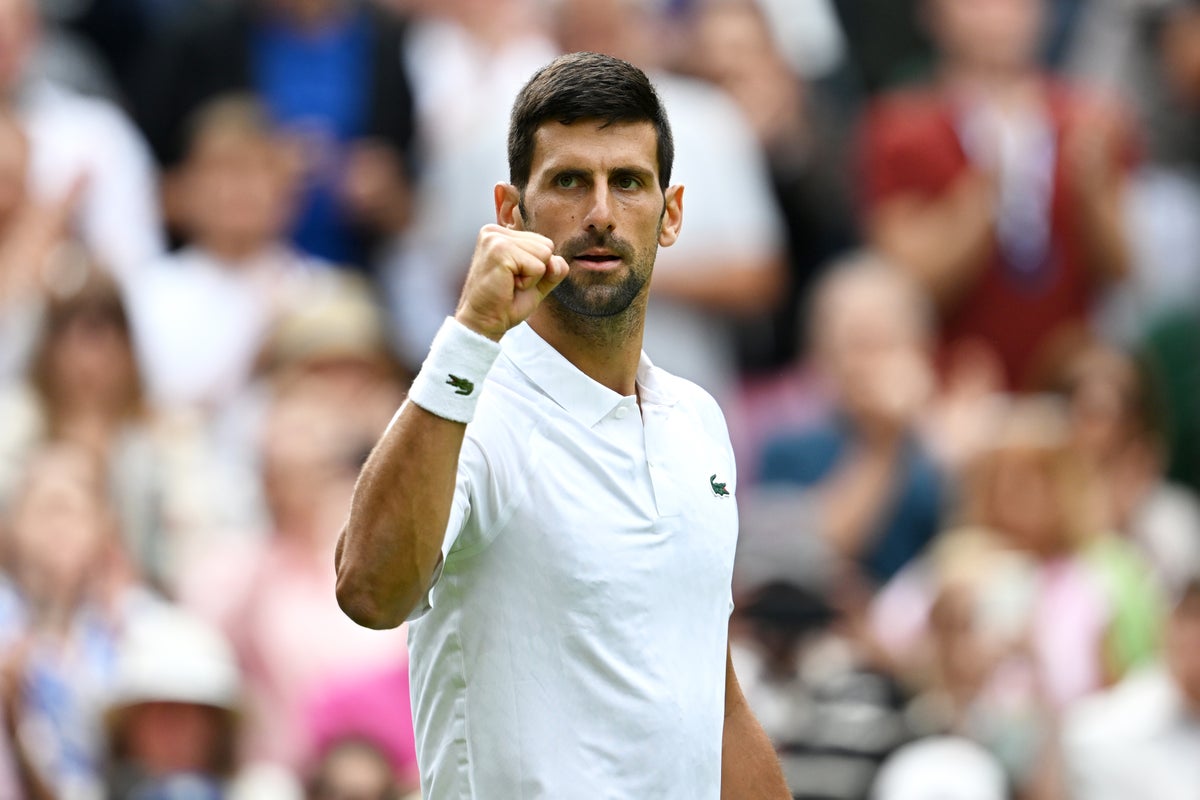 Novak Djokovic did his best to entertain the crowd. With the roof over Center Court closed and the grass taking longer than expected to dry after the lightest of raindrops, the defending champion emerged from the dressing room towel in hand and took matters into his own hands: dabbing the surface and waving she then with air in performative despair. It elicited the politest laugh at Wimbledon. An hour passed.
As the roof reopened, Djokovic got back to business and advanced to the second round with a clear, victorious win over Argentina's Pedro Cachin. Djokovic barely caused a scratch and any sense of vulnerability the game had evaporated as the Serb continued with a break from Cachin after the restart. Djokovic seemed to know too. There was more laughter as Djokovic pretended to stagger after three consecutive lets. "No, but seriously," Djokovic then seemed to say. He responded with an ace and properly held the serve.
The afternoon may have gotten a little odd, but the result was never in doubt and the stats speak for themselves: Djokovic's victory saw him extend his winning streak at Wimbledon to 29 games, he hasn't lost at SW19 since 2017, he hasn't lost on Center Court since 2013 – on Friday it's exactly ten years. If he defends his title these two weeks and secures the men's title for the fifth consecutive year, he will equal Roger Federer's record and share the throne with the King of Wimbledon. A scenario in which this does not happen is currently hard to imagine.
Djokovic was advised afterwards that Wimbledon needed to feel like a second home. "What a home away from home," he replied, but also what a strange one. It's fair to say that he hasn't always had the easiest relationship with Center Court over the years. Djokovic was never the crowd's favorite during his struggles with Federer, Rafael Nadal or Andy Murray and his tendency to take the lives of matches and his opponents naturally leads fans to side with the underdog. Here, Cachin's winners or saved break points were met with thunderous roars that eclipsed the reaction to the unerring accuracy of Djokovic's serves and groundstrokes.
But the longer Djokovic's dominance lasts, the more respect he deserves. Make no mistake, here's something. It is often underestimated how popular Djokovic is as soon as he enters Center Court. It seems to be growing every year and it plays into how relaxed the 36-year-old seems since his return to the All England Club. That's partly because of how comfortable he feels as the overwhelming favorite to win the men's title, knowing full well that no one else – with the exception of two-time winner Murray – can even come close to matching what he's achieved here. Djokovic went into the tournament with more Wimbledon wins than the rest of the top 20 combined. Do they even play the same sport?
But there are also moments that remind you that Djokovic will never quite get what he has so often craved, even if he wins eight titles a week alongside Federer on Sunday. The first tournament he saw as a boy was Serbia, Wimbledon and Center Court holds a special place in Djokovic's heart. A fascinating part of what defines his character is that he wasn't perceived as much after he was named champion. "Roger!" calls can still be heard. during his matches as if he were a constant reminder of a fight he may never win.
That moment came as Djokovic struggled to get a drop shot from Cachin, carefully hurling it over the net and brilliantly intercepting the touchline. Cachin ran to hit the backhand but couldn't keep it in play. However, Cachin won the point as Djokovic's momentum carried it into the net despite trying to stop his balance. There was no outburst, just a long look as Djokovic pointed his finger at the referee and shook his head. It still prompted some quiet booing – perhaps just a moment that covered a layer of where Djokovic really stands on Center Court, despite his record.
Poor Pedro Cachin, playing only his second Tour-level tournament on grass, didn't stand a chance, although the Argentinean put in an admirable performance and made the first set more competitive than anyone expected. He beat Djokovic on his second service game and held his own in the early baseline changes – managing enough to stamp out some errors while Djokovic was a bit rusty early on. However, there was never any danger. Djokovic came straight back and took the set before the rain started.
When the fight finally resumed, Djokovic immediately deuced Cachin on hold, placing his returns right down the baseline, forcing the double fault and jumping for the break point when the 28-year-old smashed a backhand into the net. Sensing a chance to break again and win the second set, Djokovic shot a clean inside-out winner and then followed up with another reckless forehand return into Cachin's feet.
In the third game, Cachin twice saved serve to force the tiebreak – which in itself felt like a cruel joke: Djokovic doesn't lose tiebreaks. The defending champions didn't lose and a complicated afternoon ended on the familiar tone of the inevitable.