NTSB has recovered 'the majority' of downed floatplane, investigators examining wreckage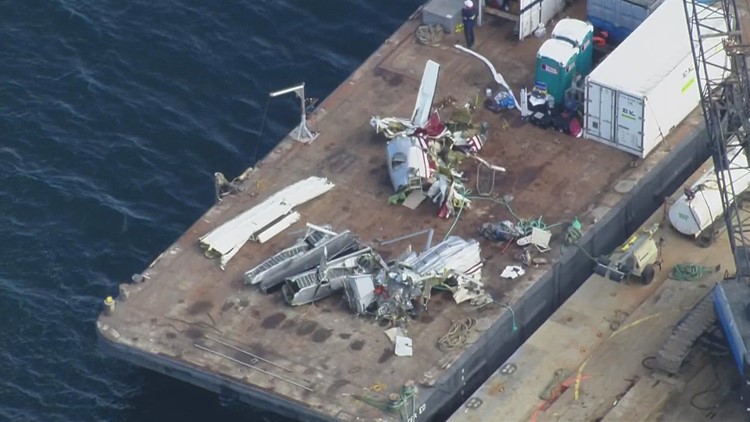 The wreckage has been taken to a secure facility, where NTSB investigators are examining it, the spokesman said.
FREELAND, Wash.- The National Transportation Safety Board (NTSB) completed remedial operations following the deadly seaplane crash off Whidbey Island in September.
The recovery operation ended on Friday. Much of the plane has been recovered and moved to a secure facility where NTSB investigators are examining it, a spokesman said.
Officials said determining the probable cause of the crash could take 12-24 months.
Ten people were killed in the seaplane crash, including nine adults and one child. The seaplane took off from Friday Harbor as a scheduled commuter flight to Renton City Airport. Witnesses said the plane had dived into the nose before crashing and disappearing under the water.
The Island County Emergency Management Agency said six bodies were recovered from the collision, with five of them being identified. One of the bodies found has yet to be identified.
The body of a passenger, later identified as Gabbie Hanna, had previously been found by a good Samaritan at the scene of the crash.
The families of the crash victims plan to conduct their own investigation into what happened, because the NTSB's findings were not admissible in court, according to the family's attorney.
The NTSB released its preliminary report on September 16 detailing the moments leading up to the seaplane crash. The NTSB said the information in the report is preliminary and is subject to change as the investigation progresses.
https://www.king5.com/article/news/local/ntsb-recovery-deadly-floatplane-crash-whidbey-island/281-f816c0ba-f30a-40b4-8554-1ed886065961 NTSB has recovered 'the majority' of downed floatplane, investigators examining wreckage