Nurses lobby legislators for better working conditions, hospital association opposes legislation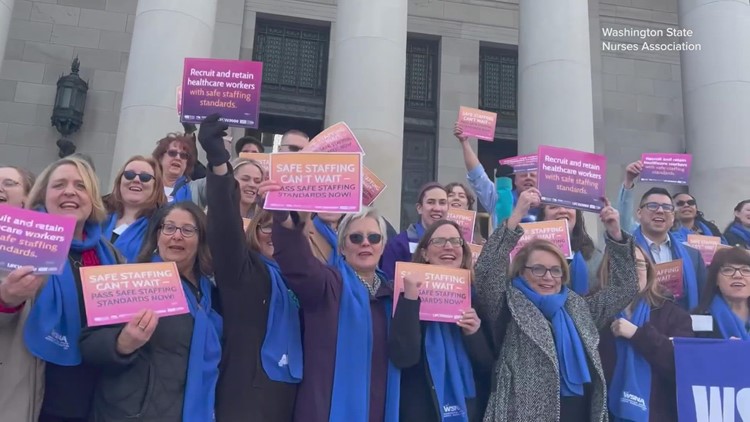 The Washington State Nurses Association said the bill would improve working conditions and improve patient care. The Washington State Hospital Association disagrees.
OLYMPIA, Wash. – On Thursday, dozens of Washington State Nurses Association (WSNA) nurses lobbied lawmakers in Olympia to pass Senate Bill 5236.
The bill has three main parts: limiting the number of patients a nurse can care for; strengthen laws regarding meals and breaks; and give nurses more say in committee meetings, according to Katharine Weiss, executive director of WSNA.
Patient load limit
"Nurses are taking on double, triple work of what they are recommended because there is no other staff to help them," says Weiss. , but sometimes it can mean the difference between life and death."
Meals and breaks
"Back in 2019, the Legislature passed the recess bill, but it wasn't really well implemented. So this bill will improve enforcement, increase fines," she said.
Let the nurse talk more
"Nurses, they take the time to attend these meetings, express their concerns, talk about safety concerns," says Weiss. Then, at the end of the day, an executive would simply veto a staffing plan or ignore recommendations."
The Washington State Hospital Association (WSHA) is strongly opposing Senate Bill 5236. The association posted the following statement on its website:
"WSHA strongly opposes SB 5236, which creates a nurse-to-patient ratio. We are extremely concerned about the negative impacts on patient access caused by this measure. This is very similar to E2SHB 1868 from the 2022 legislative session, which passed the House of Representatives.An important difference between the previous session and 2023 is that instead of enacting the proportions in the statute, the bill directs The Department of Labor & Industry sets the rates through the rule-making process.The ratios will be developed by January 1, 2027 and hospitals will be required to follow them by January 1. July 2027. It also changes the mandatory pre-scheduled call limit from 24 hours per week to 60 hours per month."
Erin Allison, a registered nurse for eight years, attended the lobbying session on Thursday. She said the past three years have been a roller coaster of emotions, mainly due to the COVID-19 pandemic.
"I feel very appreciated. We have a lot of meals delivered to the hospital. Many thanks from the community, stay at home. "At first, it was definitely great to have support," says Allison. "Now, it's a little bit different. Now, it's not real. It's not serious enough. Our volume was backed up so we were overcrowded. It is very difficult for people to wear masks in hospitals."
Allison said she is pushing the bill in the best interests of her patients.
"I just want them to know the reason we do all this is so we can better care for them as patients in their community. Right now, if they go to the hospital, they will find the nurses overworked and exhausted," she said.
Lawmakers have several weeks to decide whether to pass Senate Bill 5236 into law.
Clock: KING 5 top stories on YouTube
https://www.king5.com/article/news/health/nurses-lobby-working-conditions-hospital-association-opposes/281-549bcdb6-fe4e-44e7-ac8a-1c8cd1ef7918 Nurses lobby legislators for better working conditions, hospital association opposes legislation