Oakley Carlson Act gathering marks 2 years since disappearance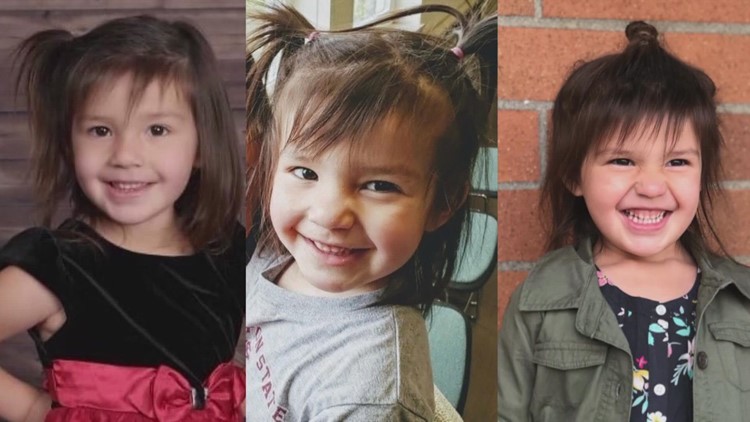 Friday marks two years since Carlson's last known reliable sighting.
OLYMPIA, Wash. — On the day that marks two years since her disappearance, a silent gathering will be held in Olympia to show support for the Oakley Carlson Act.
HB 1397 will create more stringent requirements for the return of a child to a biological parent who has lost custody of the child. A silent gathering is planned on the north steps of the state legislature building at the Capitol in Olympia on Friday afternoon at 3:30pm
The first public hearing on the bill is scheduled for next Friday, February 17.
Carlson had been missing for over a year and had just turned 5 years old when detectives first opened her missing person case in December 2021.
Detectives now believe that Carlson, from Oakville, Washington, was last seen alive in February 2021. According to detectives, Jordan Bowers and Andrew Carlson, Oakley's parents, did not cooperate with the finding. looking for their daughter.
The pair were arrested and convicted on charges unrelated to the Oakley Carlson case.
Prosecutors said high levels of meth were found in the blood of their other children.
Andrew Carlson served his sentence and was released in August. Bowers was released in January, then arrested almost immediately and charged with identity fraud unrelated to Oakley's disappearance.
Detectives say Bowers fraudulently created four credit card accounts using personal information from friends and relatives.
Three cards were found clogging a toilet in the hotel room Bowers was staying in when police first began looking for Oakley in late 2021.
Bowers allegedly spent more than $40,000 on cards, using the money to shop at Walmart and eBay and receive cash for casino gambling.
Anyone with information about the Oakley case is asked to call the Grays Harbor County Sheriff's Office at 360-964-1729.
https://www.king5.com/article/news/local/oakley-carlson-act-gathering/281-68c76d70-dc1f-48ff-b10c-9d504d638c35 Oakley Carlson Act gathering marks 2 years since disappearance