Oilers' Evander Kane to hospital as skate blade cuts wrist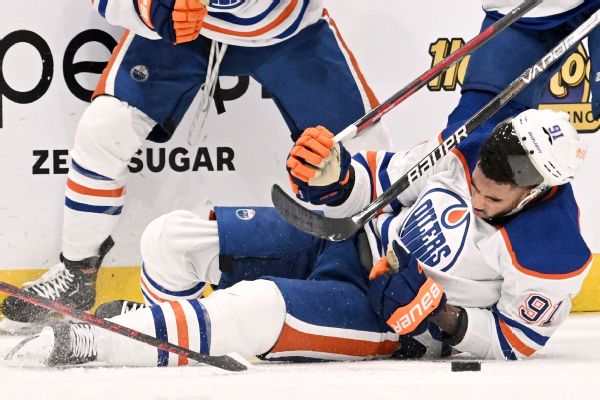 TAMPA, Fla. — Edmonton Oilers forward Evander Kane was taken to a hospital Tuesday night after he was cut in the left wrist by a skate blade early in the second half against the Tampa Bay Lightning.
The Oilers said Kane is in stable condition and is undergoing a procedure.
Kane went onto the ice when he tangled with Lightning defenseman Philippe Myers and was then cut by Pat Maroon's skate as the Tampa Bay forward entered the area just inside the Oilers' defensive zone.
Kane grabbed the area of ​​the cut with his right hand and quickly ran to the bench before heading through the tunnel towards the locker room.
A stretcher was brought onto the ice but not used.
"It's a scary situation," Maroon said. "I hope he's fine. If you look down you see so much blood you know something is wrong. It's obviously not normal. So obviously the boys are really worried about him. We are all thinking of Evander."
The Oilers went on to win 3-2.
The Associated Press contributed to this report.
https://www.espn.com/nhl/story/_/id/34982471/oilers-evander-kane-hospital-skate-blade-cuts-wrist Oilers' Evander Kane to hospital as skate blade cuts wrist