One pill can kill: DEA agent warns parents about fentanyl during drug substance prevention event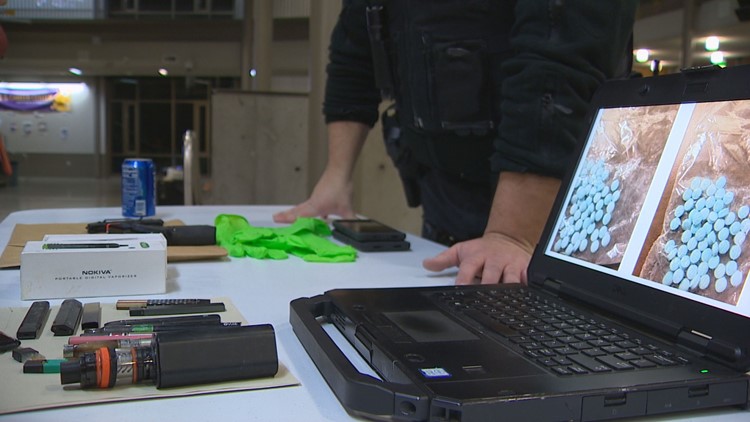 The Hidden in Plain Sight event aims to educate parents about the potential dangers of fentanyl and other substances.
ISSAQUAH, Wash. — An event called Hidden in Plain Sight was held on Thursday at Issaquah High School. Its mission is to educate parents about the dangers of fentanyl and other substances.
"We want to inform people that if you take a pill, it can kill you," said DEA special agent Jacob Galvan.
Galvan says the potential and potency of fentanyl on the street is higher than ever before.
"This is a problem that is affecting 18- to 45-year-olds," Galvan said.
Galvan said teenagers even under 18 have taken fentanyl and some have died from it.
"The younger kids think they're immune but this one pill will kill them if they take it," Galvan said.
King County alone has seen a 43% increase in drug overdose deaths between 2021 and 2022.
In 2019, two students died from fentanyl in the Issaquah School District.
"We want to educate parents and set those expectations for their students," said Marnie Maraldo, CEO of Influence the Choice.
Maraldo said the Issaquah School District has Narcan available at every school to reverse overdose.
Potential dangers lie in sight and this event hopes to open up a conversation between parents and students to prevent substance abuse.
"I hope to hear more about 'I've heard about this, tell me more', rather than 'I haven't heard of this,'" Galvan said. "That's what worries me, if people don't know then the message won't get through."
https://www.king5.com/article/news/health/parents-fentanyl-drug-substance-prevention-event/281-a76c3ceb-a2ec-4f29-a3ff-723276453d2b One pill can kill: DEA agent warns parents about fentanyl during drug substance prevention event